Product rave #1:  
Trader Joe's Island Soyaki marinade
(large bottle $3.69)

Sorry for the pic - should have taken it before I poured half of it out... lol .  Rookie mistake.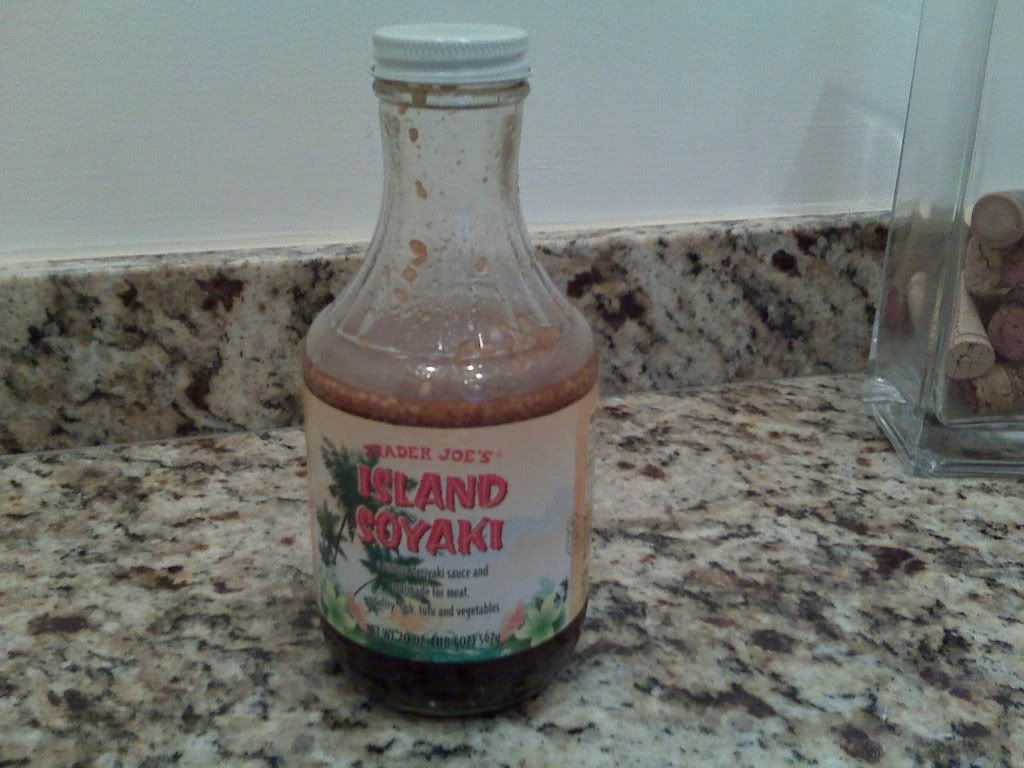 Ingredients and nutritional information:
1 tablespoon has 30 cals and 1 gram of fat. Sodium 290gm, Carbs 4 gm.
Ingredients: Soy sauce, sugar, pineapple juice, vinegar, soy oil, sesame seeds , fresh garlic, onion, fresh ginger, sesame oil, onion, garlic and ginger powder.
Looking at the ingredients, nothing seems out of whack - no high fructose corn syrup - and everything looks pretty natural.  I decided to use it as marinate for the vegetables that I picked up at the Farmer's Market.  So I tossed some zucchini, Indian eggplant, shiitake mushrooms,  and red pepper with the marinade along with some seasonings and placed them on the GFG (our affectionate name for the George Forman Grill - welcome to apartment living folks!)  The resulting dish was surprisingly flavorful without being too cloying sweet.  A delightful summer dinner.
Product Rave #2:  I'm trying to stay away from prepared foods, but I recognize that sometimes you just don't have the time to cook a meal from scratch.  I had purchased some things from Trader Joe's to eat (in case of emergency, open box) if I couldn't prepare a meal.  Here's one of them: the
Roasted Vegetable Multi-Grain Lasagna
for $5.49.  You can see the nutritional information
here
.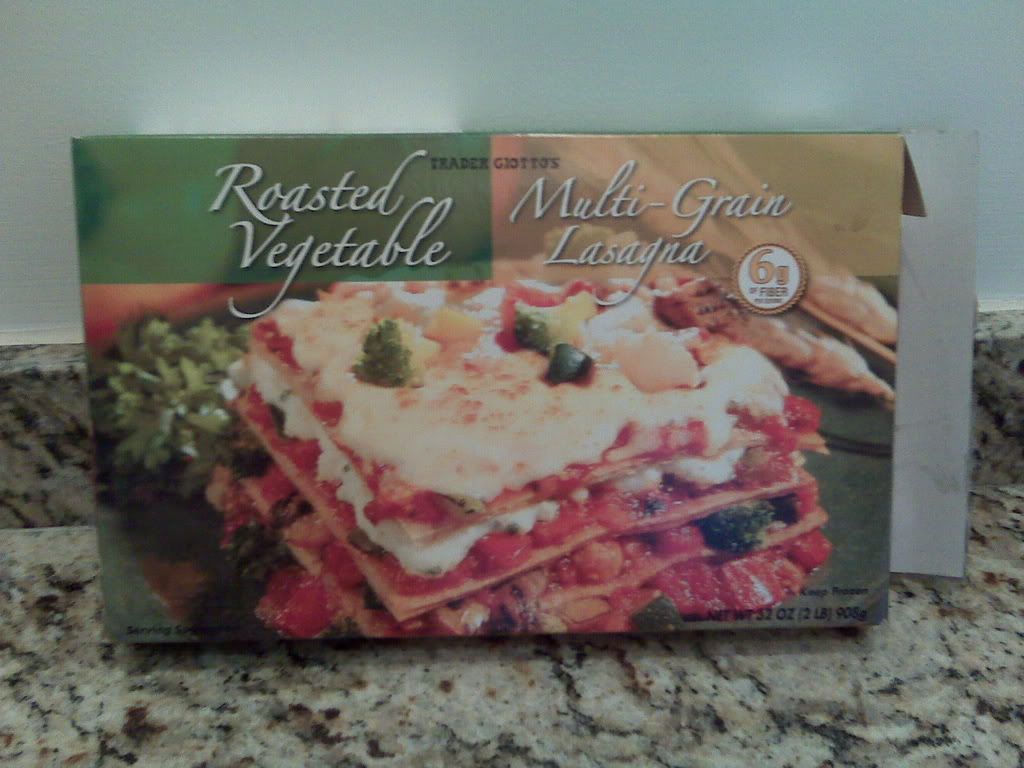 Looking at the ingredients, it looks healthy enough and that it corresponds to the MP rules (no high fructose corn syrup, no unpronounceable ingredients, no artificial or natural flavors, etc.)
Ingredients:
fire roasted tomatoes, fresh multi-grain lasagna noodles (wheat flour, durum wheat semolina, liquid whole eggs, water, multi-grain pasta mix (flax seed, triticale flour, oatmeal, rye flour, oat bran)), ricotta cheese, mozzarella cheese, roasted zucchini, broccoli, cauliflower, roasted peppers (yellow, red, green), roasted onions (red and white), carrots, milk, canola oil, roasted mushrooms, garlic, cornstarch, salt, sugar, wheat flour, spices
You can heat it up in the microwave or the oven - I used the oven and sure enough, upon tasting it, it was delish!  I added a green salad and Mr. Insomniac and I split the tray.  Incredibly satisfying and a soon-to-be Insomniac staple purchase from TJs.