(Note: Other PaleyFest posts can be found
here
and here)
If there's one thing I love in this world, it's my family.
If there's two things I love in this world, it's my family and television.
How much do I love TV?
I have canceled social engagements because I wanted to watch a show live (as opposed to watching it on the DVR an hour later).
I saved the finale of Six Feet Under for two years on my Tivo, just so I could watch the ending whenever I wanted.
I watched Season 4 of The Wire in 17 hours (I took about a four hour break to sleep).
I have reached "Couch Potato" status on the Television Without Pity forums.
One of my goals in life is to be a Nielsen family.
I judge people who watch Two and a Half Men and According to Jim.
I have a special TV position and outfit. Yes, it involves the Slanket.
I love to watch TV and I love to talk TV. So when
weezermonkey
gave me the heads up that
PaleyFest
was around the corner, I made sure to dust off the ol' credit card.
PaleyFest is a 13-day series of panel discussions about specific television shows that feature actors, writers, directors, and producers talking about their craft and respective series. All of the panels are located in
Saban Theater
in Beverly Hills, a beautiful art deco theater with crappy parking. The
Paley Center for Media
sponsors PaleyFest, natch, and it examines the intersections between media and society by "leading the discussion about the cultural, creative, and social significance of television, radio, and emerging platforms for the professional community and media-interested public." I have yet to go to the Paley Center even though I love museums, I love TV, and I drive by it on a regular basis. One day...
And about "dusting off the ol' credit card"? Apparently through
Goldstar
you can get tickets to many of the shows for $5 - probably the amount of change you have in your car and under the sofa cushions. Wish I had known before my splurge. Do I sound bitter? Good.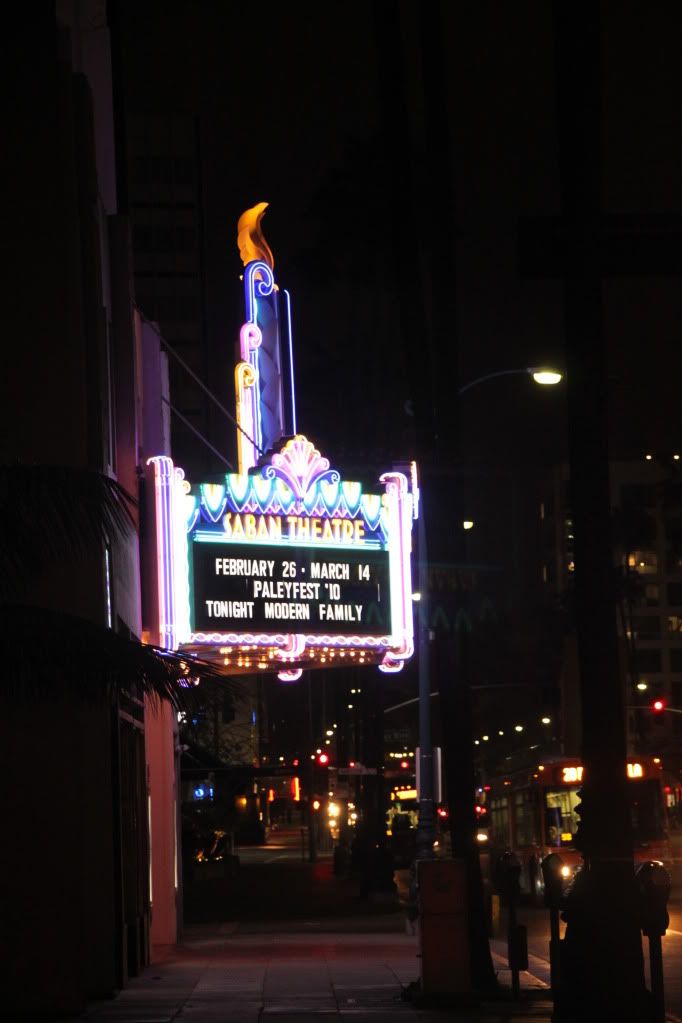 The opening night featured one of my favorite new series,
Modern Family
- a show that, in my humble (yet incredibly astute) opinion, has made the family sitcom relevant again. The writing is sharp and witty, with plenty of irreverent moments, but also gives you that feel-good family sitcom glow. All of the actors are hilarious with spot on comedic timing and perfect deadpan expressions as they deliver lines to the camera during the mockumentary sections. If you're one of the few that haven't been watching it, you should check it out.
Walking into the theater, I was concerned that no pictures would be allowed during the event as there was a sign that said "no recording" and the usher that I asked said that cameras weren't allowed. But midway through, I saw some people taking shots with their point and shoots, so I was like, alrighty then, and proceeded to pull out the DSLR with the zoom lens. lol
The way this particular session worked was that someone made some opening remarks about the Paley Center/PaleyFest and pointed out a Paley that was sitting in the audience. Then we watched a video introduction to the PaleyFest featuring clips of all the featured shows and like little TV dorks, we applauded for our favorites. Glee and Dexter got some of the loudest applause. CougarTown and Vampire Diaries got some of the most perfunctory.
Womp womp womp womp
.
We saw an un-aired episode of Modern Family. I was annoyed because I prefer my comedies without a laugh track and I couldn't rewind when I couldn't hear the lines over people's guffaws. Then Billy Bush (yes, that
Billy Bush
- did you know that George W. is his cousin? The things you can learn from a wikipedia page...) strolled on the stage to moderate the panel and throw out questions. After he was done, the floor was opened to members of the audience to ask questions.
Appearing on the stage were:
Steven Levitan (Creator/Executive Producer)
Jason Winer (Director)

Ed O'Neill (Jay)
Sofia Vergara (Gloria)
Julie Bowen (Claire)
Ty Burrell (Phil)
Jesse Tyler Ferguson (Mitchell)
Eric Stonestreet (Cameron)
It was a frolicking good time. Everyone looked great. Sofia Vergara is simply stunning in person. Just drop dead gorgeous and oozing sex. The cast seemed genuinely happy to be with each other and at PaleyFest. As they repeatedly stated, they aren't typically together on set - most of the time they just film with their respective families - so they seemed to really appreciate the time to be together.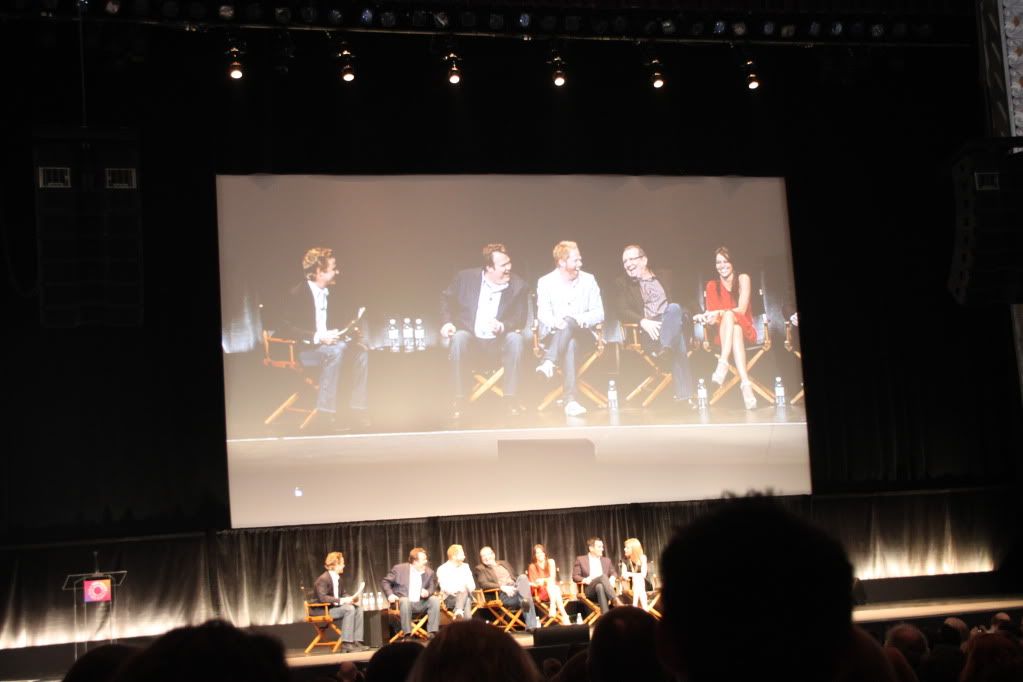 Some highlights:
Ty Burrell who plays Phil, the clueless dad that believes WTF stands for "Why the Face", imagines Phil as a "dog who can talk" with a brain like meadow. He gets his inspiration for the character from an amalgam of people that he knows - they annoy you, but they wear you down and you can't help but love them. He also hates seeing his "Franken-brow" on screen.
An audience member asked about Barkley, Jay's grotesque dog statue that freaks out Gloria. I love Barkely, being partial to
freaky animal sculptures
myself. Apparently, after the episode was taped, Barkely made his way into the corner of writers room where he proceeded to freak them out (one poor person working late at night by himself was startled by his grotesque face nearly a dozen times).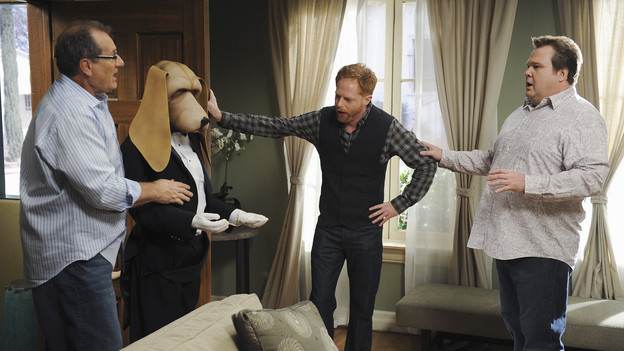 Honoring Levitan's request, Eric Stonestreet who plays Cameron, the lovable sensitive gay linebanker, demonstrated his transition from Eric to Cam by walking across the stage. He morphed from a hetero gorilla scratching ape man to fabulous hand gesturing Cameron before our very eyes. He draws upon his mother for his inspiration for Cameron.
Time was spent explaining the inspiration behind several moments of the show. Levitan introduced his family by explaining that his wife doesn't know how to use the remote (like Claire), his daughter's webcam accidentally revealed his boxers to her friend during a Skype session (like Haley), and he shot his son with a BB gun (which to my knowledge hasn't happened in MF, but correct me if I'm wrong). An altercation that Ed O'Neil had at a Brentwood gas station became the infamous Fizbo gas station bully smackdown.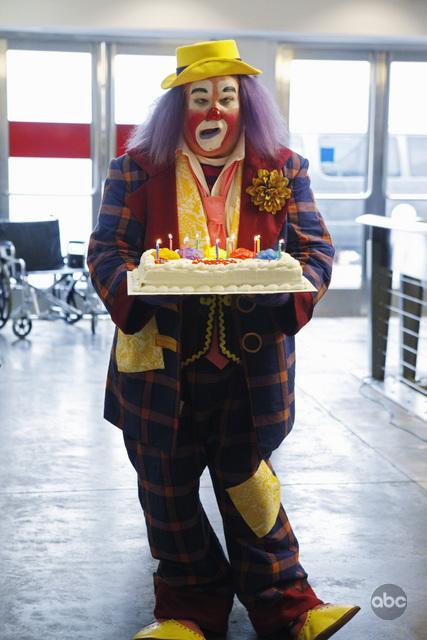 One of my favorite moments of the evening was when Ed described one of his favorite moments of the show. During the remote controlled airplane episode, his character Jay flies an airplane into Phil's face. At the end of the episode, Phil is sitting on the couch with ice on his face and Ed's character apologizes to him. Julie Bowen as his daughter Claire walks over to him and thanks him with a kiss on the forehead in an impromtu ad-lib. As he recalls this, Julie Bowen gets a little choked up and folks in the audience go "Awww!"
Because the cast shoots their scenes separately, shooting is pretty quick which Julie Bowen explains is a bonus because it keeps things fresh. Sofia and Ed report something that they have in common - they both like to shoot fast and go home.
Creator Steven Levitan mentions that Julie Bowen has been so kickass in her role of Claire, the uptight mother of three with horribly bad luck on escalators, that other creatives are now writing roles and searching for a "Julie Bowen type". The audience erupted in applause and Bowen humbly replied that that is a great compliment.
My other favorite moment was when Ty Burrell (Phil) was recalling moments when he's been recognized as a result of his newfound fame. He tells a story of walking with his wife in Central Park under a bridge to the strains of a discordant tune on a two string violin played by a homeless man. Just as Burrell and his wife pass him by, the man looks at him straight in the eye and says, "Never since
Frasier,
has a show come on the air knowing its tone so completely..." The rest of his sentence is lost underneath the waves of laughter from the audience. It loses something in translation, but trust me - this was hilarious.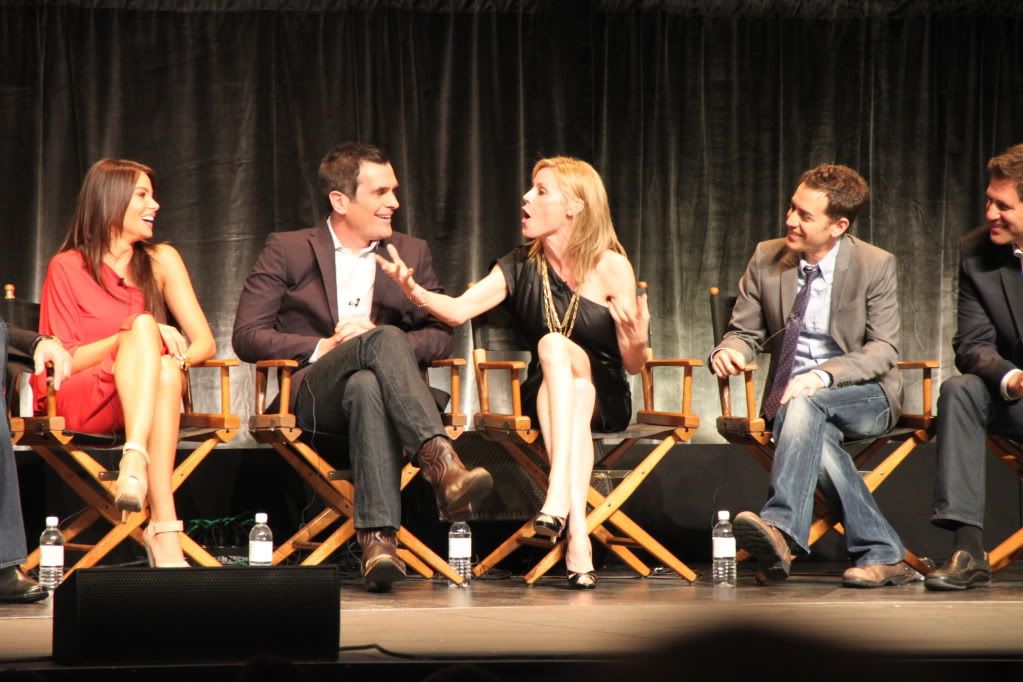 Another moment that won't be as funny on paper (or screen) as it was in real life.... Ed O'Neil described an example of how funny Sofia can be. She was going an interview with someone and she asked Sofia, "When did you first know that you were beautiful?" and Sofia responded (now picture Al Bundy speaking in a Spanish accident here): "I
always
knew I was beautiful. My
mother
was beautiful... My
grandmother
was beautiful..." Heh heh. It's funny cause it's true. The woman is fricking beautiful. I'm glad she has this role and I like what she brings to it. I smiled when she said that it's nice to not to have to worry about having an accent.
In response to a question from the audience, Eric Stonestreet stated that yes, Cam and Mitchell will have sex at some point during the series. Stonestreet seemed very grateful for his role - when he told friends in Kansas that he was going to Hollywood to become an actor, they joked that he was going to be the next lifeguard on Baywatch. He also doesn't mind appreciation from his gay fans - he's just happy to have fans period.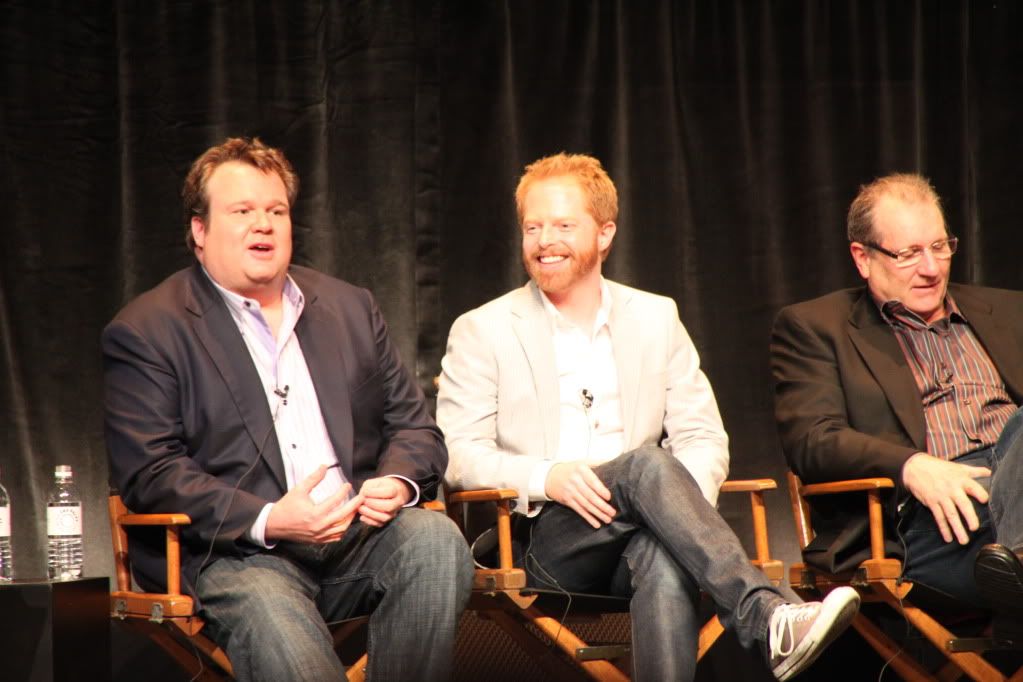 Billy Bush's favorite moment (like I cared) was the moon landing, when Cam and Jay's butts accidentally touched in the locker room. The director points out that they had to fight hard for those butts. The network wanted them to blur out the butts, but they managed to talk them into only pixilating the butts. Someone brought up that everyone saw Andy Sipowicz's butt in NYPD Blue, so what's the big deal? Things have changed, the director says sadly. They're worse. Never did I think Andy's butt would be a highlight in modern culture, but there you go.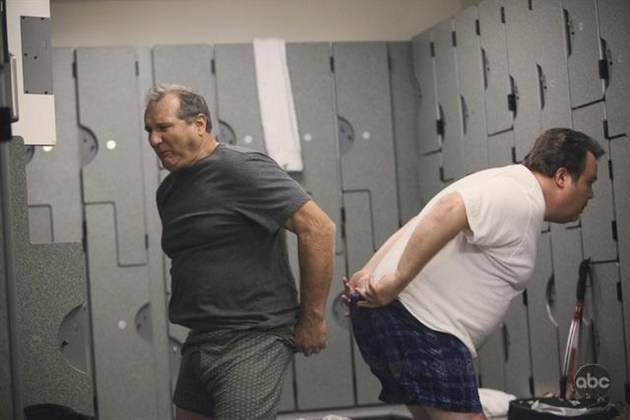 After the audience Q&A session and the panel had offically ended, the stars took time to sign autographs for their adoring public.