Yay! Sunday was the
Los Angeles Marathon
... :)
I'm a huge fan of marathons - mostly because they remind me of my mother. She's run 10 marathons around the country (LA, Long Beach, San Francisco, Chicago, New York) and there's nothing I love more than cheering her on. I find it so inspiring.
Unlike previous years where the course just makes a big circle around downtown LA, this year the marathon went from Downtown LA @ Dodger Stadium to Santa Monica, traveling through many popular communities, as the "Stadium to the Sea" route.
My plan was to watch the elite runners go by Beverly Hills at mile 16, and then watch the regular folk wheeze their way along further down the course.
So that entailed me getting up super early at like 8:30. On a Sunday. (shudders). There's like no one up that hour. The streets were deserted.
Via Rodeo.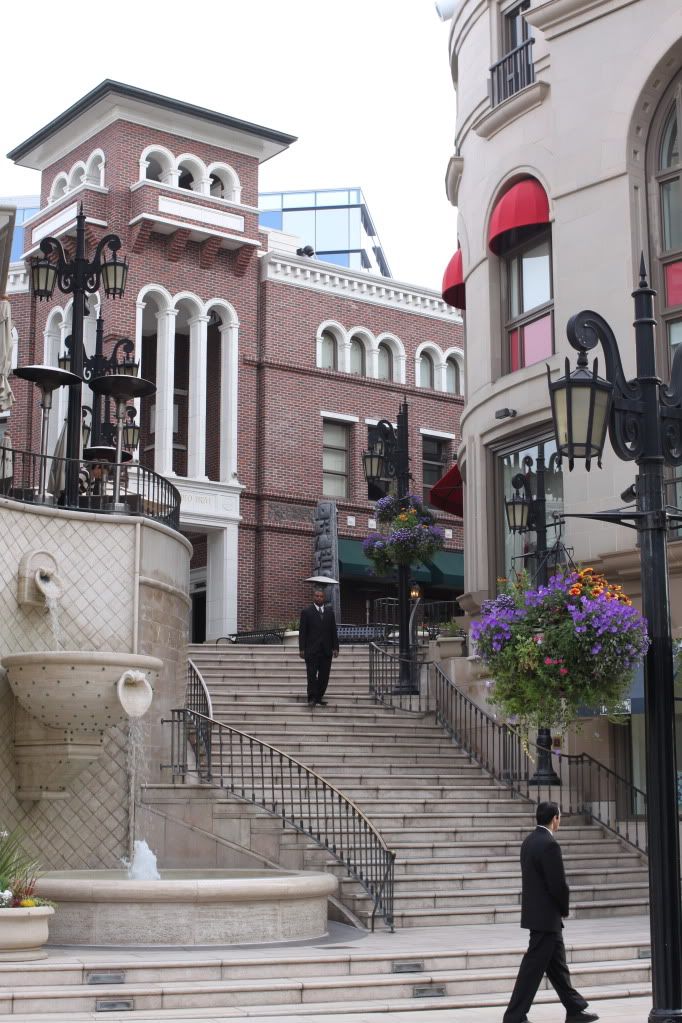 Rodeo.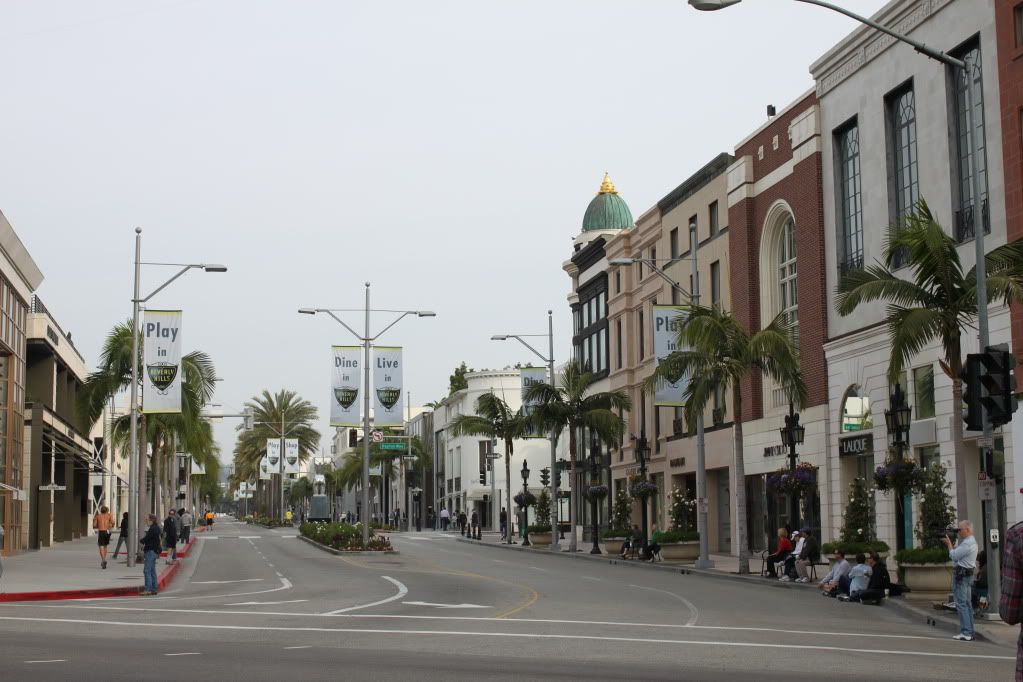 Along the course were dozens of bands and cheer stations. Mile 18 had a
cheer alley
- a cheerleading competition judged by Cheer LA. Playing at Wilshire and Rodeo in front of Bvlgari was
Red Light Cinema
. There wasn't a lot of (okay, any) people around this early in the race, but I'm sure that later on they were playing to a packed street.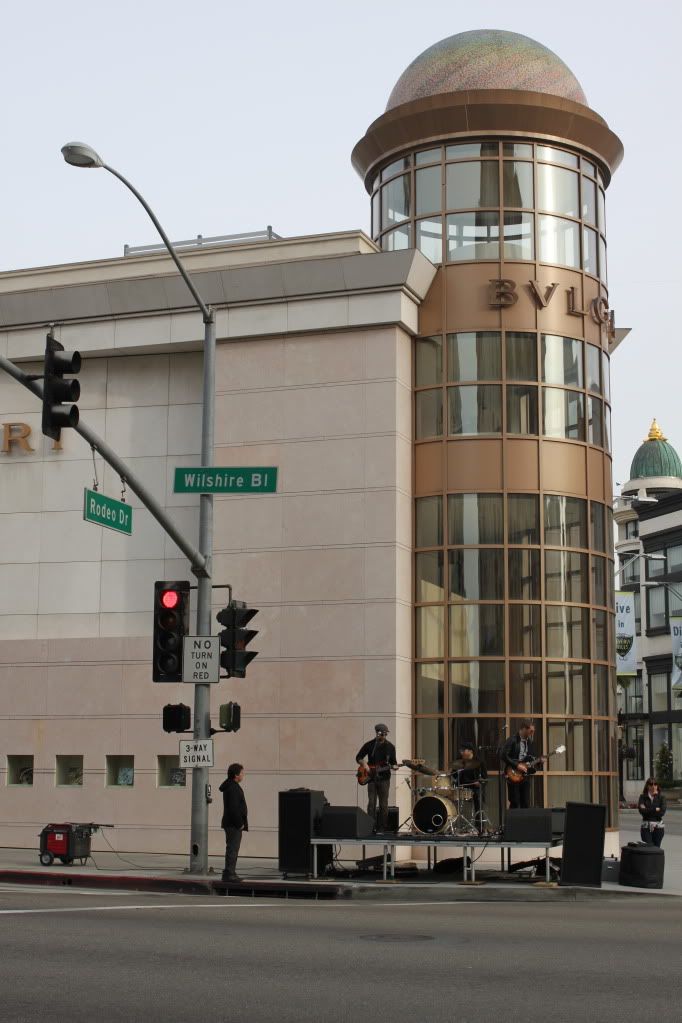 Niketown had their own little cheer party going on. You could make signs...
... grab pseudo-cow bells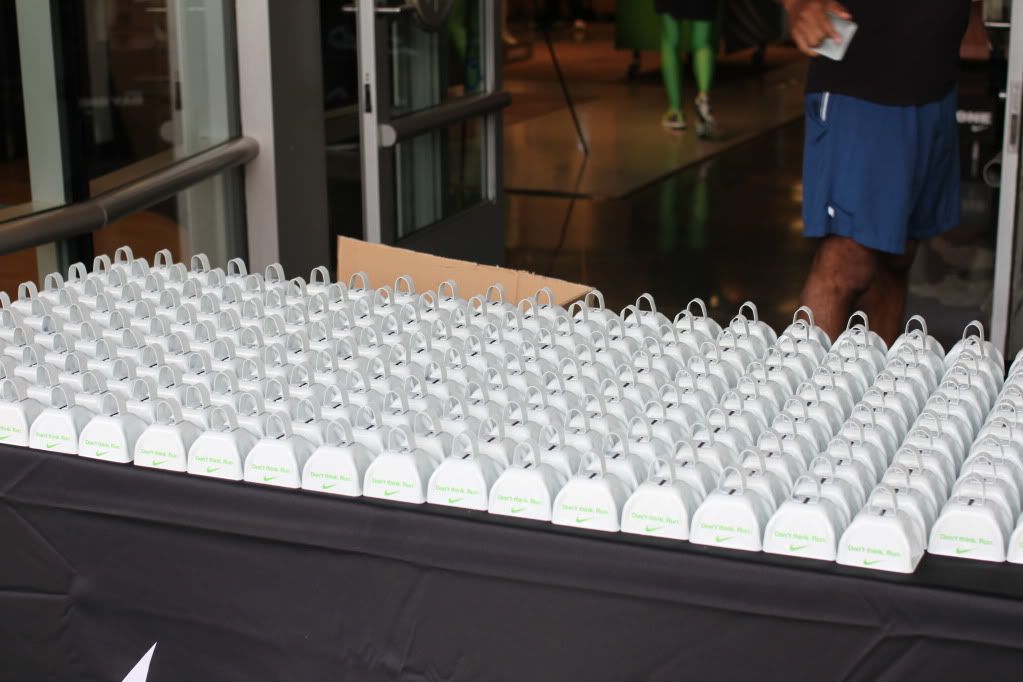 ... or groove to the sounds of the Black Eyed Peas from the resident DJ.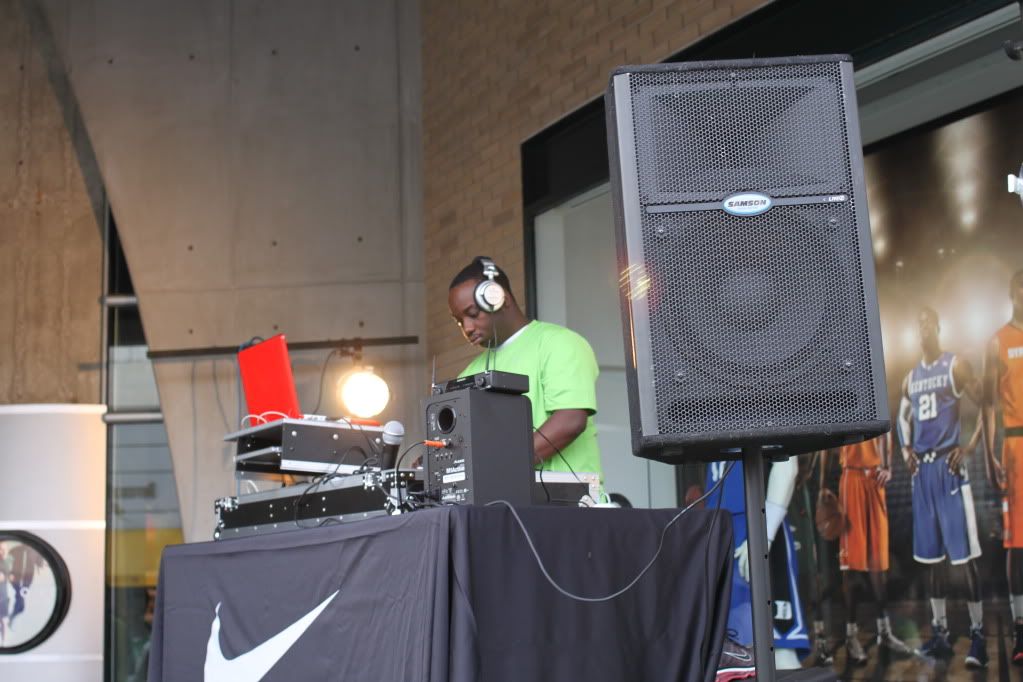 Or if you are a tad more adventurous, you could have volunteered to be one of the Nike green people.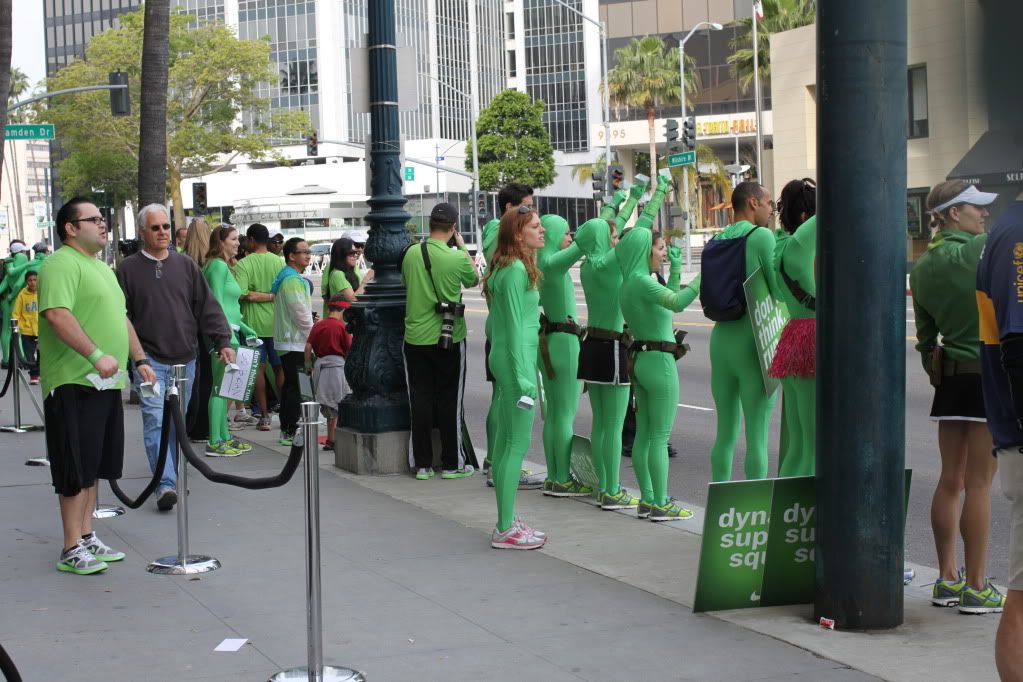 Folks began arriving with chairs, balloons, and signs to stake out places along the route.
I took the opportunity to do some window shopping...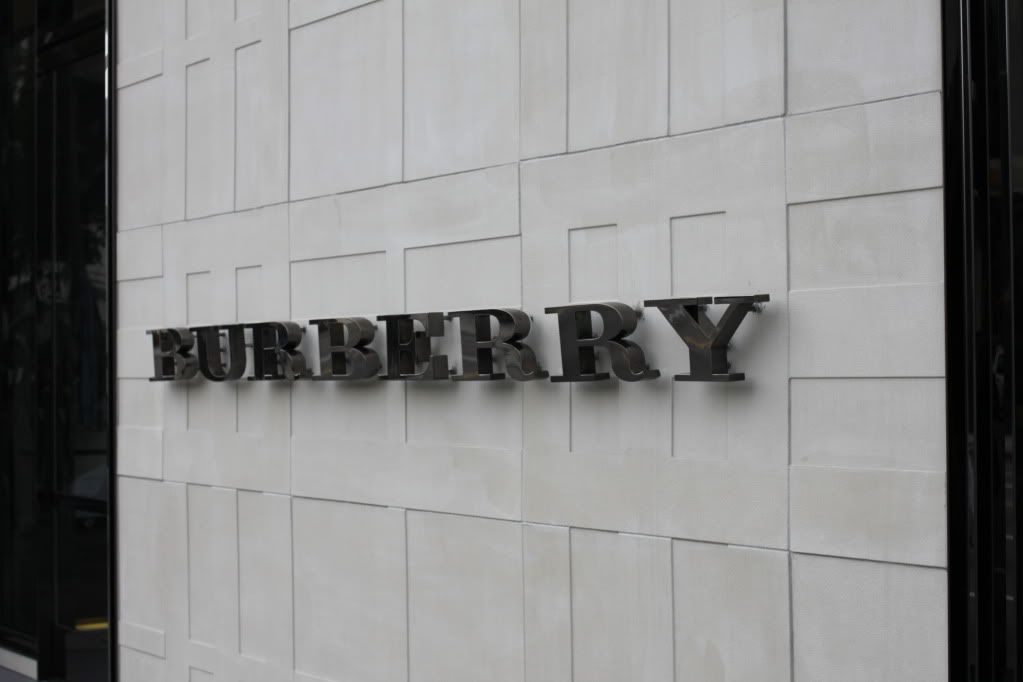 I got a kick out of Barney's marathon-themed window display... someone should totally run in a Bottega Veneta gown next year.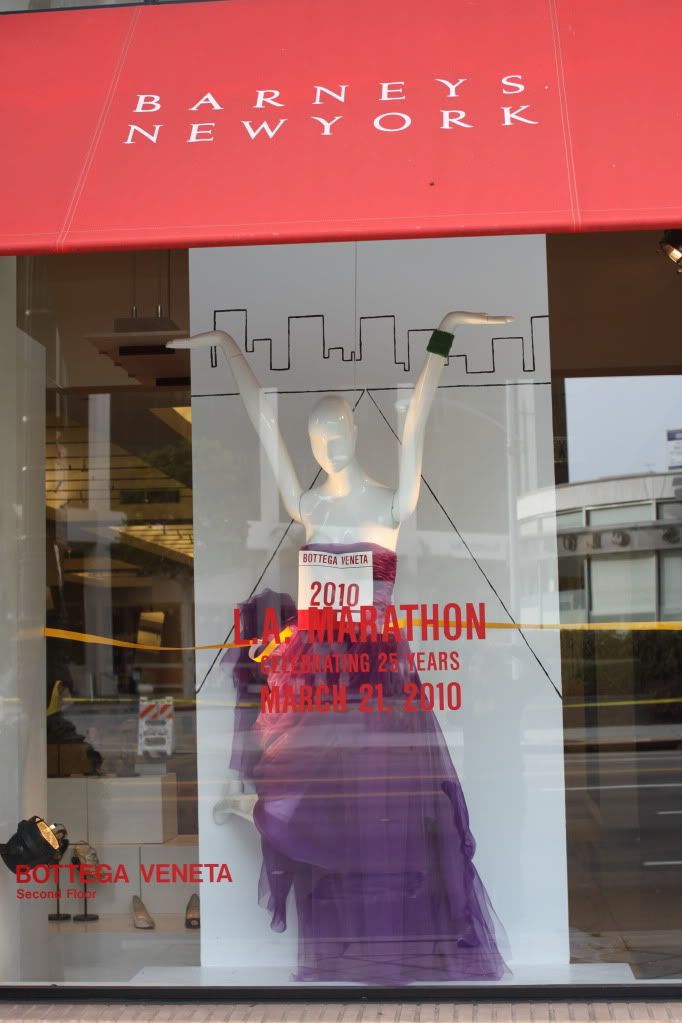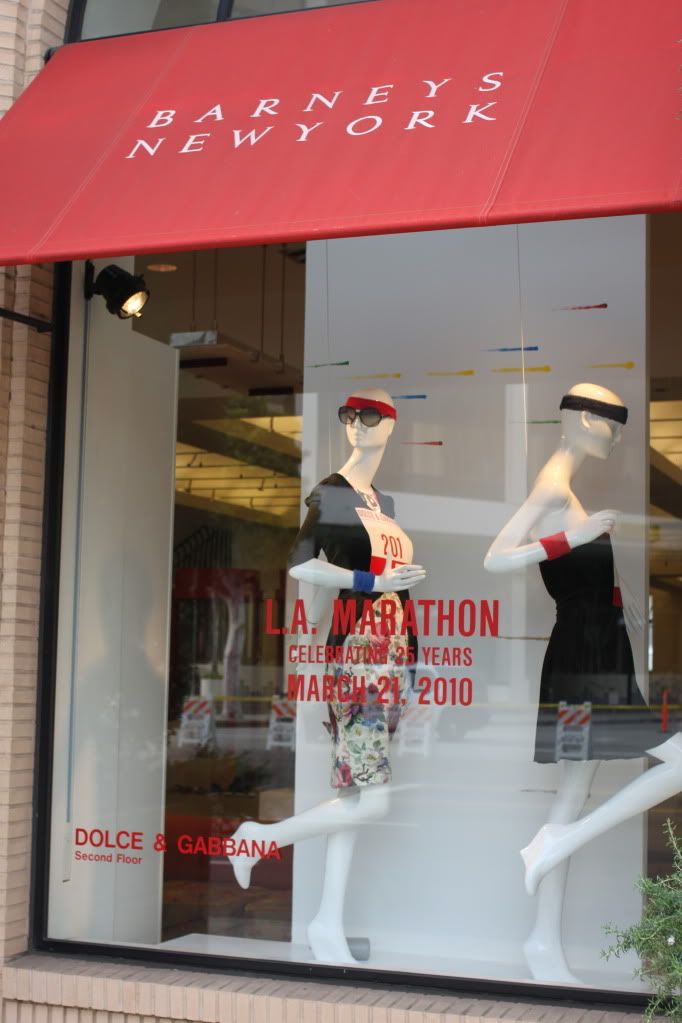 And of course there were plenty of cute dogs in attendance.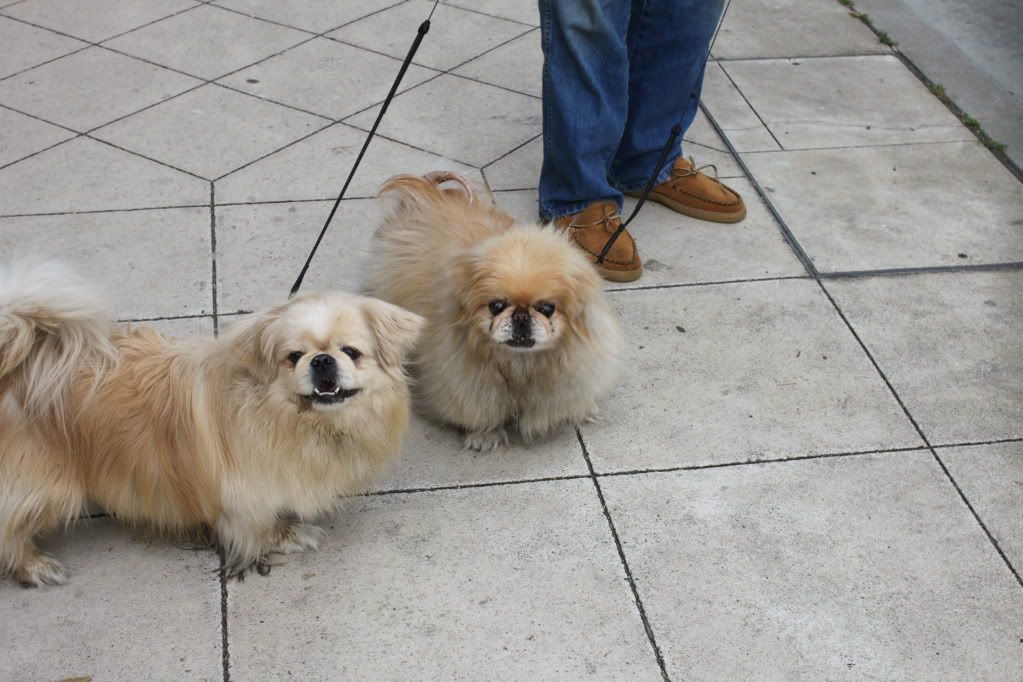 Love this little guy.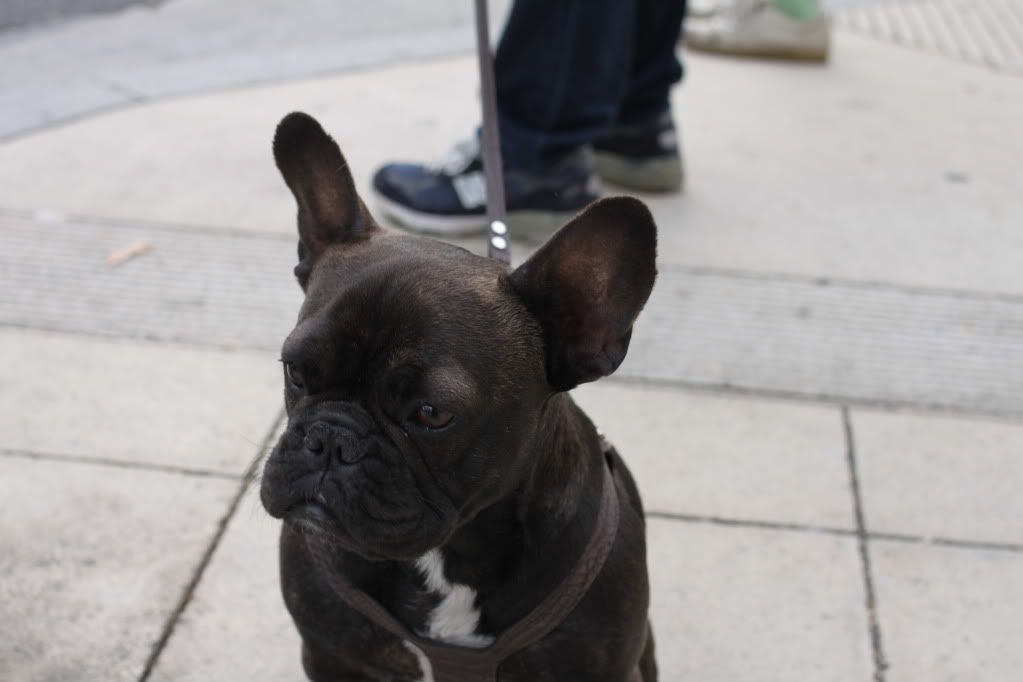 When I arrived, the wheelchair racers were finishing up.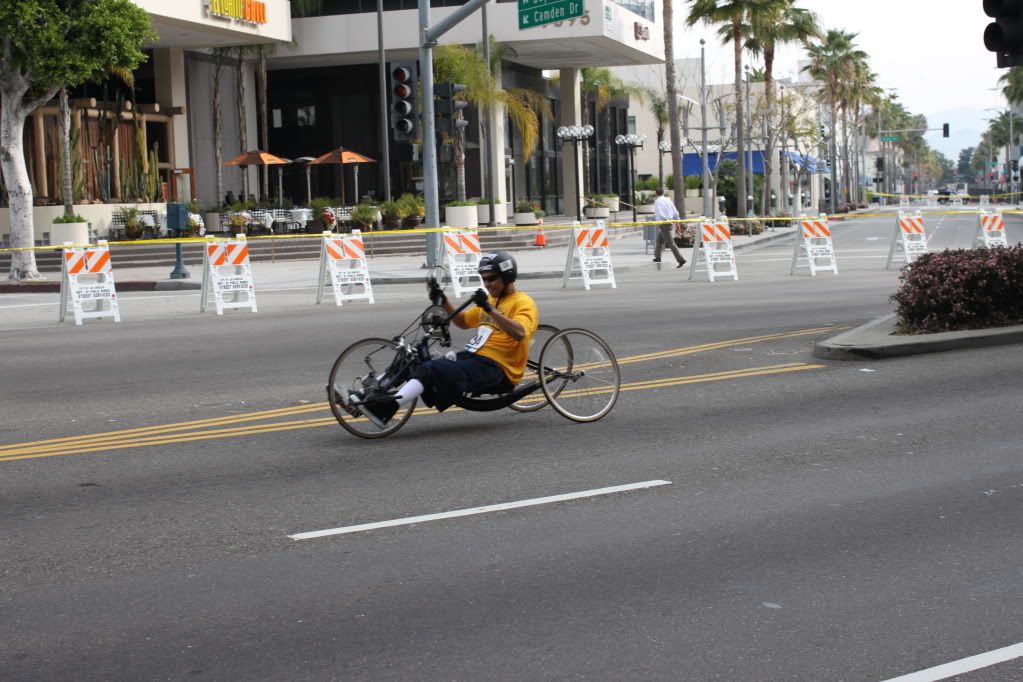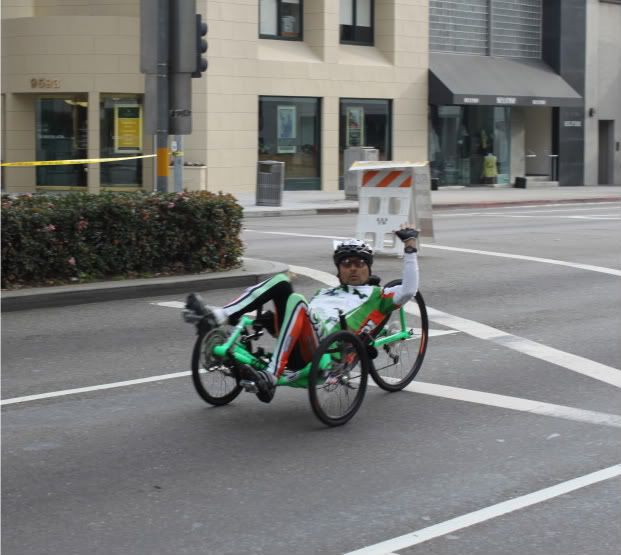 I waited for a while for the elite runners. I thought I had missed them because I couldn't wake up at the time I wanted and had to huff and puff my way to the race course. When we saw the helicopters hovering in the sky, we knew they were coming soon.
Here comes the women's pace car!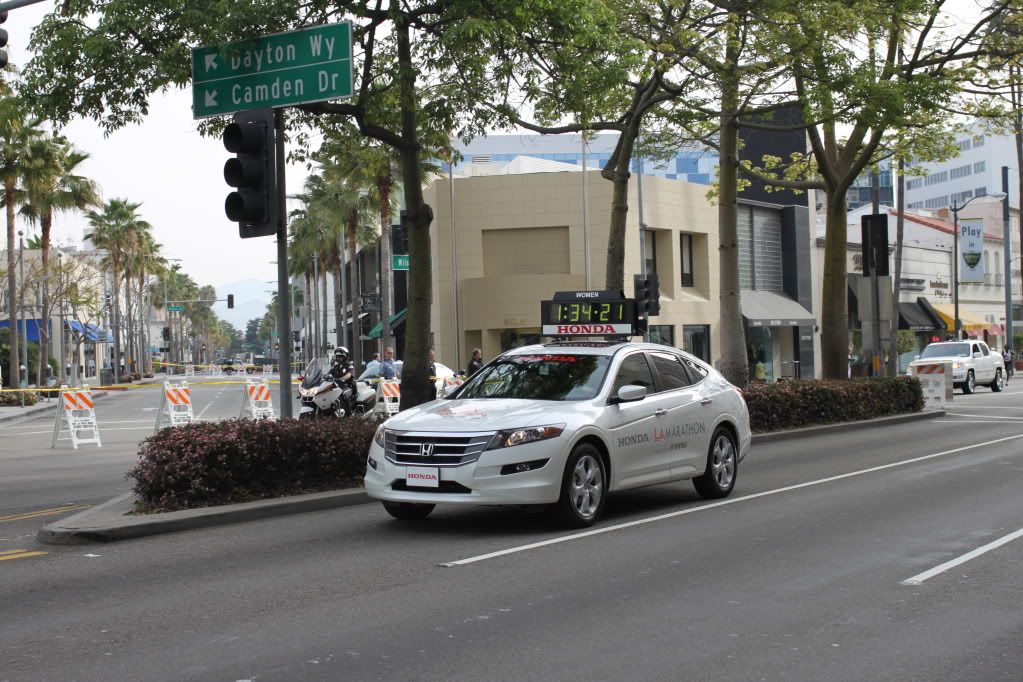 And there they go. Amazing. Honestly, I don't think I could run as fast as them if I started sprinting along the route with them. And they've been running for an hour and a half!
The men came next... I shot some video of them doing their thing.
The winner Wesley Korir is near the front of the pack in the orange jersey.
I found this great
article
about him detailing his early "training" in Kenya (e.g., running 5 miles to school before the bell rang and he got in trouble), his life in Louisville, and being exposed to tribal violence on a trip back to Kenya.
After the elite runners had passed, I went back home and got all my stuff together for my real spectating. I know a thing or two about Marathon spectating. lol I always like to station myself somewhere between miles 20-22 (aka The Wall). I borrowed a ipod boom box from my mom and a folding chair. I packed a backpack with drinks, food, snacks, noisemakers, and my camera. I carried balloons. And I made signs. Oh the signs.
I had inspirational.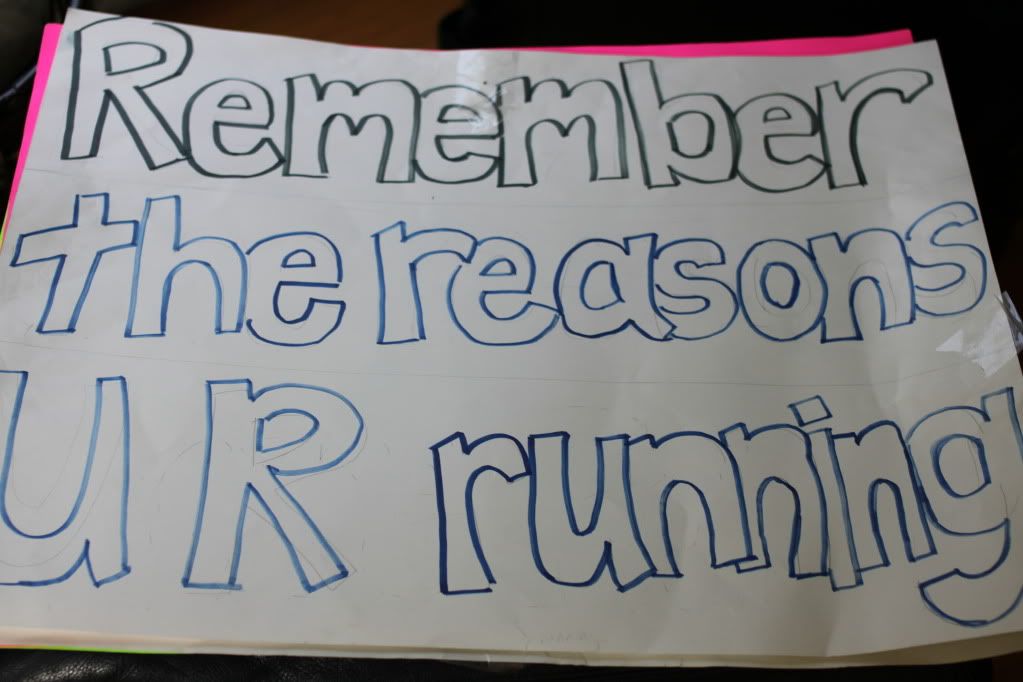 I had funny.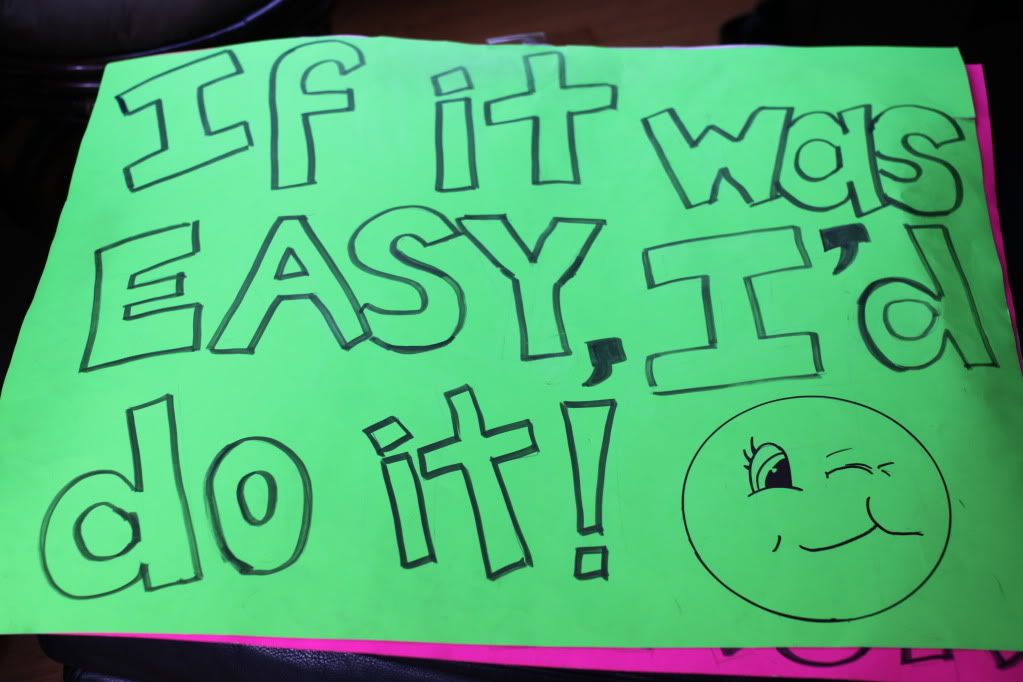 I had colorful and artistic courtesy of Mr. Insom.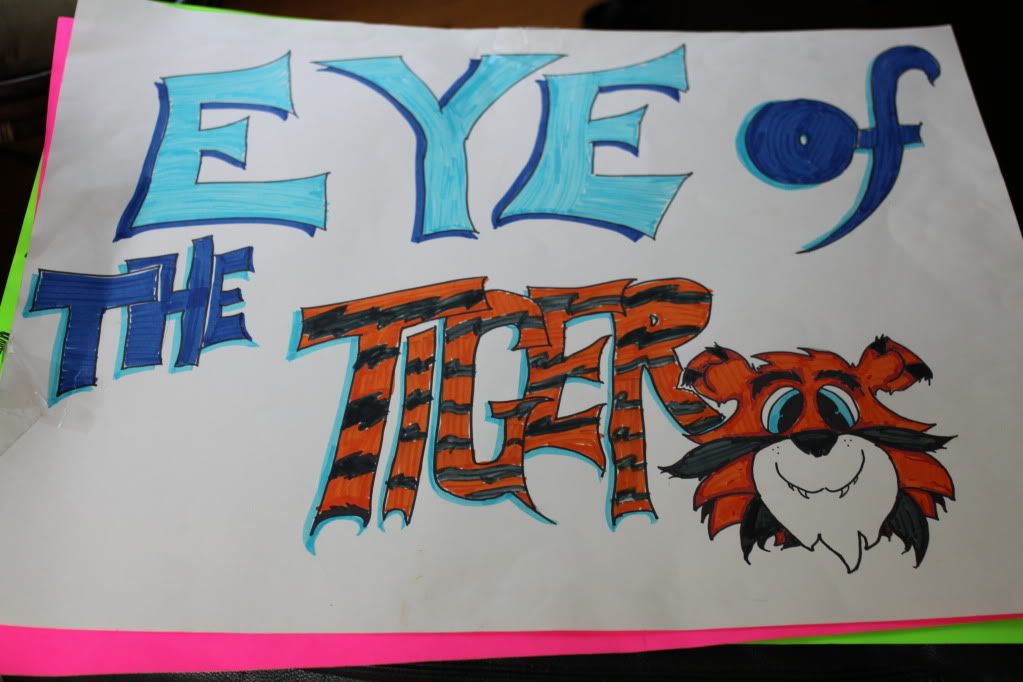 The night before I had perfected my Marathon ipod playlist:
"Gonna Fly Now" (Theme from Rocky)
"The Final Countdown" (another cheesy rock song, popularized by the awesome Gob in Arrested Development)
"Eye of the Tiger" (of course)
"I Love L.A."
"Let it Rock" (a new addition which worked out smashingly)
"Dancing Machine", Jackson 5 (this song allowed me to bust out my fly dance moves)
"Crazy", Gnarles Barkley (which is a catchy, upbeat song but I realized the chorus probably didn't work so well - especially the part that goes "I think you're crazy, maybe you're crazy" lol).
Once I got sick of those songs I added James Brown's "I Feel Good", and the Staple Singers' "I'll Take You There".
I was ready.
I met my cheerleading partner,
AJKnightfan
at the VA just after mile 20. She had brought along a chair, a cooler, and her adorable dog Vega. We set up camp and cheered our hearts out, ipod speakers blaring. The weather was perfect - overcast and not too hot/sunny - I didn't even need the baseball cap I had packed. :)
I had a great time. The runners loved our signs - many took pictures of us or posed next to our signs. The "Pain is temporary, Pride is Forever" was especially popular, as was the "If it was Easy, I'd do it!" They enjoyed the music - lifting up their arms in Rocky tributes, encircling their eyes during Eye of the Tiger, singing along to the Staples Singers, high-fiving us, thanking us for being out there, or just smiling.
I loved these guys. On the front of their t-shirts it said "Steven: The Son" and "Richard: The Father" ...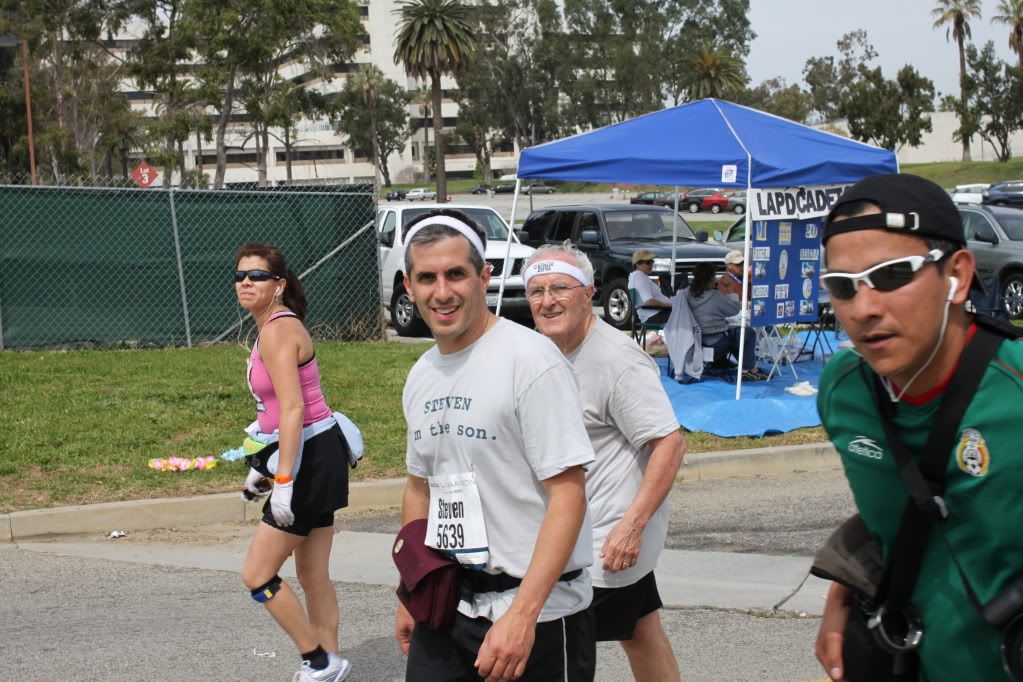 And on the back it said this...
Some people were having a real rough time, though. This guy spent a good 10-15 minutes lying down on the grass in major pain. A police officer checked on him to make sure he was okay.
I totally had to get a picture of anyone wearing Michigan gear. :)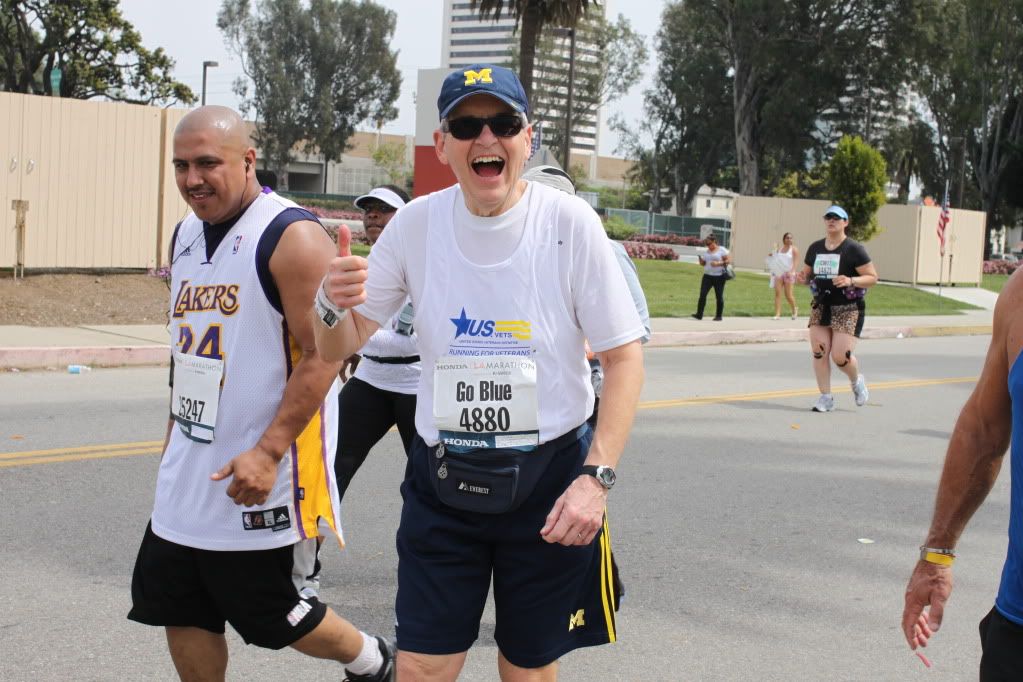 And there's always someone in an outlandish costume. I saw Marilyn Monroe and Stitch, and this guy that really likes Fed Ex for some reason.
Of the 25,000 people who entered, 242,348 finished. Not bad! Wesley Korir had the fastest time (2:09:19) and received $25,000 for being the top male, but since Edna Kiplagat managed to cross the finish line first (women are given an 18 minute head start), she received the $100,000 Battle of the Sexes bonus. Last year Wesley won the Battle of the Sexes, so it's all good... lol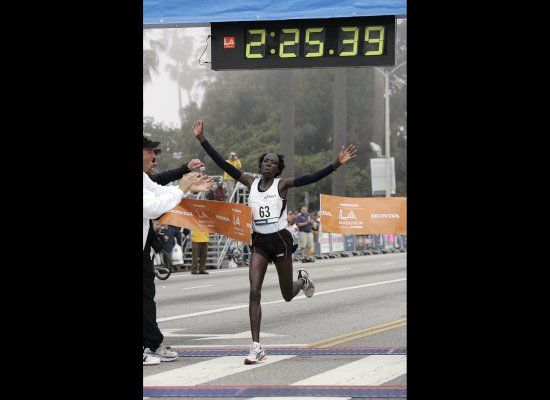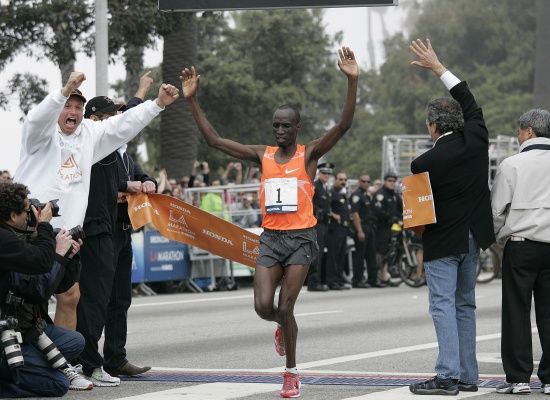 I was happy for Wesley - he won last year and he's the first back-to-back winner in eight years. And he had just gotten married a couple of days earlier to a former teammate on the University of Louisville track team.
I loved one of his comments at the end of the race... "I really loved the course; it was amazing. I couldn't believe I was running through Beverly Hills and someone was screaming my name. Somebody knew me in Beverly Hills!"
I wished that he was talking about me. :)