Other Hollywood Bowl posts
Jewel
Radiohead
Jaime Cullen
Reggae Night - UB-40
Bugs Bunny
and of course this one featuring a solitary
Beach Boy

Like I mentioned earlier, I'm waaaay behind in blogging.
This post is about our last
Hollywood
Bowl
concert
of the summer. I love that place. It made me believe in concerts again. Mr. Insomniac just decided to buy some tickets for the Brian Wilson (aka Mr. Beach Boy) concert. I was like, huh? But then I was like, cool - time to try out my mom's picnic backpack. She got it two years ago as some sort of reward at her hospital. She hasn't used it once and then made the mistake of showing it to me when I went over her house to wash my car.
It organizes the cutlery and plates perfectly and provides service for two. It also has plastic wine glasses which are much better than the Dixie cups we've used in times past and a handy dandy corkscrew.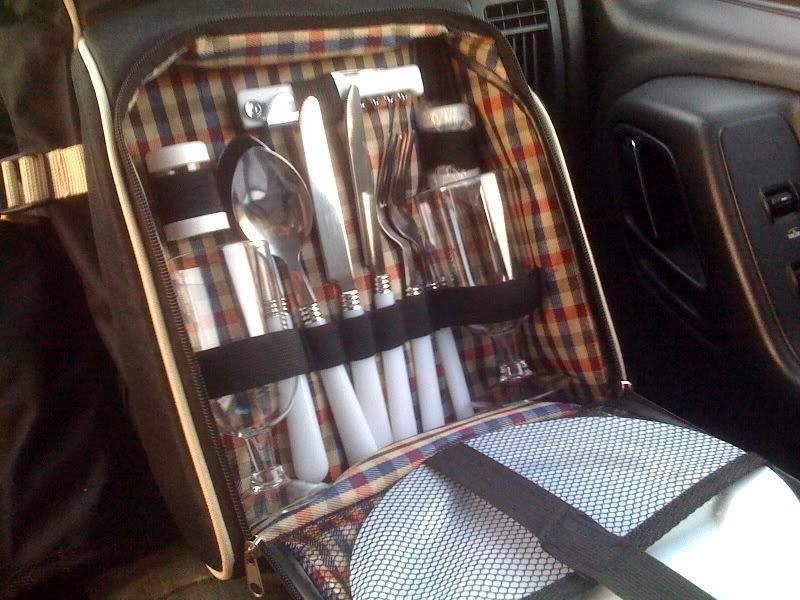 So we loaded up the pack with assorted goodies (cheeses, grapes, figs, french bread, roasted chicken, potatoes, veggies, chocolate) and were on our way. And since the pack even has room for wine, I decided to bring my current favorite bottle,
Orin Swift's Prisoner
red wine.
So already I'm pretty happy, even though I'm not a huge fan of Beach Boys music. It's all about the food.
It seemed as though we were the youngest people around by about 10 years. The guy in the box next to us was the principal of the uber-prestigous
Hahvard-Westlake*
preparatory school, and so had solicitous parents approaching him all evening (insert eye roll here).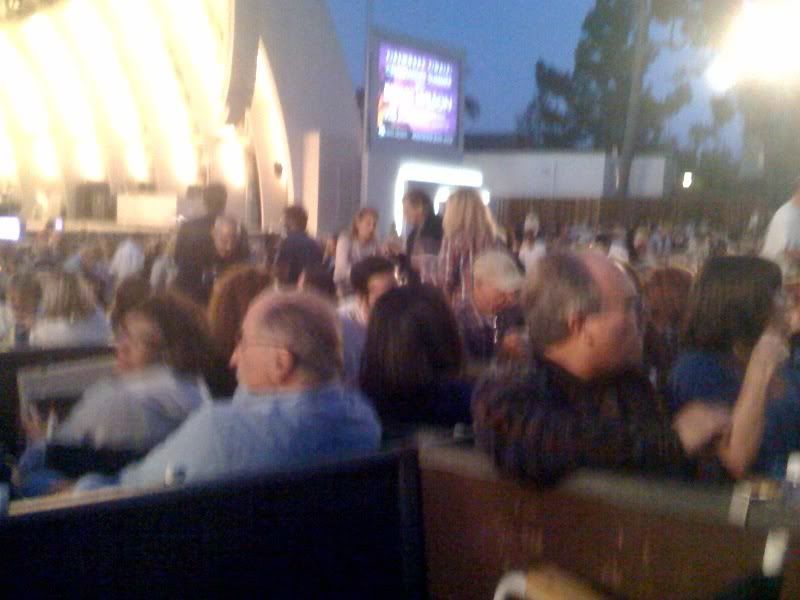 *interesting (well, to me anyways) fact: Harvard-Westlake has a urban dictionary
entry
.
Before Brian Wilson carried his bloated ass on the stage, we got to listen to some classical music by the Bowl orchestra - the Overture of the Marriage of Figaro, and an orchestral arrangement of Bach's Toccata. It was cool, but I prefer the organ version that really puts the fear of God into you. And there was a Gershwin piece, I believe, Rhapsody in Blue. These were, the conductor informed us, Wilson's favorite classical pieces. Well, alrighty then!
We ate dinner.
And drank. It would be nice if the iphone had a damn flash.
And before you knew it, I was doing a poor man's version of the pony and the swim to Help me, Rhonda", "Wouldn't it be Nice", and who knows what other cheery nonsense. I admit I thought longingly about HBO's
Big Love
series when "God Only Knows" came on. It really doesn't take much to get me going.
There's actually something so Californian about the Beach Boys sunny mellowness. For the first time as I sat under the stars on a perfect summer evening, listening to the groovy melody, I thought to myself... maybe this place is worth it.