If you recall, here is a crappy iphone camera pic from the concert I went to last week.  Not too shabby - nice detail, color, etc.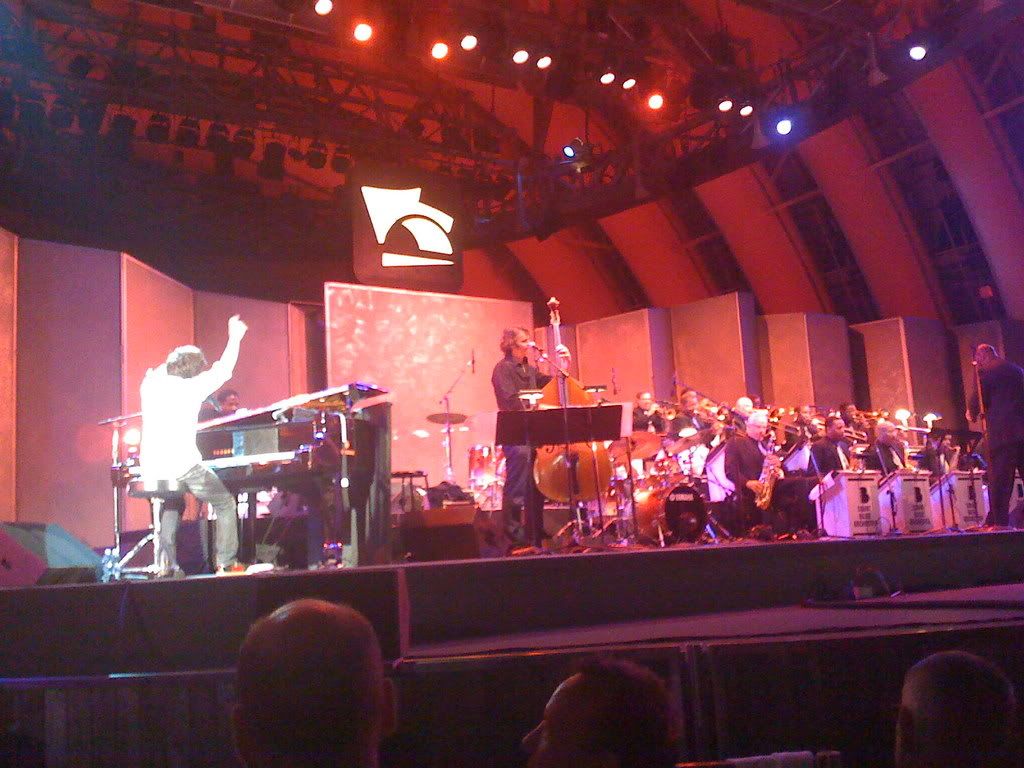 And here is a pic from last night... lol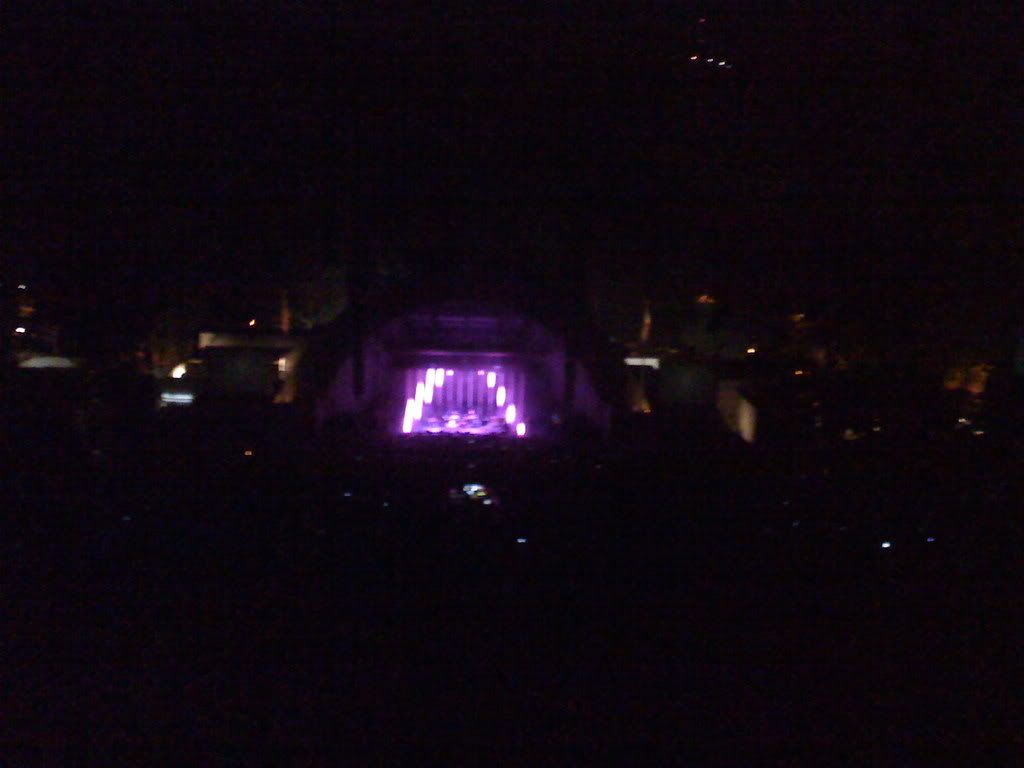 The binoculars didn't even help.  But I can now say that sound wise, there really isn't a bad seat in the entire theater.
Here's the setlist - they played all the songs from In Rainbows and a smattering of work from previous albums:
Reckoner, Optimistic, There There, 15 Step, All I Need, Pyramid Song, Weird Fishes/Arpeggi, The Gloaming, Videotape, Talk Show Host, Faust Arp, Tell Me Why, No Surprises, Jigsaw Falling Into Place, The Bends, The National Anthem, Nude, Bodysnatchers
Encore: House of Cards, Planet Telex, Slowly, Fake Plastic Trees, True Love Waits Intro, Everything In Its Right Place
Encore 2: Cymbal Rush, Karma Police, Idioteque 
Check out all these really good pics are from
sweetcell:
Her (I'm going to assume that sweetcell is a female.  I suppose a male could be named sweetcell though... that would unusual - not that there'd be anything wrong with that...)  But anyway, her version:
Our version: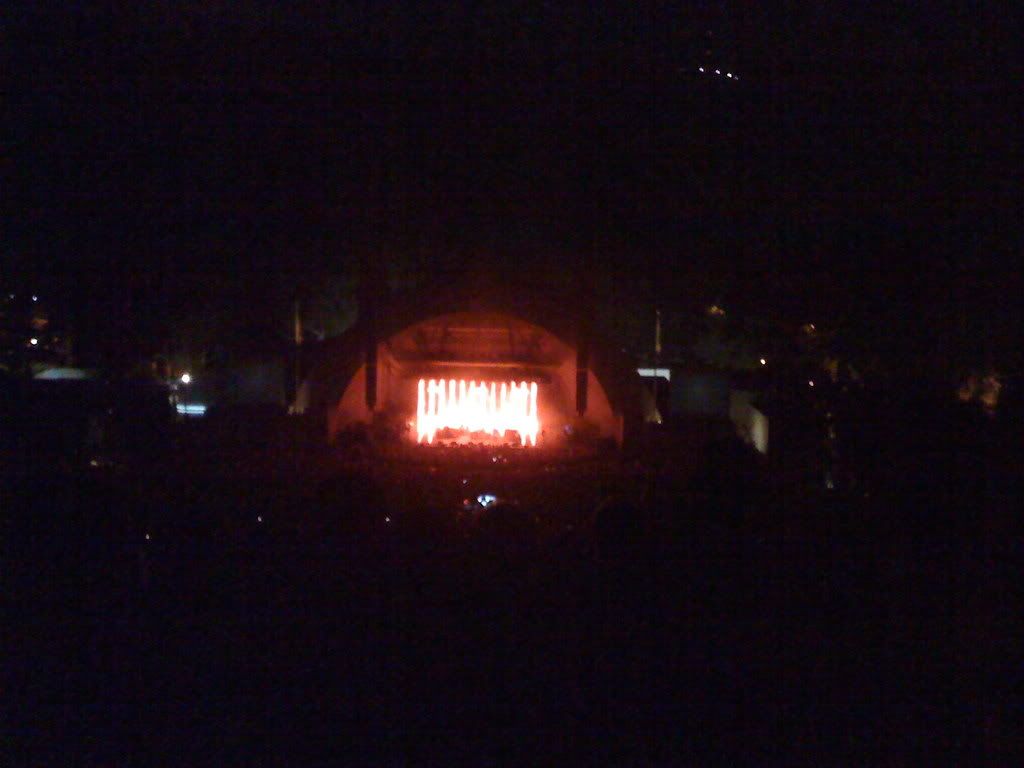 Her version:
Our version: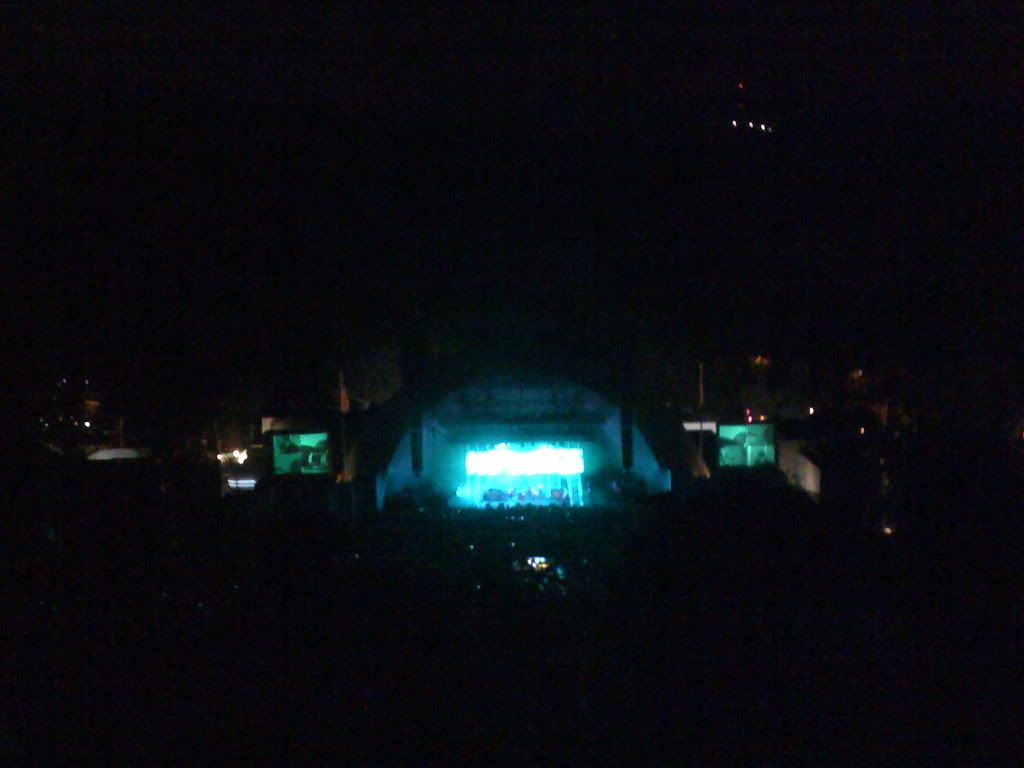 Her version:
Our vers- you get the idea.
Mr. Insomniac, bless his heart, kept snapping anyway even though every pic was a blue, red, or purple version of the same exact thing.  IRL, it wasn't as bad as it appears and I actually didn't mind much.  Thom ususally does a weird spastic movement that kind of creeps me out a bit, so I was happy that I didn't have to watch him tic through my favorite songs.  Is that shallow?
Random Observations:
Mr. Insomniac and I are the only people who don't smoke marijuana in all of Los Angeles
The Hollywood Bowl has really good food.  I had the OK Lasagna (one of the Radiohead featured specials - as opposed to the Kid A Veggie Pizza) and it was delicious - a three cheese hearty piece of grub with a generous slice of garlic bread.  Unfortunately, the concessions shut down at 10pm so I was prevented from getting a second glass of wine.  Kill joys.
I really wish I knew how to concert whistle. Actually, I wish I knew how to regular whistle.
What is up with that glowing white cross that overlooks the entire Bowl audience?  I would have taken a picture of it, but it's not like my no-flash having iphone would be able to pick it up anyway.  Let me describe it - it's high on a hill directly to the right of the stage that glows.  The hilly backdrop behind the Bowl features about three small lights - warning lights so that a helicopter doesn't hit radio towers...  It's very peaceful, relaxing, and sparse and provides a nice backdrop so you focus on your concert under the stars.  But then BAM!  The glowing white cross announces that it's Jesus time!  I don't mind religion, and some of my best friends are Christian (tee hee!) but the last thing I want to see in the dark when I'm sitting in a concert for four hours is a illuminated cross that is basically an advertisement for Christianity.  They might as well have a cherub faced plastic Bob's Big Boy up there.  It totally wrecked my marijuana contact high, bros.  Mr. Insomniac didn't see a problem with it and suggested that I write one of my characteristic "strongly worded letters" and sign it Satan. Whatever dude.  Reading this just made me hate the cross even more.