Some time last week or so I posted about
creating a urban work emergency kit
... I meant to do it last weekend, but got distracted with
game show drama
. So one of my tasks this weekend was to get a good start on my kits.
Saturday night I did a whirlwind trip through Target to buy supplies... I got there at 9:30, half an hour before closing time. I specifically wanted to go to Target, because they were selling backpacks for 9 bucks and after going to three thrift stores searching for a backpack, I decided to just pony up and buy a new one.
So after my shopping spree and combining things I already had, my car/workplace disaster kit looked like this: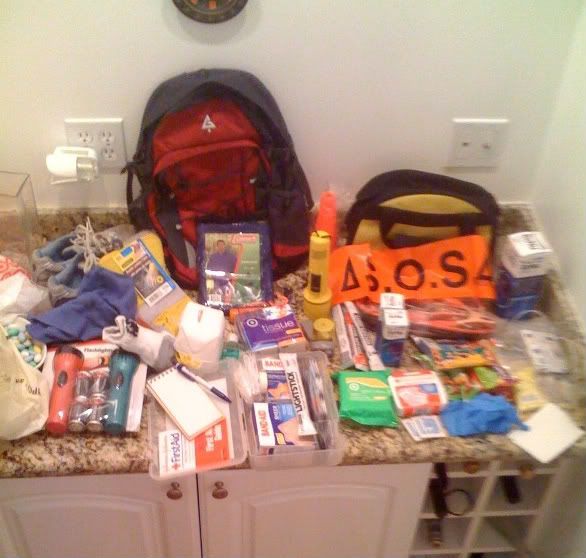 Pictured are 2 bottles of contact lens solution (which can double as a saline rinse), cleaning towelettes, 10 assorted energy bars, jumper cables, pocket knife, traffic cone, SOS banner, mini first aid kit, solar blanket, sneakers, double leather palm gloves, 2 ponchos, 3 battery powered flash lights, hand sanitizer, 1 manually operated flashlight, 2 packs of tissue, 2 dust masks, one pair of socks, 4 glow sticks, 1 box cutter, 1 package baby wipes, a 12-item first aid kit, paper and pen, 2 pairs latex gloves, and a 170-item first aid kit.
I still need to get a small radio, a multipurpose tool, reflective tape, maps, and matches.
One Target purchase that I recommend is the
Johnson & Johnson All Purpose First Aid Kit.
It weighs less than 2 pounds and consists of 170 items (assorted band-aids, gauze pads, tape, latex gloves, instant cold pack, antibiotic ointment, tweezers). It's designed for coverage of "wound treatment and protection, aches and pains, itch relief, burns, diarrhea, swelling, finger sprains, splinter removal, and body heat retention. I plan to add some Benadryl and an ace bandage to it though. I think it's a pretty good deal for under $10. I wish I had gotten another one for my car and for Mr. Insomniac's car. In fact, I think I might buy out the entire supply and use it for my Christmas gifts this year.
And here's everything all packed up and ready to go...
Bring it on!