One of my ongoing community service activities here in Los Angeles is
Reading to Kids
. It has a pretty low time committment. Each month on a Saturday, Reading to Kids sponsors reading clubs at elementary schools in downtown Los Angeles. They select and bring the books and arts and craft supplies. Volunteers read the books to the kids and help them do a thematic arts and crafts. Last month we read a book about what animals do when it's winter and our craft project was making a snowman. Easy peasy. I like it because I get to hang out with kids for a few hours, and then go home without them. It's a win-win.
Anyway, at the last Reading to Kids session, the group leaders made an annoucement about another community service opportunity -
Operation Santa
, sponsored by the
Pasadena Jaycees
. Teams of three people - an elf, a Mrs. Claus, and a Santa travel to Pasadena-area homes on Christmas Eve and hand out toys. I thought it sounded like fun, so I signed up with some of my other Reading to Kids buddies.
The first task on December 23 was to sort the bags and boxes of donated toys. People would bring various barrels full of unwrapped toys and dump them in a large heap in the center of the hall. We little helper elves would grab said toys and put them on various tables according to their category.
There was a table for cars and assorted vehicles and a table of "non-car boy toys aged 7-11" for kids that wanted things that go zoom or boom.
Another stack consisted of board games, educational toys, and books. I kept my eyes on the Candylands. Those might come in handy in the future.
There was a table for the few Barbies and all her many illegitmate sisters like Bonnie, the Snow Queen, and Connie. Hopefully, they don't look at the packaging too closely. Another table for baby type dolls rounded out the more "girly" toys.
Other categories were arts and crafts, toys for infants, inflatable balls of all types, and toys for teens (which basically consisted of DVDs, keyboards, cell phone charms). By the time we were done sorting all the toys, we had huge towering piles.
One young volunteer (at my urging - heh) buried herself in a mountain of stuffed animals.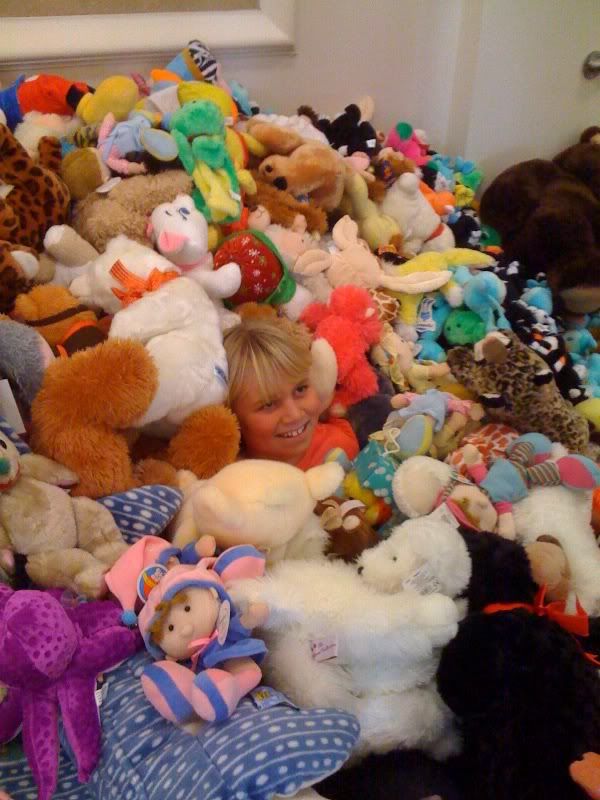 There were some pretty good toys - someone showed me an Edward action figure - hopefully one of the Twihard volunteers didn't pocket it. There were a bunch of Build a Bears in their cute little boxes.
Step number 2 was to begin assigning toys to specific routes. We got a random route that had a number (mine was 41) and we had to gather a certain number of boy toys aged 7-11, a certain number of infant toys, a certain number of girl toys, etc. I suppose this intermediate step was to prevent volunteers from going wild trying to grab the real Barbies for their specific route. That didn't stop me from trying to grab as many Barbies as I could for route 41, even if I knew my actual route would be different.
I am a competitive toy snatching witch.
The resulting bags by age/sex were stuck on chairs to await step 3.
Step 3 is where things got really fun. Volunteers were assigned routes consisting of 18-23 houses and handwritten kid letters addressed to Santa. We were to read the letters and create a bag of toys for each house by selecting from the bagged route toys created in Step 2.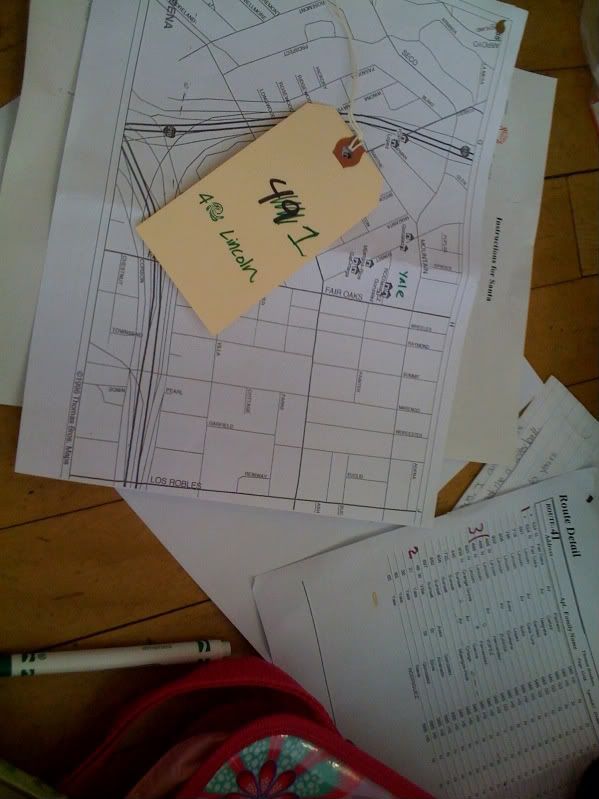 Since I had participated in the previous steps, I knew where all the good toys were and I was kicking ass and taking names as we gathered toys for our respective families.
One kid wanted something Dora related. I pulled out a Dora the Explorer card game.
Another kid wanted a bracelet. I dug in the bag and found a sparkly necklace.
One girl was into scrapbooking. I found her a stamp set.
One boy wanted a remote controlled car. Hmm. We didn't have anything available with batteries. I just gave him a regular car. Oh well - can't win them all.
A girl said she was interested in dinosaurs. I traded a stuffed pig for a stuffed lizard from nearby volunteers and grabbed a dinosaur book off a table when no one was looking.
One teenager wanted a video of High School Musical. Dang. Nothing HSM related in the whole place. But then I remembered the Step Up 2 DVDs I had squirreled away for route 41 in the morning.



My assigned route was 40, right next to the toys that I bagged for 41. The people from 41 never showed, so I decided to do some "exchanges" when the need arose. I got a Step Up 2: The Streets DVD and left a Thomas the Train DVD in its place. Remember, I am a competitive toy snatching witch.
I proceeded to exchange liberally from route 41 for the rest of the day. Soccer balls for four square balls, arts and craft sets for rubix cubes, baby dolls for Barbies.
The boys were pretty easy - they typically wanted some sort of sports item. Pretty much each bag we packed had some sort of football, basketball, or soccer ball in it.

We bagged each bag for each house and labeled them with the address, the order number, and attached the kid's letter.
I volunteered with a good friend, but we couldn't come up with a Santa, so we had to get one that was assigned to us. Here he is.
Next time I want my own Santa. It's hard spending 8 hours with someone that you just met.
When we were finished sorting and bagging toys, we brought them to my Honda Accord. It was going to be a tight fit, but we managed. I sequentially organized the toys (houses 1-8 were in the back seat, houses 9-21 were in the truck) so we would be ready to go for the big night.
After we had packed the toys and did a trial drive of the route, I gave thought to my Helper Elf costume. We were instructed to wear street clothes, as they didn't have costumes for us. We'll see about that.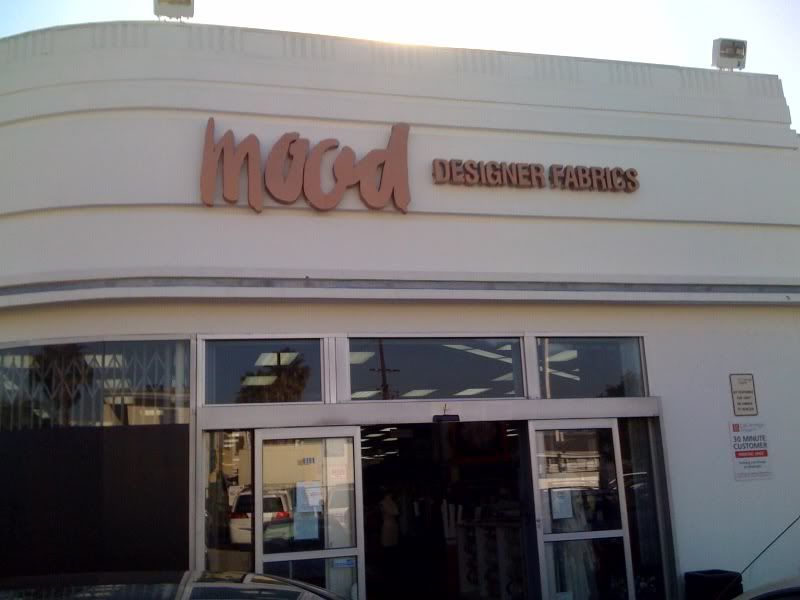 I made a stop at Mood with the intentions of making some sort of scarf or something. First things first, I have a sewing machine. I don't have a needle or thread. I don't know how to sew. If something needs sewing in our house, Mr. Insom busts open a suture kit and some clamps and uses a curved needle and synthetic thread to do the necessary repairs.
This important fact, however, didn't stop me. When I arrived at Mood, the choices were dizzingly numerous and varied.
I talked with a salesperson that conviced me that I could make my own elf costume out of felt and a household stapler. I was to take a shirt and use it as a pattern and draw a chalk outline, then I was to staple the two corresponding pieces together and turn it inside out. Voila - an elf costume!
It didn't go quite as smoothly. Another case of insomniac woefully overestimating her abilities. The resulting product was too embarassing to even document. I threw the "garment" on the floor and doggy Insomniac proceeded to use it as a dog bed.
Time for Plan B -> Buy elf outfit.
As the evening fell upon Christmas Eve, all the volunteers gathered together to go over last minute plans. The Mrs. Clauses listened intently to how Santa was the star of the show and their role was to make sure he didn't spend to long at each house - "we got to check on the reindeer, Santa!"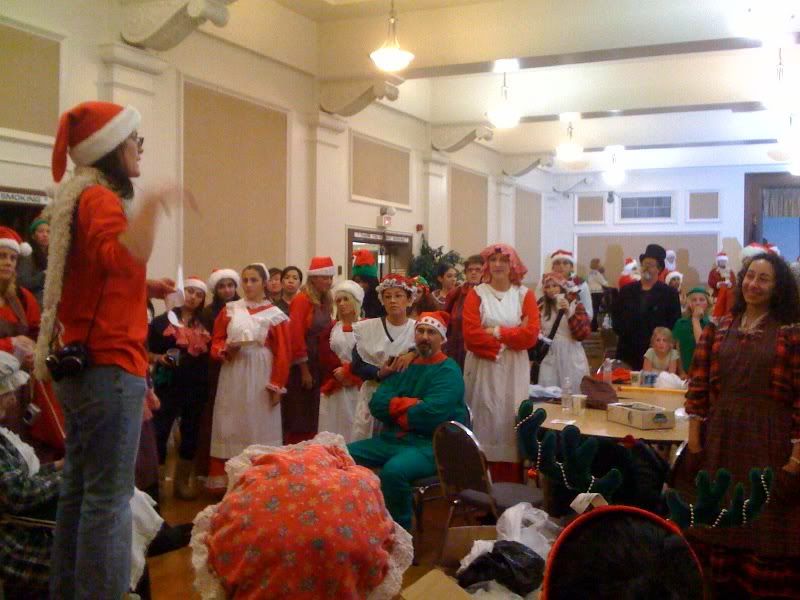 The Santas practiced their Ho ho hos.
One final group photo before we headed out...
It was a good time.
All the kids were so happy to see us - there were a lot of "Santa!" shrieks - and parents were very appreciative as well. We took lots of photos with family members and handed out mini candy canes. We brought along extra toys as well, so when we met other children along the way, we'd hand them a present of their own. One little boy wearing too little clothing for the chilliness of the night saw us as we were heading to another house and he shyly smiled and said "Hi, Santa". Since I was the Helper Elf, I carried a crapload of the extra toys in a sack on my back and I asked him, "what's your favorite sport?" and when he replied basketball, I pulled out a basketball out of my sack and handed it to him. His eyes opened wide in surprise and said, "thanks, Santa!"
I got to see the teen girl that I stole, er, "exchanged" the Step Up 2 video for and she exclaimed, "I love this movie!"
We finished at around 8:45pm and headed back to the hall to return extra toys. I grabbed some cookies and began the trek home where I would perform a reprise of my Helper Elf act later that evening with Operation Cardboard Christmas.
A great way to spend the holiday. :)