I love museums. :)
On Sunday, my last day in New York, we attended the opening day of the Tim Burton exhibition at the
Museum of Modern Art
. It was a total stroke of luck that of the three days we were in NYC, one of them coincided with this exhibition. When I lived in NY, I loved MoMA and I hadn't been back since the remodel.
Do you remember how impressed I was with my ability to wake up at basically 4am when you factored in the time change to go to the Statue of Liberty?
Sunday was a different story.
If I'm really tired, I don't wake up. No matter what. If you tell me to wake up, I say "10 more minutes". If an alarm wakes me up, I hit snooze for 10 consecutive times or I turn it off. I have zero recollection of any of the events that take place during this period. It's like I'm sleep zombie.
I had the day planned out:
Wake up at 8am.
Have breakfast at Es-a-Bagel

Arrive at MoMA at 10:15, 15 minutes before the doors opened.
Use our previously purchased, already printed out tickets to be among the first to enter the exhibit when the museum opens at 10:30 to avoid crowds.
Leave at 11:30 to make our 12pm reservations at Bouley
Head to airport

Here's what happened.
Mr. Insom: Um... it's 10:40. Don't we need to be somewhere?
Me: *bolts upright in bed* OMG!
Perfect plan ended with me missing my flight and catching one a couple hours later. lol
But first was my third museum in 24 hours, lol.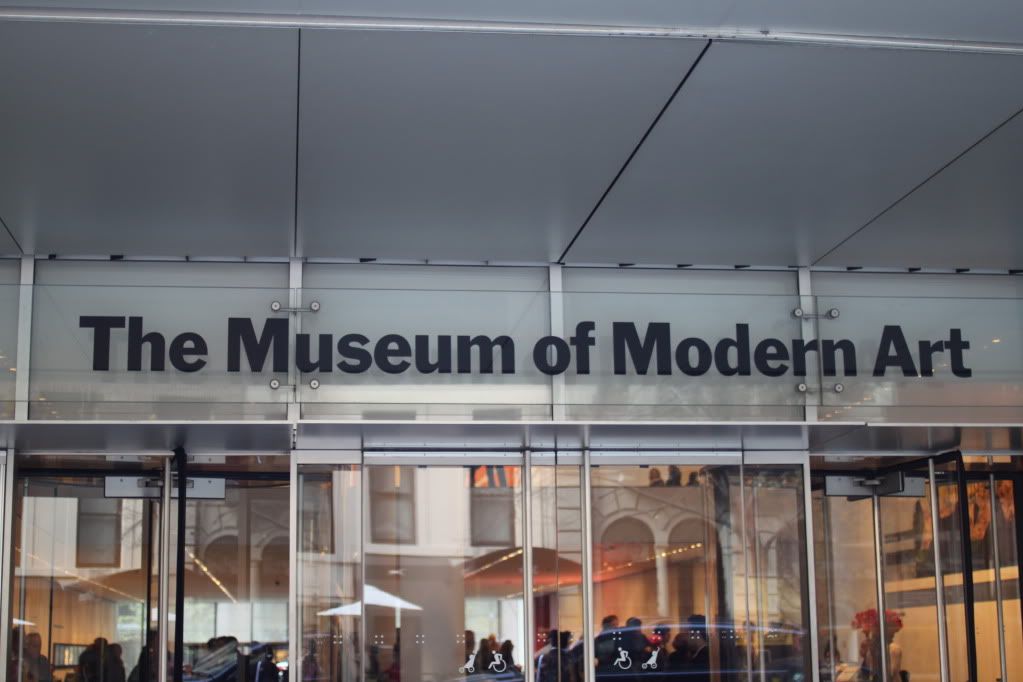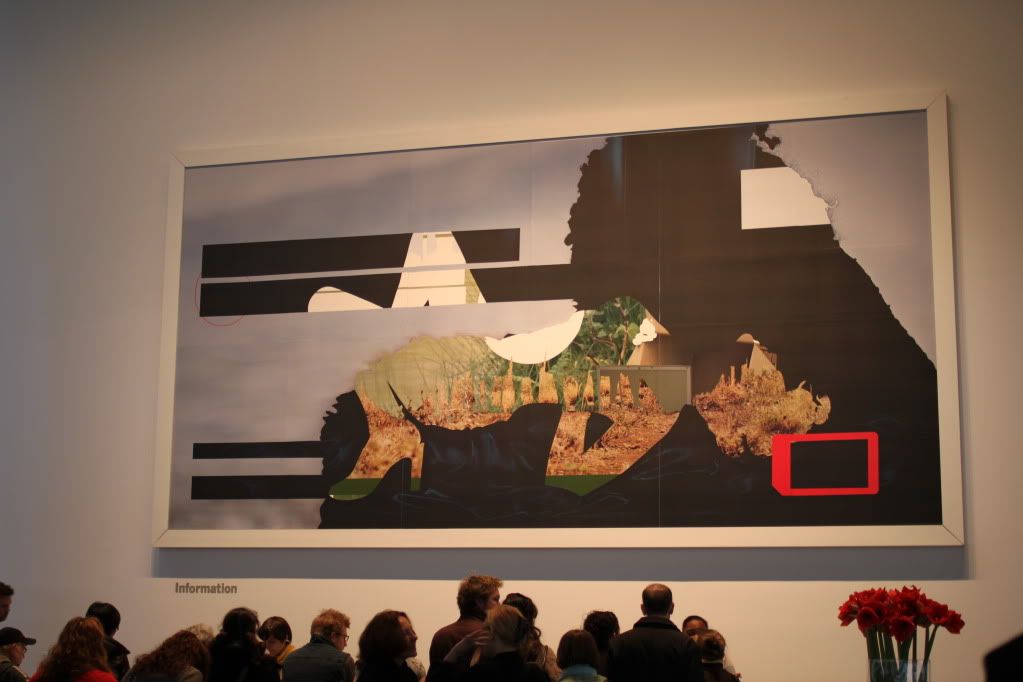 Free timed entry tickets for the
Tim Burton exhibition
are suggested on weekdays and required on weekends, and you can buy them when you buy your online admission. Both Mr. Insomniac and I really enjoyed it and you should definitely check it out if you're able to before it ends on April 26, 2010. I'd suggest going as early in the day as possible - even though they limit the number in the gallery, when I went it was pretty packed in there (granted it was opening day, but still).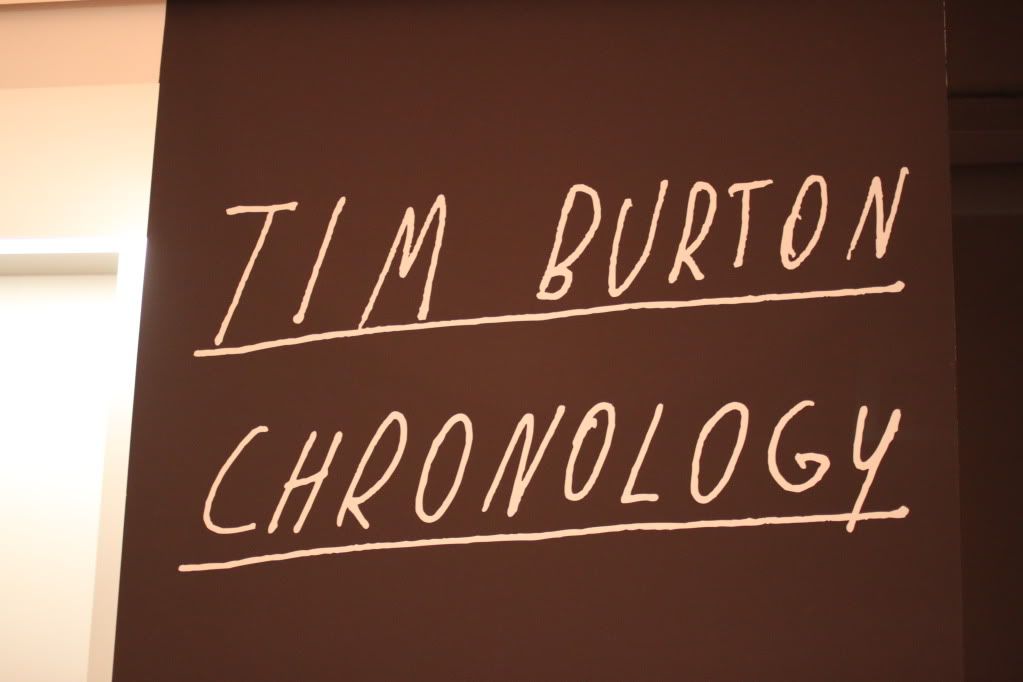 From the MoMA website:
This exhibition explores the full range of Burton's creative work, tracing the current of his visual imagination from early childhood drawings through his mature work in film. It brings together over seven hundred examples of rarely or never-before-seen drawings, paintings, photographs, moving image works, concept art, storyboards, puppets, maquettes, costumes, and cinematic ephemera from such films as Edward Scissorhands, The Nightmare Before Christmas, Batman, Mars Attacks!, Ed Wood, and Beetlejuice, and from unrealized and little-known personal projects that reveal his talent as an artist, illustrator, photographer, and writer working in the spirit of Pop Surrealism. The gallery exhibition is accompanied by a complete retrospective of Burton's theatrical features and shorts, as well as a lavishly illustrated publication.
Some pieces are humorous.
Others are early representations of his movies.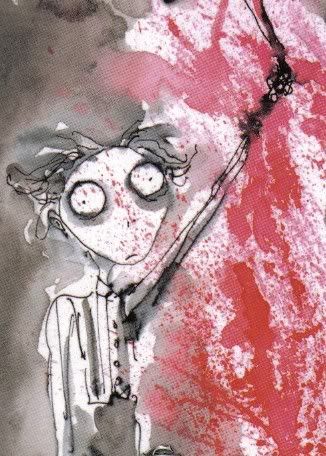 Some are scary.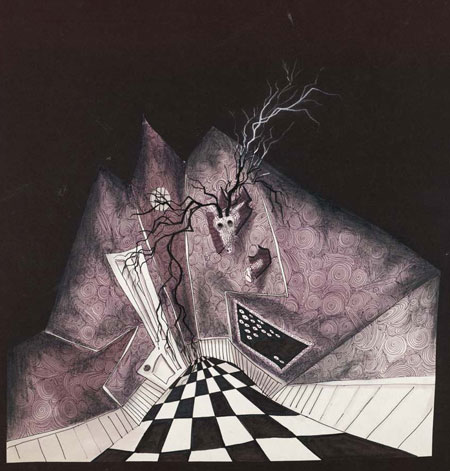 Others are sweet.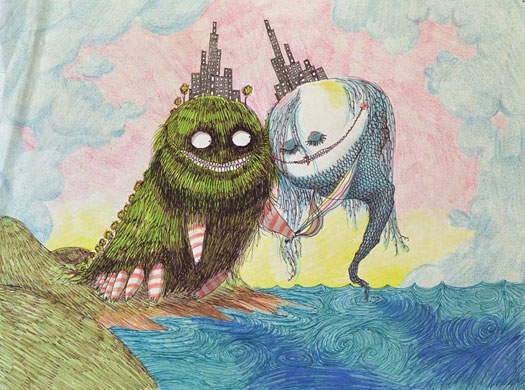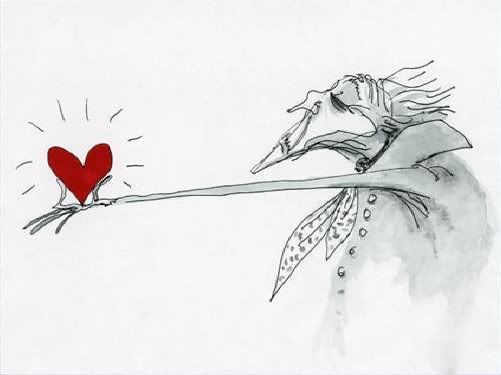 The exhibition was quirky, beautiful, eye-opening, wondrous, disturbing, and enchanting. It's not every day you get to see inside the mind of someone like Tim Burton. He has such a uniquely bizarre slant on the world which I appreciate. Several pieces the featured art are simple musings or ideas used to communicate his ideas to other people in making films. For example, Johnny Depp describes how he knew everything about the character of Edward Scissorhands after Burton showed him this sketch.
If any this sounds remotely interesting, please check out the exhibition
website
- it has all sorts of goodies on it and paints much better picture of the exhibit than I'm currently doing. lol
If you can't get to MoMA, or can only spend a short time there because you have to head to lunch and catch a plane to take you 3,000 miles away, you can pick up a book on the exhibition.

We were lucky enough to get one of the last remaining copies of the more extensive book - The Art of Tim Burton. This book will not be available on Amazon, but can be purchased on this
website
.
The book was edited under the guidance of Burton and consists of 430 pages with 1000 illustrations, and includes film concepts and hundreds of drawings, paintings, photos, and sketches from his personal archives. It is grouped into thirteen chapters that examine common themes in Burton's work, from his fascination with clowns to his passion for misunderstood monsters, to his delight in the oddities of people. Many of Burton's friends and collaborators offer their thoughts, insights and anecdotes about Tim Burton's style and artistic approach to life.
And of course I couldn't leave MoMA without visiting my favorite painting in the collection. :) I love galleries that allow no-flash photography. Why can't they all?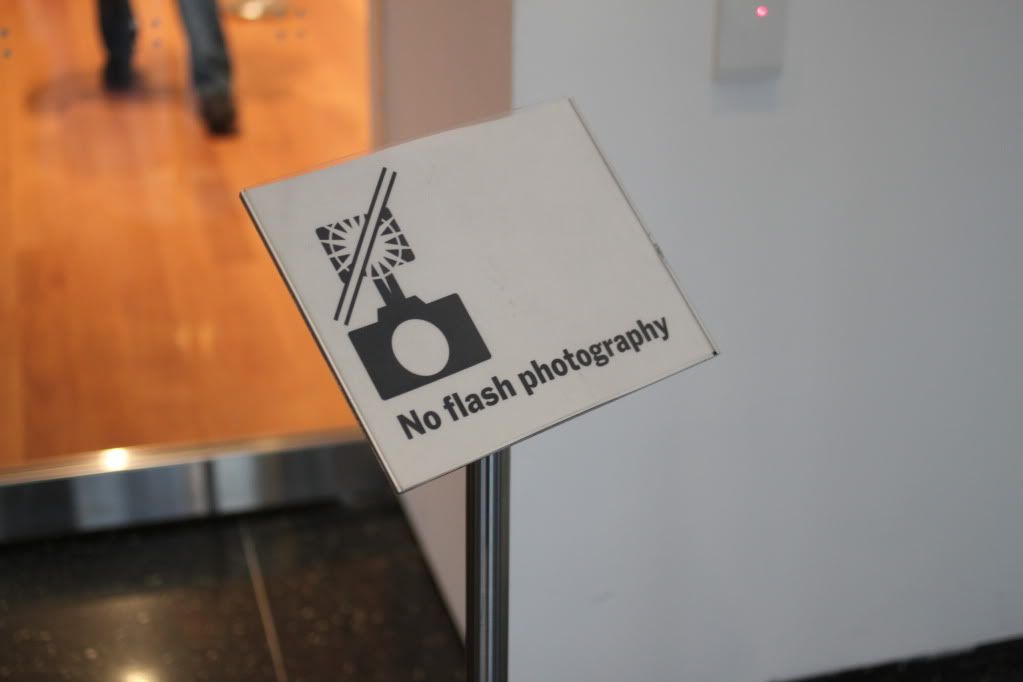 I spent some time looking in the new Monet Gallery that houses the full group of Claude Monet's late paintings in the collection. These include a massive mural-sized triptych (Water Lilies, 1914–26) and a single-panel painting of the water lilies in the Japanese-style pond that Monet cultivated on his property in Giverny, France (Water Lilies, 1914–26), as well as The Japanese Footbridge (c. 1920–22) and Agapanthus (1914–26).

It's so restorative to just be in the presence of these pieces. They are definitely evocative of the outdoors and are so calming. It must be so strange to live in such an urban environment like New York City - I appreciate the many different available avenues to get a dose of nature.