My last meal in New York consisted of a pre-fixe lunch with two of my college friends at
Bouley
, or as I like to call it, Nirvana in New York. Bouley received two Michelin stars and is located in Tribeca. I always enjoy seeing my friends even though it's typically once a year... it's so sad that all of my college buddies live on the East Coast. :(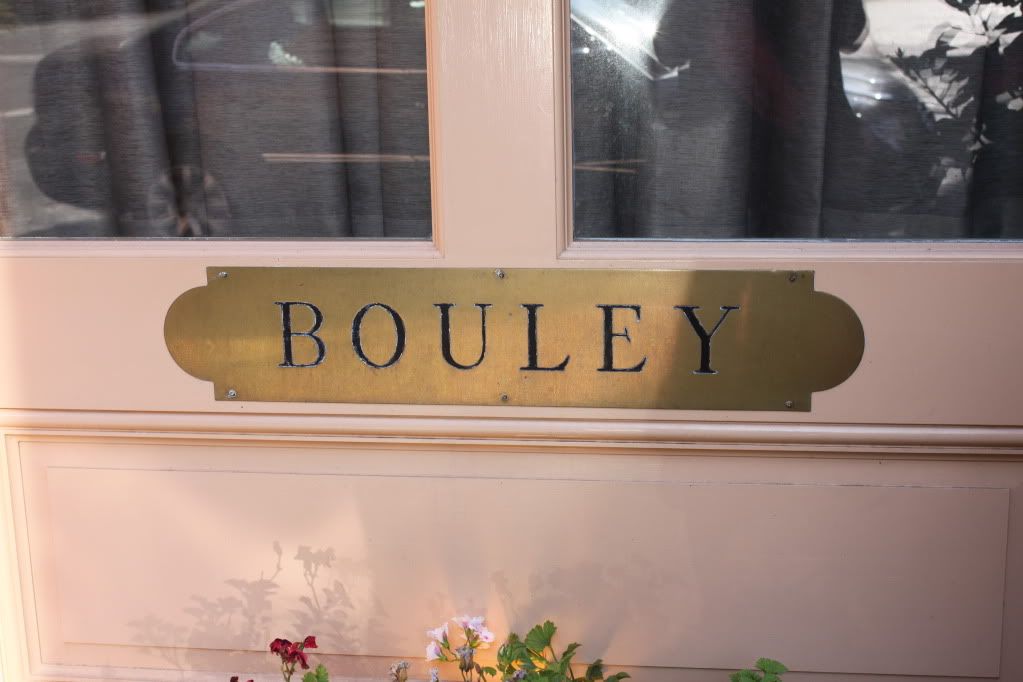 From the moment I entered this restaurant, I was in utter rapture. The foyer is lined with floor to ceiling shelves of apples. The display was stunning visually and the smell was intoxicating. I lingered there for several moments, deeply breathing in the scented air.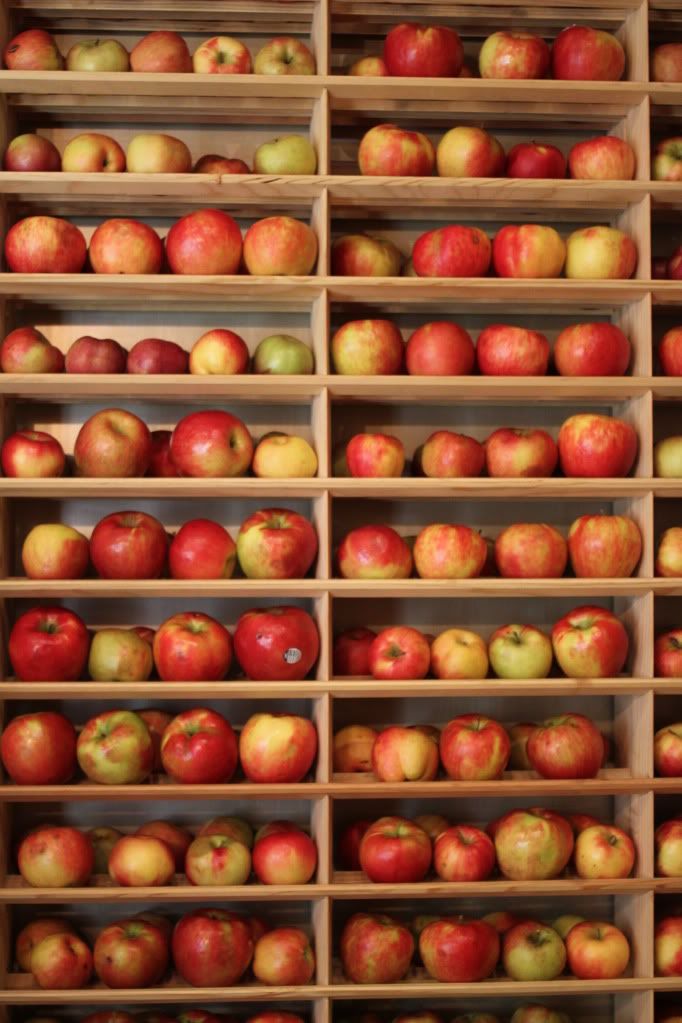 As I was seated at the table, I marveled at the unusual (read: non-white) place settings and assorted fresh flowers on ample display. I felt like I was in some sort of enchanted greenhouse - such a welcome respite from the concrete jungle of New York! Sitting in the dining room I forgot all sense of place and time.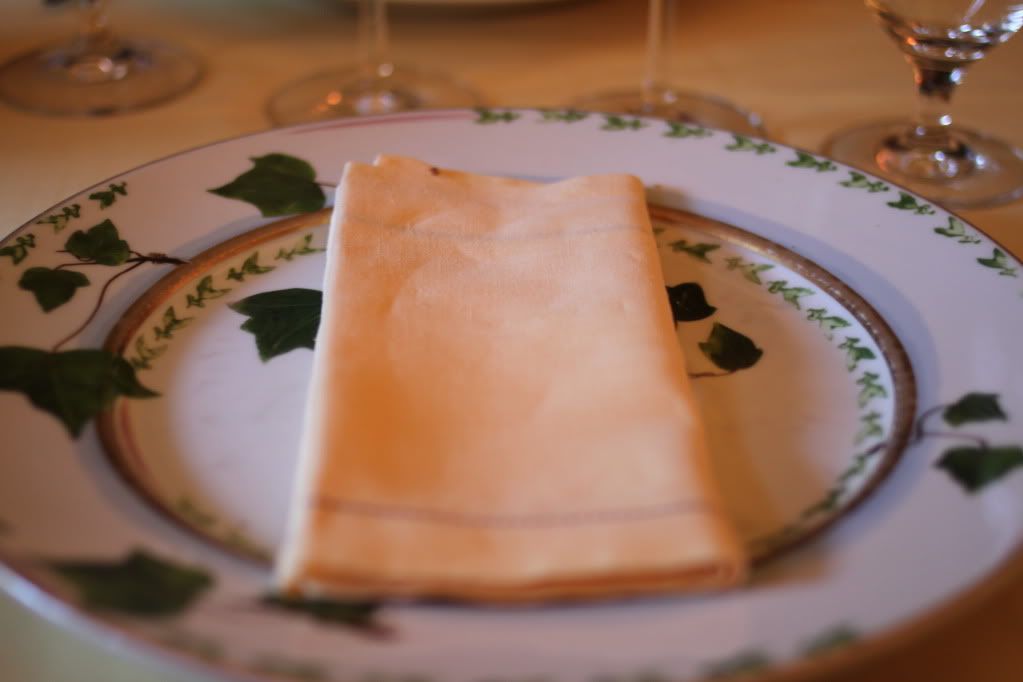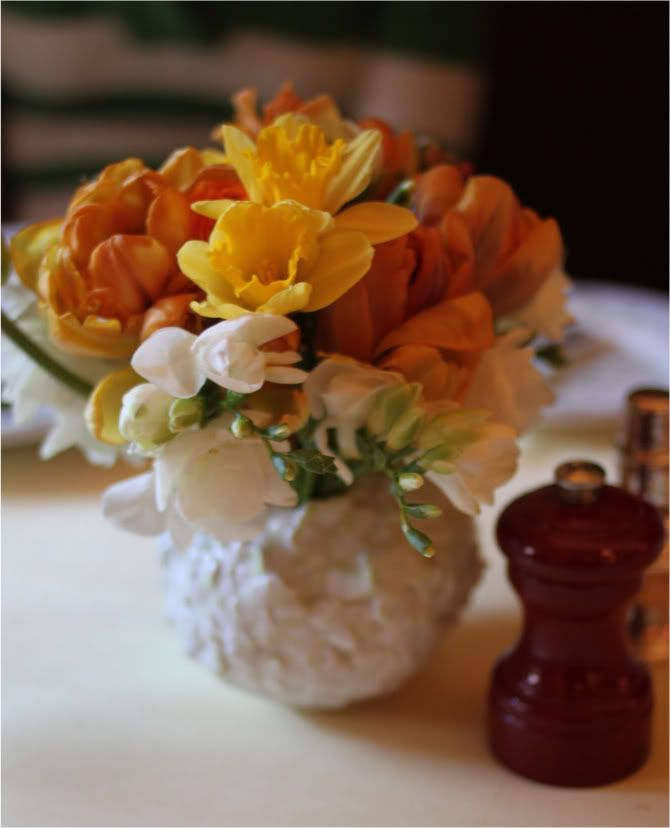 Amuse bouche - some sort of cheese in tomato water with infused olive oil. A refreshing way to begin the meal.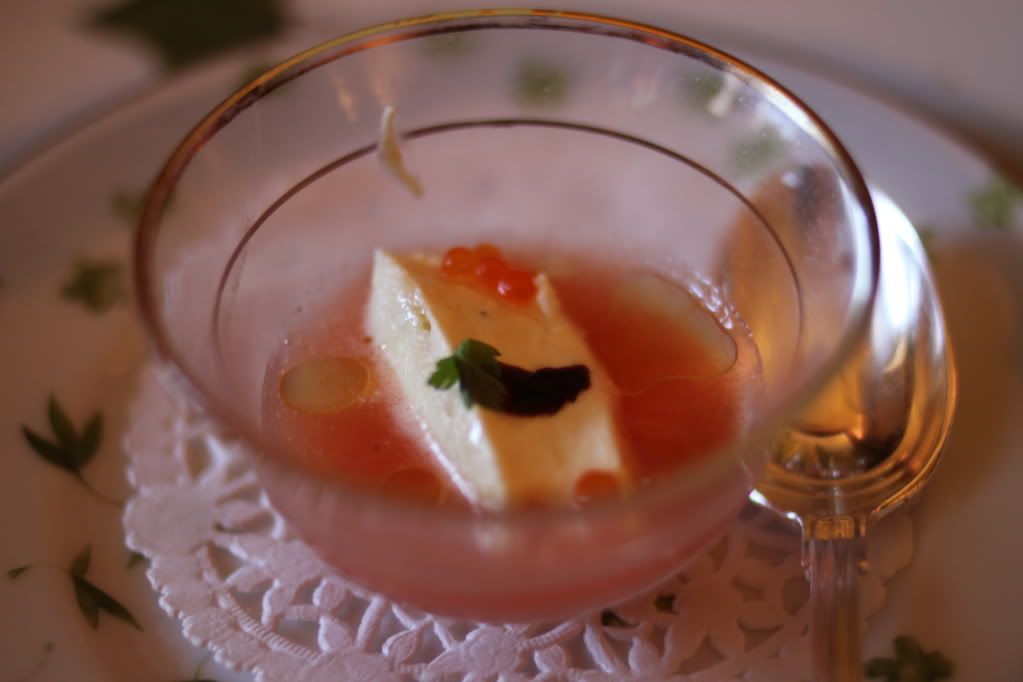 The accompanying apple bread wasn't at good as
Aureole
, but it was still tasty.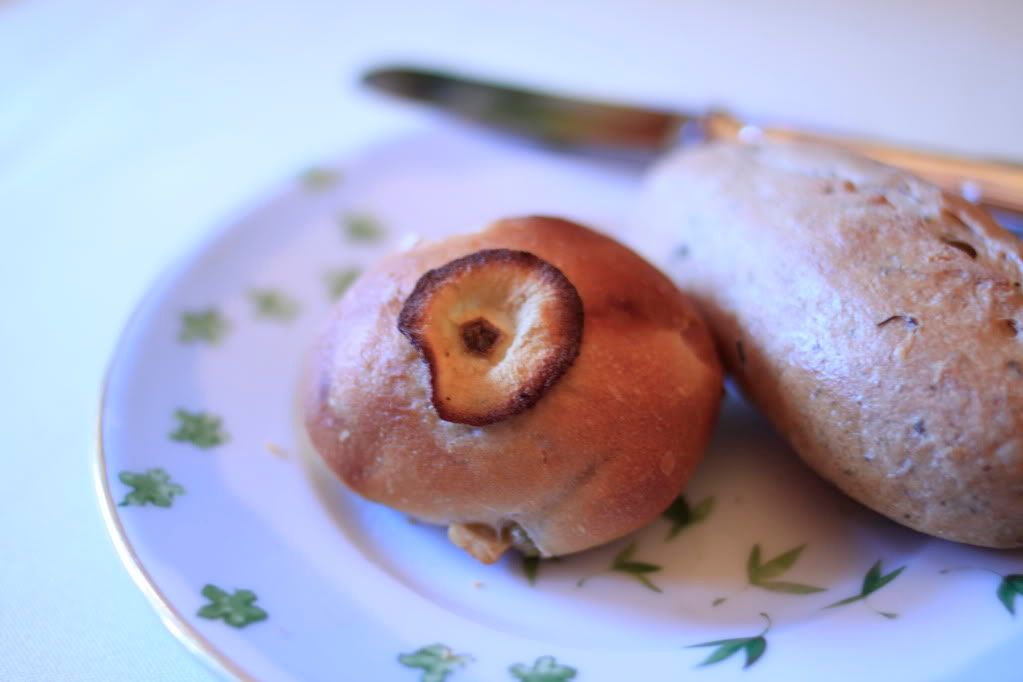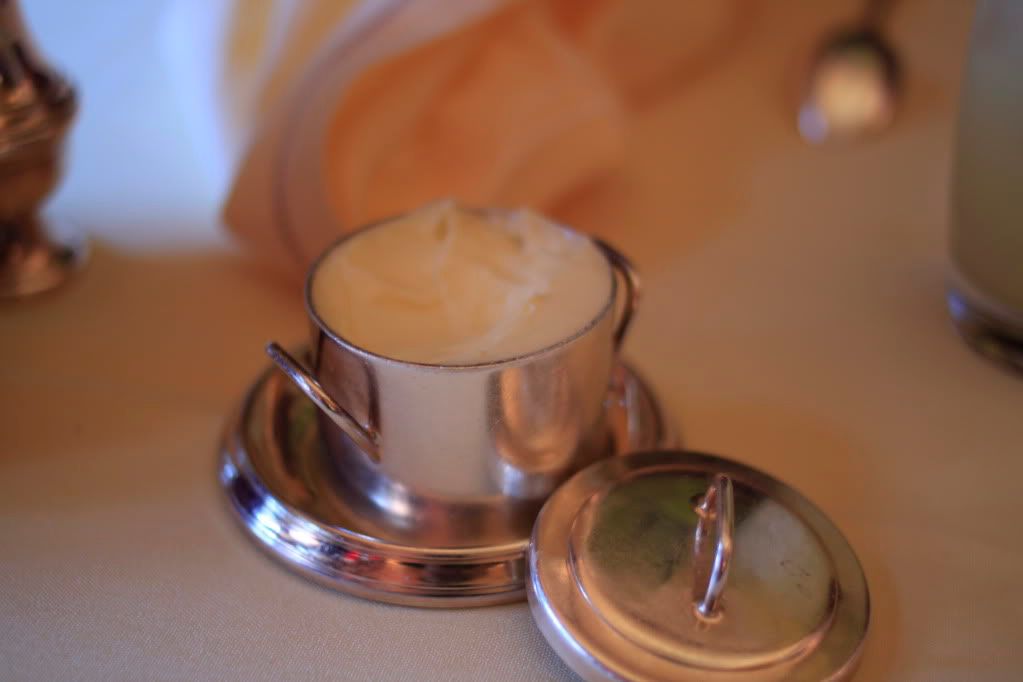 It was a beautiful dining hall - warm and subdued, with lots of muted color.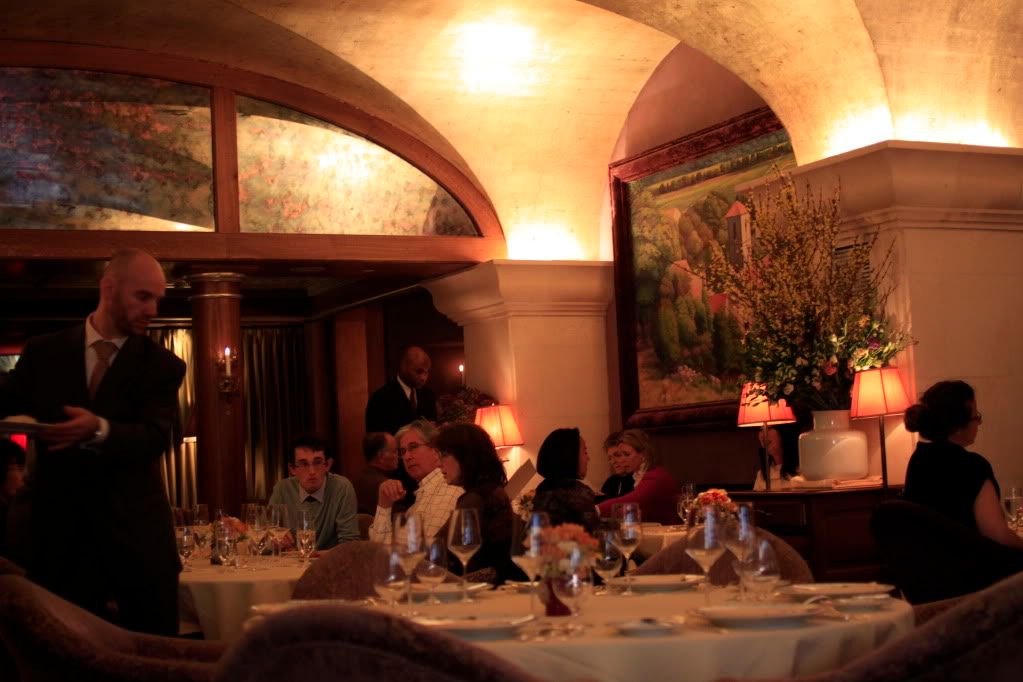 First course: Porcini Flan, Dungeness Crab, with Black Truffle Dashi. I loved the presentation in the mini copper pot. Even better was the dish itself. I think this cauldron of goodness was the best thing I ate all weekend. It had such a pleasing assortment of flavors and was the epitome of warm comfort food. It was in the same league as those
fois gras ravioli in the chicken broth
that I had at L'Atelier.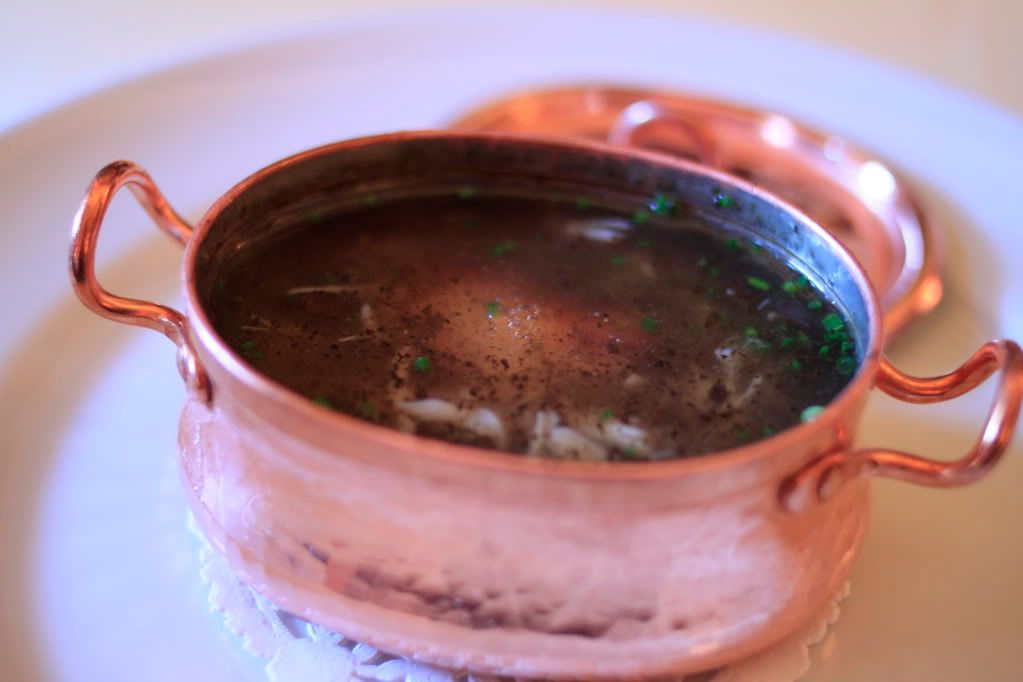 For some crazy reason, one of my friends didn't want either of the appetizers, so she asked the waiter for a green salad. It wasn't on the menu, but the chef whipped up a beautiful version.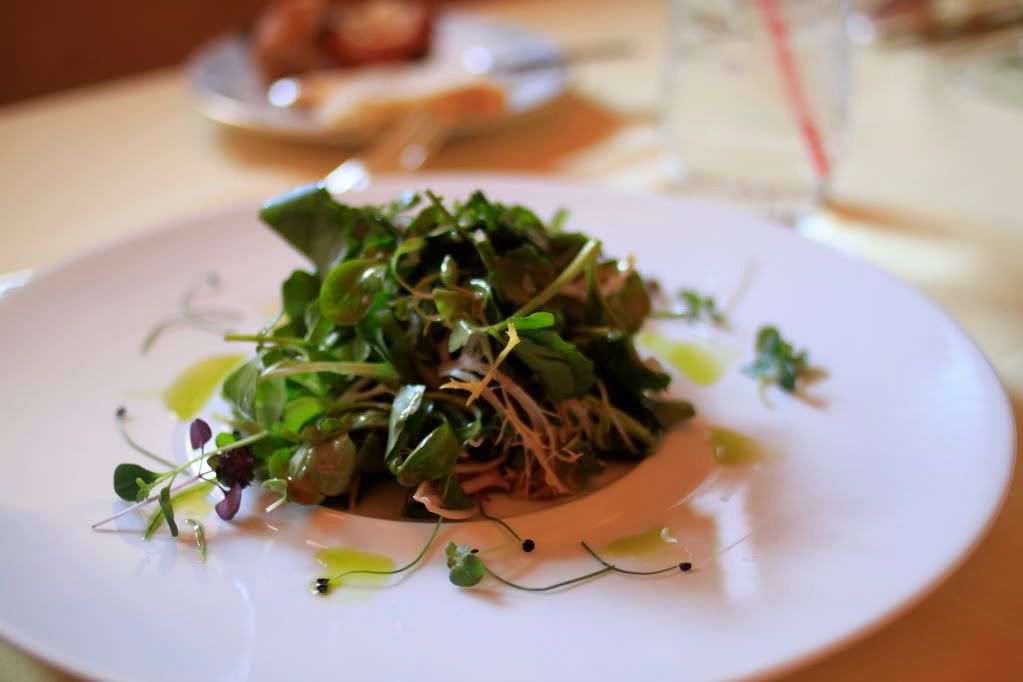 My second course was a roasted Baby Skate, Seasonal ramps Dressing, Fricasée of Green Asparagus.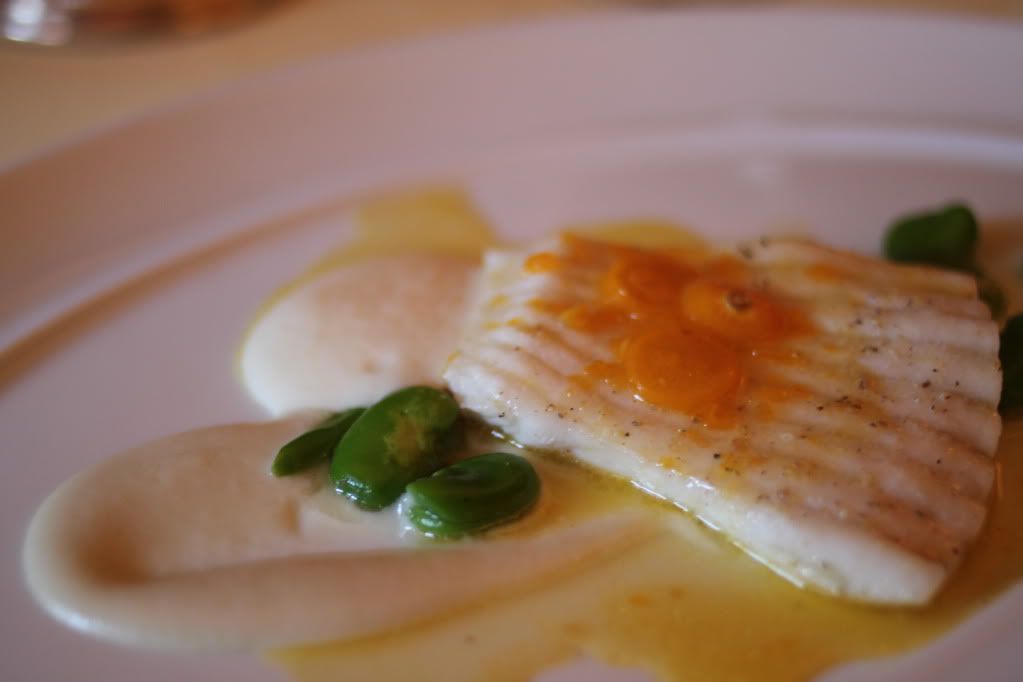 I got it because it was skate. I mean, how many chances am I going to get to eat one of these things?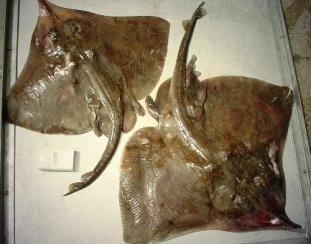 Yum.
My other friend (and Mr. Insom) opted for an additional third course in place of the second course, so she got fresh Washington State Black Cod, Organic Buckwheat, Sunchoke Cloud, Black Onion Powder. The presentation was a little bizarre, but it tasted delicious. I don't know why everyone was deviating from the set menu. lol The chef was cool with it though, and they didn't even charge extra.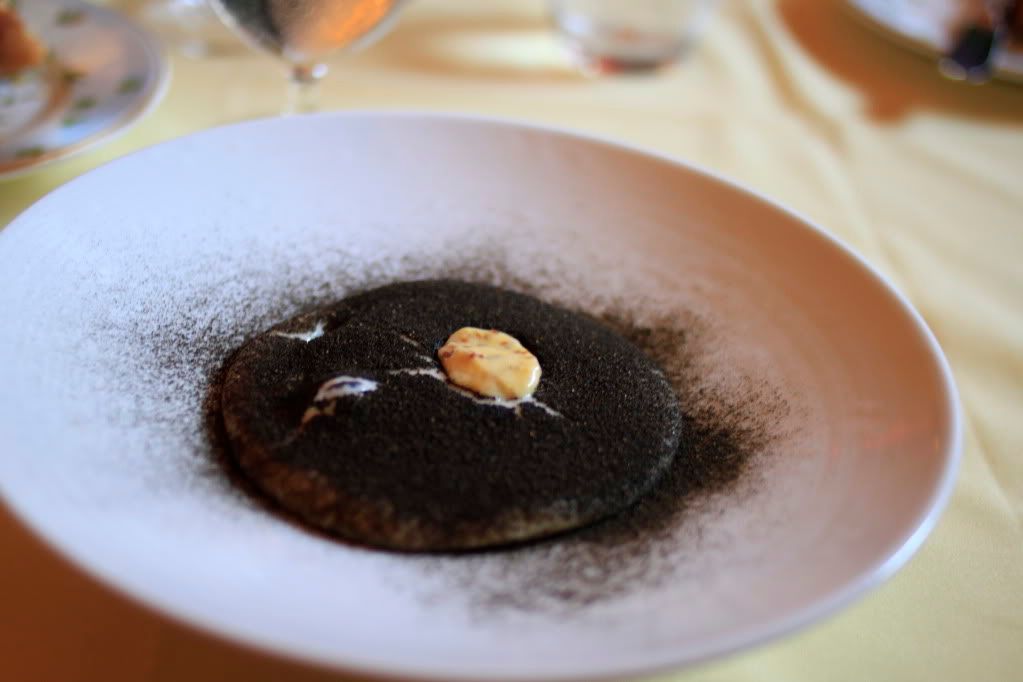 My third course was an All Natural Pennsylvania Chicken, Fresh Almond Purée, Black Truffles, Organic Crosnes, Buttermilk and Tarragon. Very tasty. I would have liked more solid veggies though - all the puree kind of reminded me of baby food. But the flavors were spot on.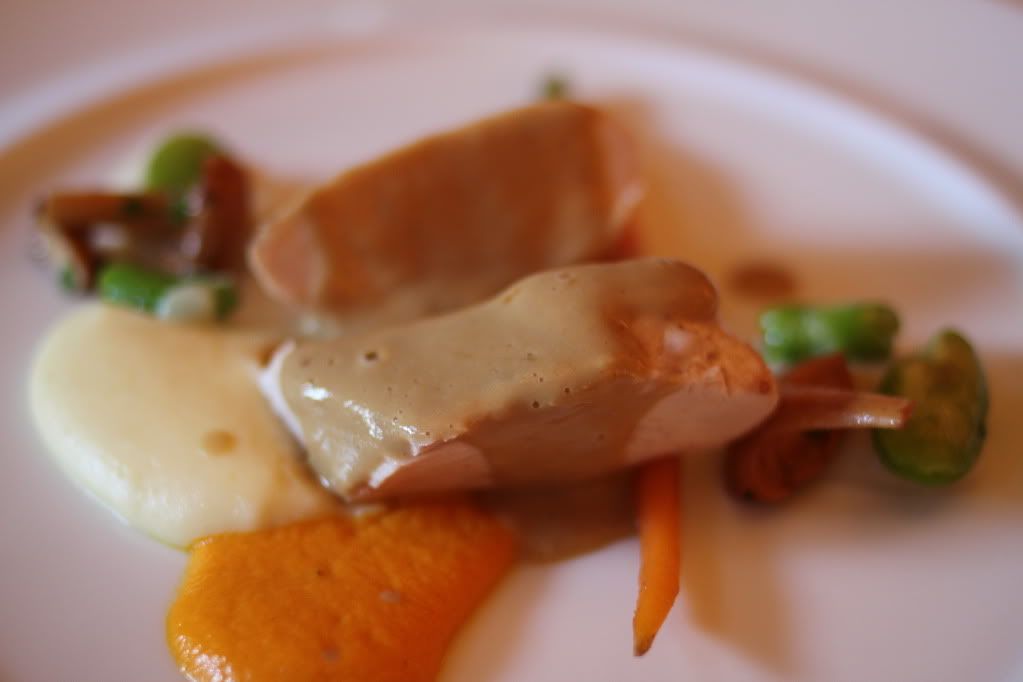 Mr. Insom got the Long Island Duckling with a Balinese Pepper Crust, White Truffle Honey, Julienne of Snow Peas, Tahitian Vanilla-Glazed Turnips, Verjus, Ginger Dressing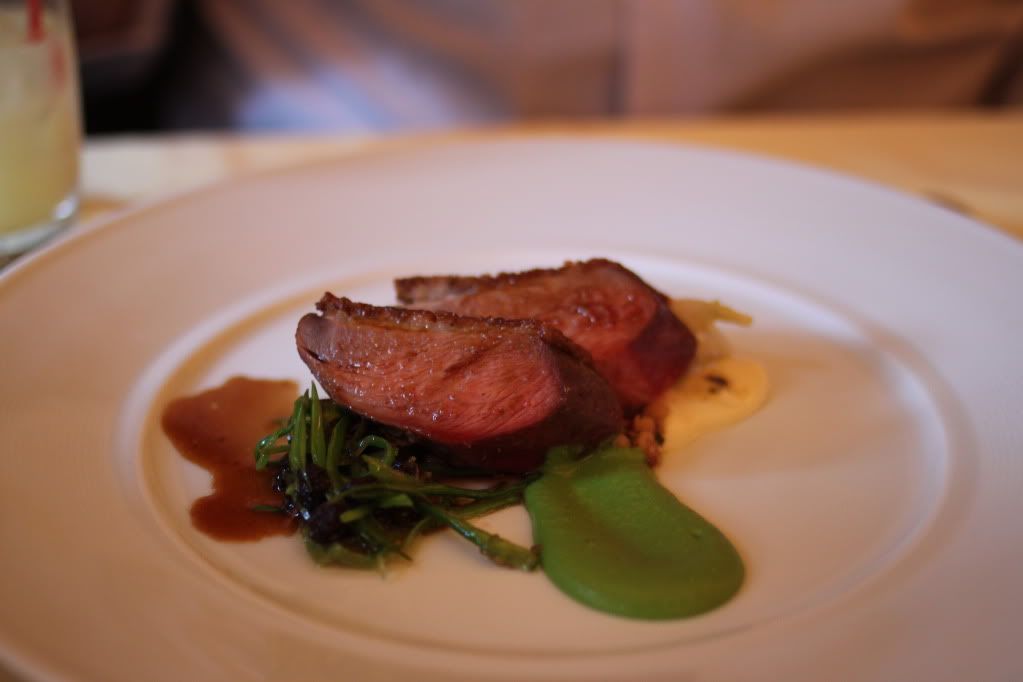 Our pre-dessert treat was a raspberry sorbet with pear nectar, which wasn't on the scheduled menu. It was a little too sweet for me, but still good. I felt a little bad because I was keeping an eye on the clock (I was trying to catch a plane) and had to request that the dishes come out a little faster. I think this is why we got this instead of the coconut soup with passion fruit and yogurt sorbet which I would have enjoyed as a palate cleanser.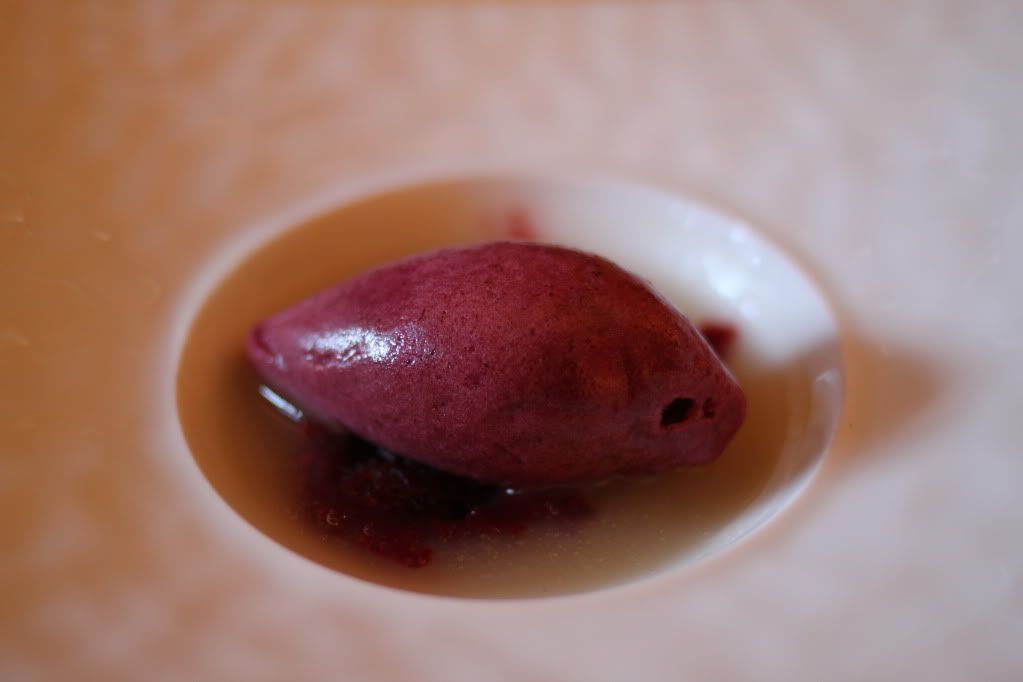 Fortunately, we still got the good stuff when it came to the final dessert. Hot Valrhona Chocolate Soufflé with Vermont Maple and Vanilla Ice creams and Chocolate Sorbet.
There were a few other options for dessert, but no one at the table was interested. I mean, how can you compete with a chocolate souffle? And Lordy, this was delightful.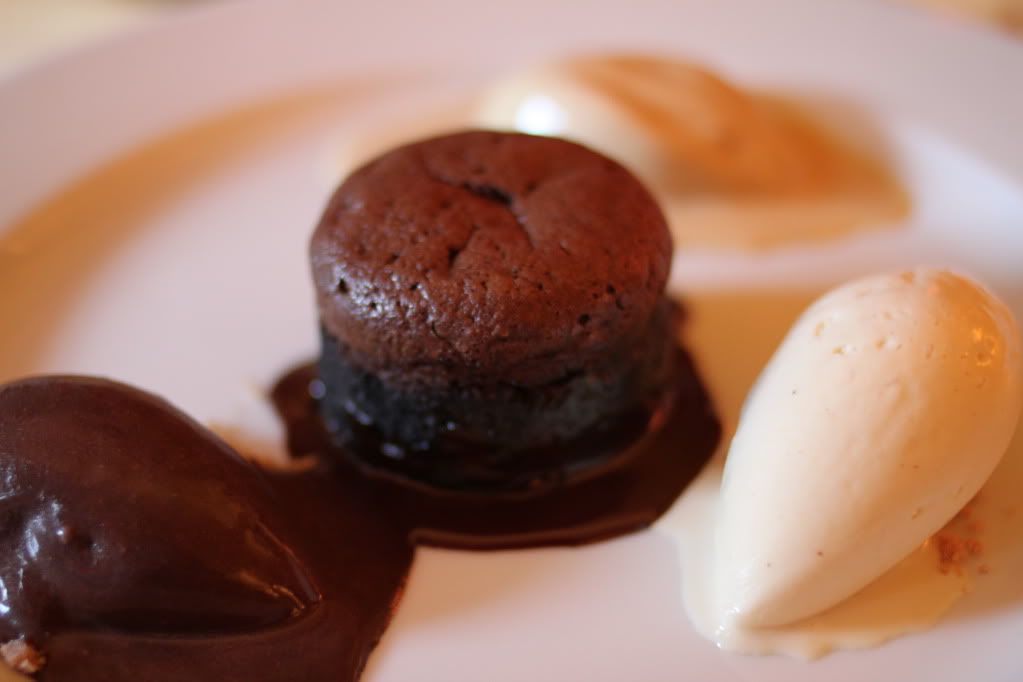 More food! Mignardise!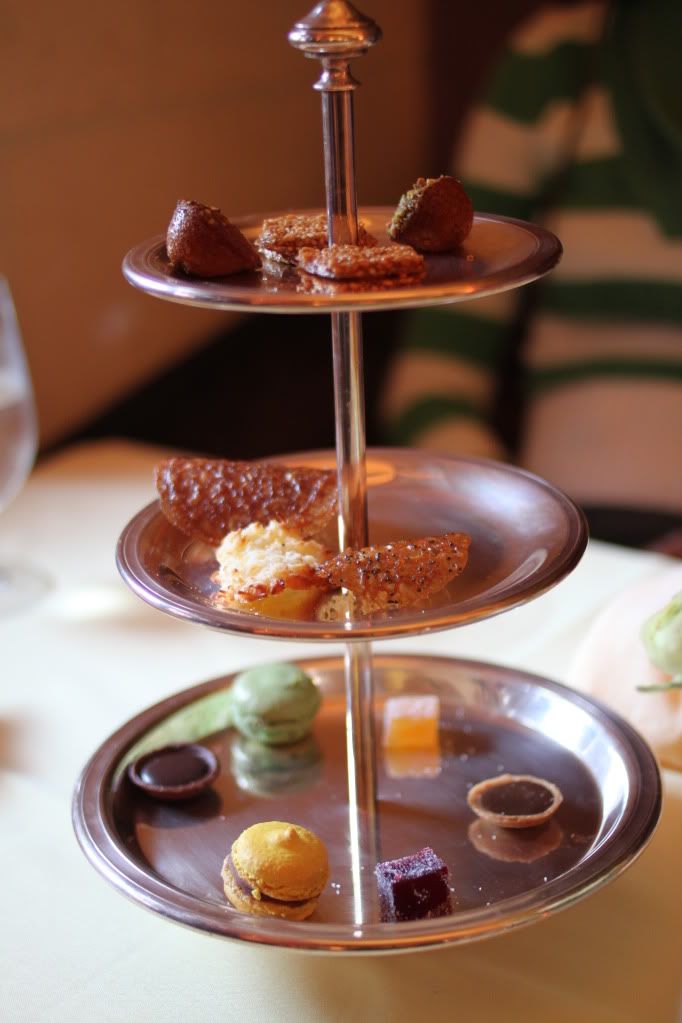 And more food! Dark and white chocolate truffles!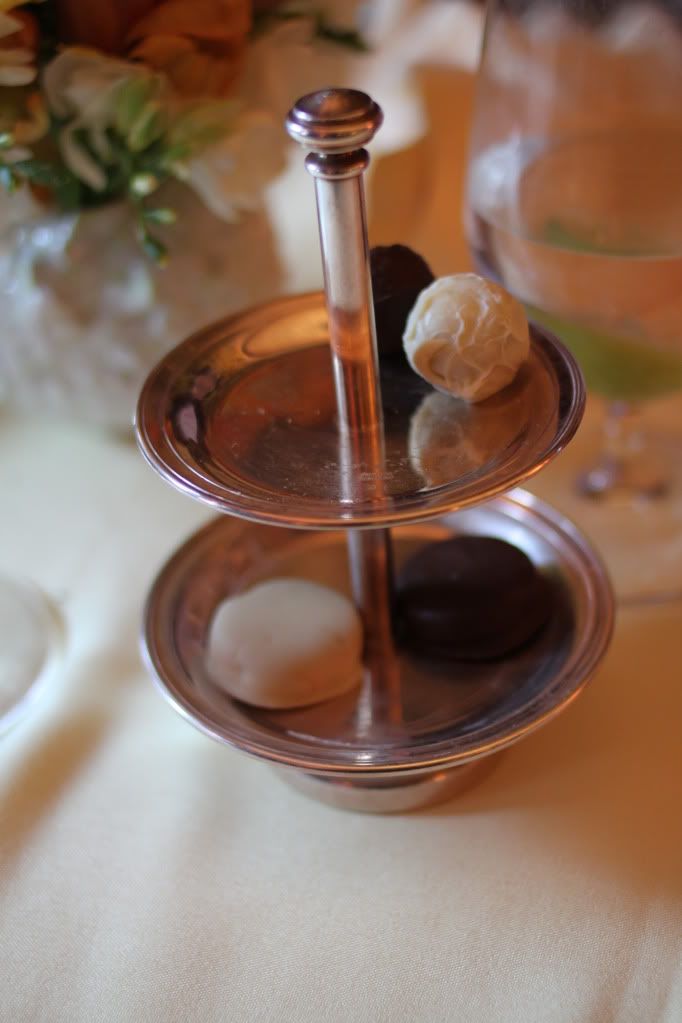 And more food! We were each sent home with a brown paper bag containing a lemon tea cake the size of my hand.
Total cost for all of this? $48. Awesome deal. :)