Gambling at Vegas: $0
Clothing/Accessories bought at Vegas: $0
Accomodations at Vegas: $0
Plane ticket to Vegas: $0
Food at Vegas: $$$$
Here we go... Dinner at
L'Atelier de Joel Robouchon
.
The restaurant is located in the MGM Casino and I spent just enough time in there making a beeline to the restaurant that I was drenched in cigarette smoke. Which is par for the course in that town. But whatever.
And then there was some sort of fridge on display.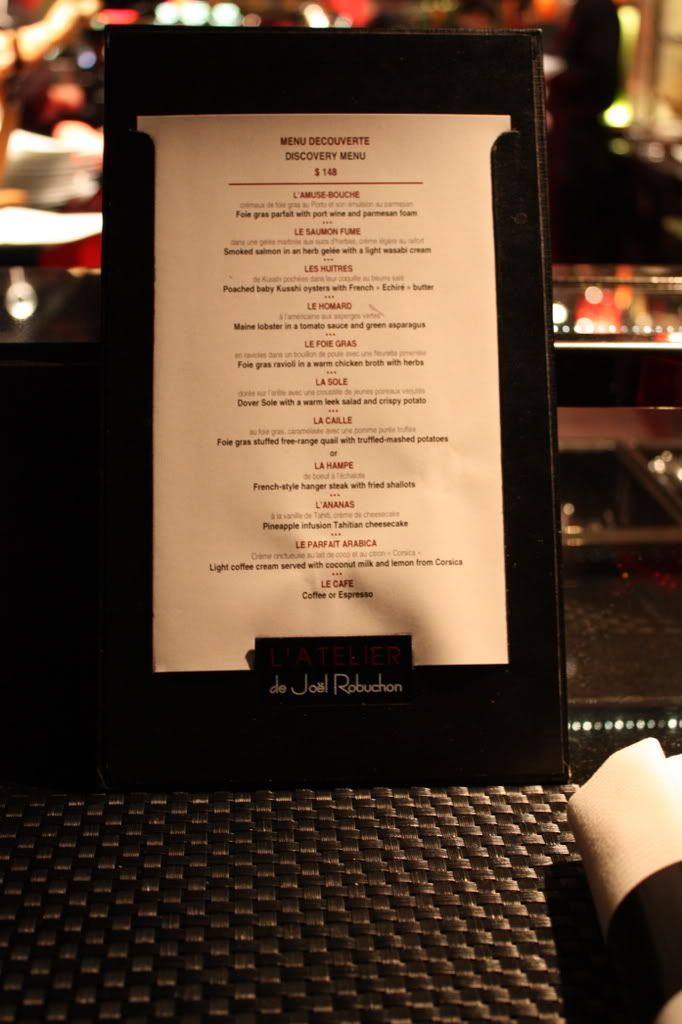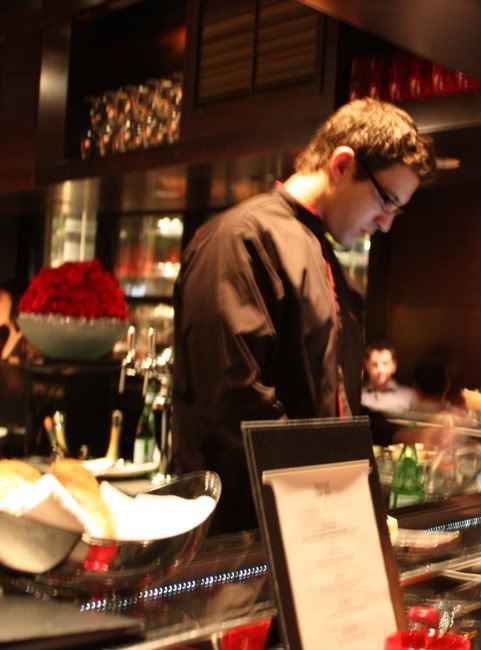 Our waiter.
Everyone in that place spoke French. The head chef would call out the orders in French, the waiters spoke French. I felt pressured to practice and bust out with the "Je voundrais le tasting menu, por favor". But I knew I would look like a major tool, so I easily fought the urge. The service was very attentive. No complaints there.
I began my meal with a glass of chardonnay from
ZD Wines
which was excellent and switched to a Pinot Noir during the latter part of the meal from
Row Eleven
. I liked both, but plan to buy a few bottles of the pinot the next time I'm buying wine - it's a good value.
After he had poured my glass, our waiter tasted some himself, saying that it was newly put on the menu and he hadn't gotten a chance to taste it yet. We both agreed it was good.
Ladies first...
L'AMUSE-BOUCHE
Foie gras parfait with port wine and parmesan foam
LE SAUMON FUME
Smoked salmon in a herb gelee with a light wasabi cream
This was interesting. The flavors were great, but I had some time getting past the texture. It was like fishy jello. Or eating cold chicken fat. Liked the wasabi cream though.
In the meantime, I watched the head chef calling out tickets and everyone scurrying around. Food show!
LES HUITRES
Poached baby Kussi oysters with French Echiré butter
Tasty. Buttery. Good.
LE HOMARD
Main lobster in a tomato sauce and green asparagus
This was also really good. The sweet flavor of the lobster shone through brilliantly and each component was cooked perfectly.
LE FOIE GRAS
Fois gras ravioli in a warm chicken broth with fresh herbs
I dare say this was the best of the evening. Days later, I'm still thinking about this one. The broth was amazing - perfectly seasoned and the ravioli were plump little treats. I want to frame this picture and put it on my desk so I can gaze longingly at Francois, Pierre, Jean-Claude, et Michel wading in their chicken broth swimming pool.
All evening long, I was seated in front of this ham.
Periodically, someone would come over and slice some for the Iberico ham with toasted tomato bread, like this dude. Food Show!
LA SOLE
Dover sole with a warm leek salad and crispy potato
This was just okay for me. I'm realizing that I'm not a fan of sole. Kind of bland.
LA CAILLE
Free-range quail stuffed with foie gras and served with truffled-mashed potatoes
Now we're talking. Delicious all around.
L'ANANAS
Pineapple infusion, Tahitian cheesecake
I traded this course for SportsDoc's cheese course. He seemed to like it though.
LE PARFAIT ARABICA
Light coffee cream served with coconut milk and lemon from Corsica
Sort of unmemorable, truth be told. But it had gold on it. I liked the cheese better.
LE CAFE
Coffee or Espresso
I opted for a mint tea to end the meal instead of something with caffeine - after all I do have the sleep issues. Mr. Insomniac wanted to know if they had soy milk for a cappuccino, but the waiter had to tell him that they didn't. We only have whole milk - not even skim, he says. I mention something about French full-fat, full-flavor French cuisine and go for the high-five. That's what happens when I drink two glasses of wine - I high five strangers.
Here's the Winter Tasting Menu
Les Légumes
Mediterranean vegetables layered with buffalo mozzarella
Missed the shot on this one. It looked like a Caprice salad.
La Langoustine
Crispy langoustine fritter with basil pesto
This was delicious. I could have eaten a dozen of these. Mr. Insomniac enjoyed it too.
L'Onglet
French-style hanger steak with fried shallots
The meat was ridiculously tender and a perfect medium rare. Apparently, JR is known for his mashed potatoes. I didn't like them so much - they were so pureed to the point of being soup. I like my mashed chunky. But they did have a ton of butter, so thumbs up on that.
Les Fromages
Selection of imported cheese
Cheese! Brillat Savarin! Once the waiter uttered those words, I knew I had to wheel and deal to get SportsDoc to relinquish the cheese plate. Fortunately, it didn't take much. The cheese was served with a nice selection of raisin bread. I happily munched away.
For dessert there was a choice between tarts and ice cream/sorbet. Mr. Insomnaic got the tarts.
Les Tartes
Traditional tarts
Note the gold on the lemon one. I didn't taste all of them, but the lemon and berry tarts were good. I'm noticing that I like my desserts sour. I think that of all the desserts, his was the best.
SportsDoc got the cold stuff. He liked them and the couple that I tried were pretty tasty.
Glaces et Sorbet
Ice cream and sorbet