Huh - forgot about this Napa post - last one!
Brix
was our last destination for food at Napa. I had thought about going to Gilwoods or Soscol Cafe for breakfast/brunch, but ended up choosing something closer to where we were staying.
I think Brix is the most beautiful restaurant in the entire world.
Well, okay, maybe I'm exaggerating a tad, but you really can't beat the view from their patio.
After ordering I wandered through their kitchen garden which consists of raised beds, orchards, and vineyards. The garden provides produce year round for the restaurant.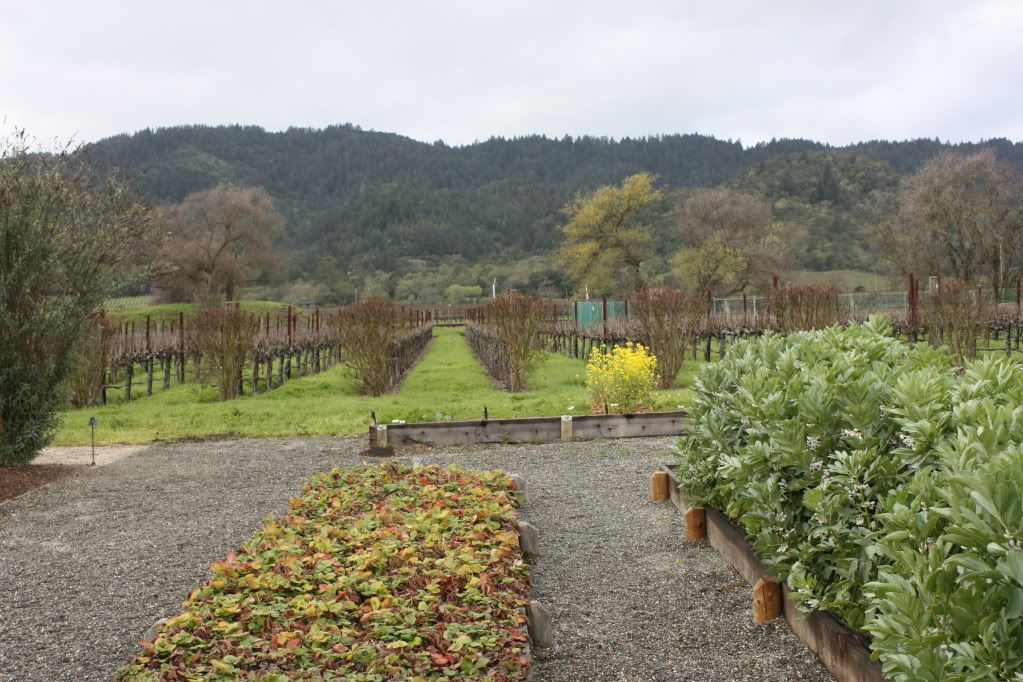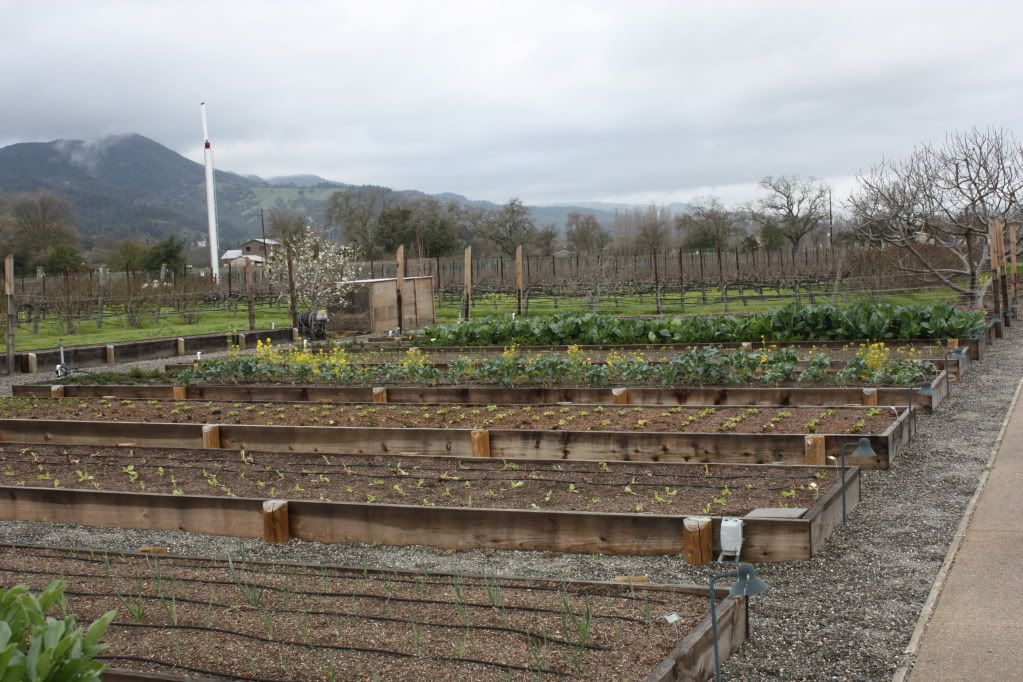 The inside of Brix is nice as well, with lots of hard wood, wine colored fabrics, and whimsical touches like a clear glass bottle chandelier or a room separator made from large barrels.
Our love seat allowed us a nice view of outside. Unfortunately it was too chilly to dine on the patio.

I ordered the soft scrambled eggs with bacon and leeks which came with a side of brioche toast and roasted root vegetable hash browns.
Mr. Insomniac got the blt & egg sandwich with applewood smoked bacon and roasted root vegetables. I liked his dish better than mine.
After our meal, we headed to Jessup Cellars, which is in close proximity to the French Laundry (one day... lol ) and Bouchon Bakery. Mark Jessup, winemaker, used to work at Robert Mondavi and on the Opus One label. He left to start his own wine and is known for his fruit forward reds.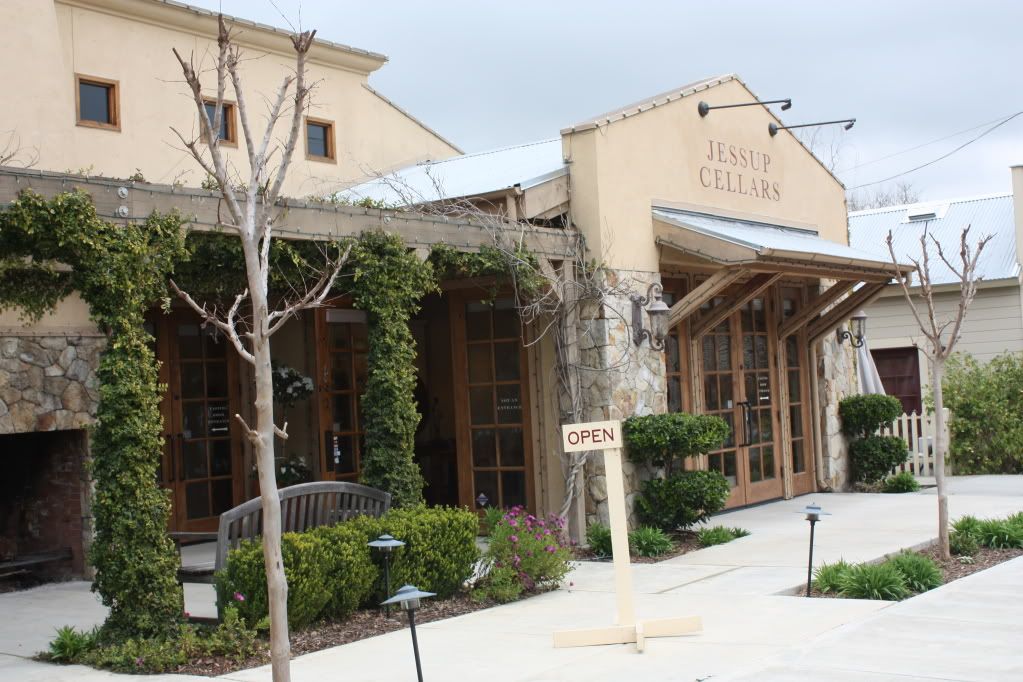 We didn't have an appointment like a few other parties did (which I think involves cheese and/or fruit), so we got the flight of red wines and hung out at the bar. Our server was new, so we ended up chatting with a guy behind the counter. We had a great conversation - he was studying to become a master sommelier and was in the process of studying. He had just barely passed an exam that he thought he failed which had "crazy multiple choice questions" like what temperature does room need to be during the second week of fermentation. Future tests will require him to distinguish and if he keeps going, he'll have to be able to distinguish vineyards or something. Crazy.
The bouquet of the reds was incredibly heady - full of berries - and it tasted fantastic. I also enjoyed the cabernet port which was served with dark chocolate. I enjoyed it so much, I got scared. I sort of joked (but was actually a little serious) that I could see myself eating chocolate and drinking port while watching
RuPaul's Drag Race
(Nina Flowers, locas!) at night, and it seemed like a very slippery slope. The woman serving us said that she drinks a small glass at night after her daughter goes to sleep. Hey, maybe that's the Napa way, I don't know. But that port was good. Especially with the chocolate.
The incredibly annoying (or really cool, I suppose) thing about Jessup is that they don't distribute their wines to any retailer (or so they say). Most of their drinkers are part of their wine club... I don't know if I drink enough wine to belong to a club and I'm the primary wine drinker in the house. I'd probably just end up stockpiling bottles or becoming a raging alcoholic. We ended up getting a couple of bottles of the Zinfandel and a Merlot, but no port, sad to say.
And just a quick recounting of the restaurant at
Meadowood
.
Our reservations were late (8:30) and so by the time we arrived it was pitch black which was unfortunate as the grounds are supposed to be beautiful. I brought my camera but the restaurant was too dark to take any pictures. I tried once, but chickened out. They have a dress code (jacket recommended) and I had already got chastized for taking pictures earlier in the day at Cindy's Backstreet Kitchen, so I resigned myself to a pictureless meal.
Meadowood is a
Michelin
two star restaurant, one of only a handful on the West coast. They have a garden on site which provides the bulk of their produce and use local ranchers for protein. It's different from other restaurants in that it does not have an a la carte menu - you have the choice between a four-course Winter tasting menu, a lighter two-course bistro menu that is served at the bar, and the nine-course Chef's tasting menu. We opted for the latter.
Some of our dishes were on the current menu - like the cold smoked toro and caviar with crème fraiche, radish sprouts, and warm brioche, which was sublime. Other highlights were fried oyster on top of a double baked potato with bone marrow; the wild mushroom tea with black truffle pecorino crumpet; and the lobster sweetbread ravioli with truffle foam.
There were a couple of dishes I didn't like as much, though. One standout was the rabbit with two different preparations - poached and with a confit of olives. I typically avoid rabbit, as they are cute. And I had one as a pet (his name was Bunny. I gave all my pets rather generic names - Kitty the cat; Lizzie the lizard; my birds Birdy, Flyer, and Pecky; the hamster Nibbles that had those nasty octomom hamster babies... okay I digress). So I never really think of rabbit as lip smacking delicious. And then it had green olives which I realize I hate. The poached rabbit had a bizarre texture and tasted kind of flavorless. So I wasn't a fan of that.
But overall, the dinner was quite delicious. I think the dish that I was most impressed by was trio of fois gras. One preparation was seared, which is probably my favorite, the other was something I don't remember, but the last was fois gras paired with peanuts and grapes, a sort of play on peanut butter and jelly. It tasted sublime, but Mr. Insomniac both agreed that when we actually thought about it, it was sort of gross.
The service was amazing. Knowledgeable, polite servers were unobtrusive and attended to all the setting changes that go with a tasting menu with efficient ease. Christopher Kostow, the chef, came out at the end of the meal to speak with each table and spent several minutes conversing in French with a patron.