Well, not exactly Count Dracula... but close.
Are people still doing Halloween blog entries? lol
For Halloween we returned to Walt Disney Concert Hall for their annual FrightFest. That's not what they actually call it - I just made that up. But every Halloween they show a classic silent black and white horror film and pair it with live organ accompaniment. Past movies have been
Phantom of the Opera
and
Dr. Jekyll and Mr. Hyde
, and scheduled for this night was
Nosferatu: A Symphony of Horror
.
I've been to two concerts at Disney before, and neither of them involved the organ that is prominently featured in the hall. Designed by Frank Gehry and Manuel Rosales of Rosales Organ Builders, the Walt Disney Concert Hall organ contains 6,314 pipes ranging in size from a pencil to a telephone pole, and is voiced with a wide dynamic range.
More nerdy organ facts:
Lowest note is CCCC whose frequency is 16 cycles per second, which is C below the lowest note on the piano.




The highest note has a frequency of 10,548 cycles per second, which is an octave plus a third higher than the top note of a piano.




The organ was shipped from Germany by sea in six containers; total weight is over 40 metric tons.
So I was pretty excited to get to hear the organ in its proud unadorned glory. Another plus? I like vampires.
Unlike our usual habit, we actually made it to the theater an hour early. Shocker! Much better than running from our car to our seats like we did last time we came to the Disney Concert Hall.
Because we were early, and hadn't eaten, we decided to grab a meal at the cafe.
The cafe offers a selection of cold sandwiches (roast beef, tuna fish, etc.), salads, and wraps. It also has a hot carving station that serves a choice of two proteins and sides. I got the mahi mahi with lemon caper butter sauce and Mr. Insom got roasted pork au jus. Both were served with mashed potatoes and grilled veggies. I liked the grilled veggies the best. Hmm. Oh, Mr. Insom's tomato soup was really good too - nice and garlicky, the way I like it.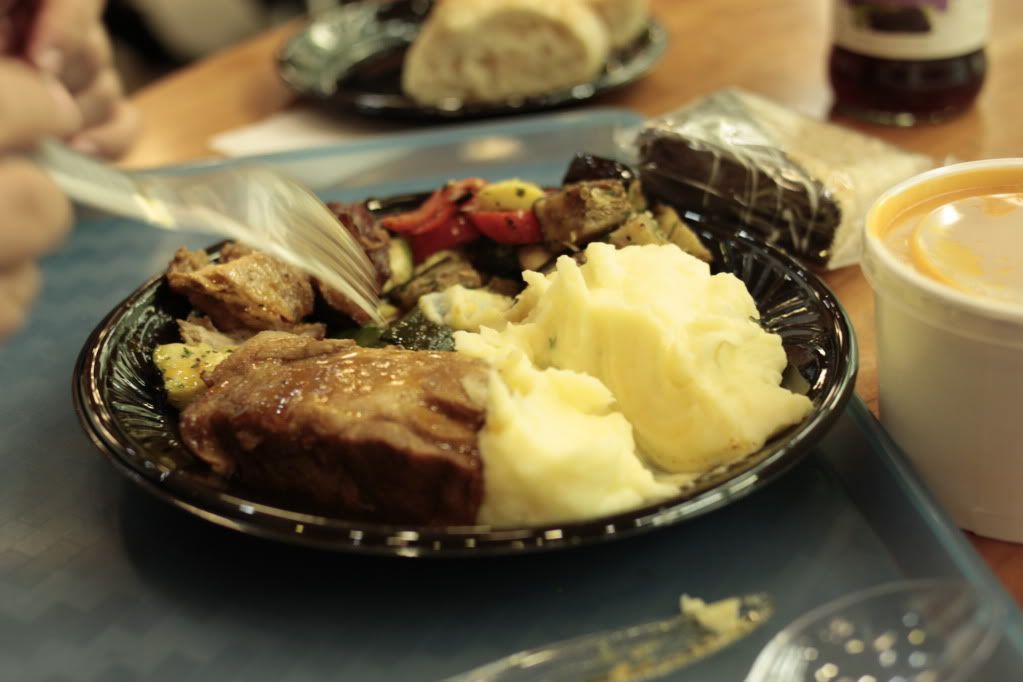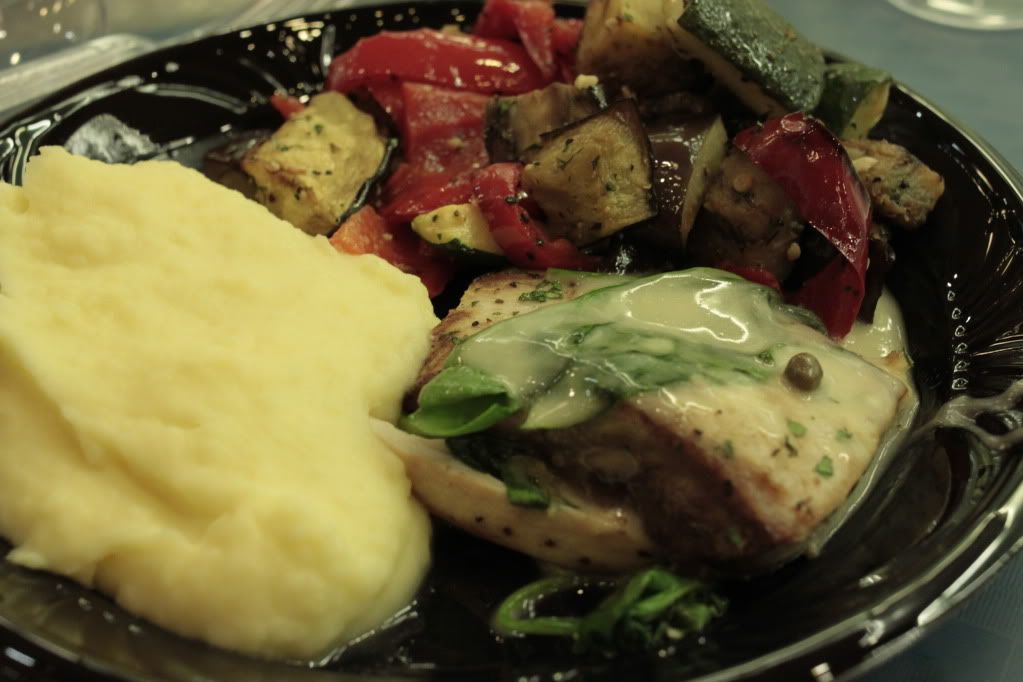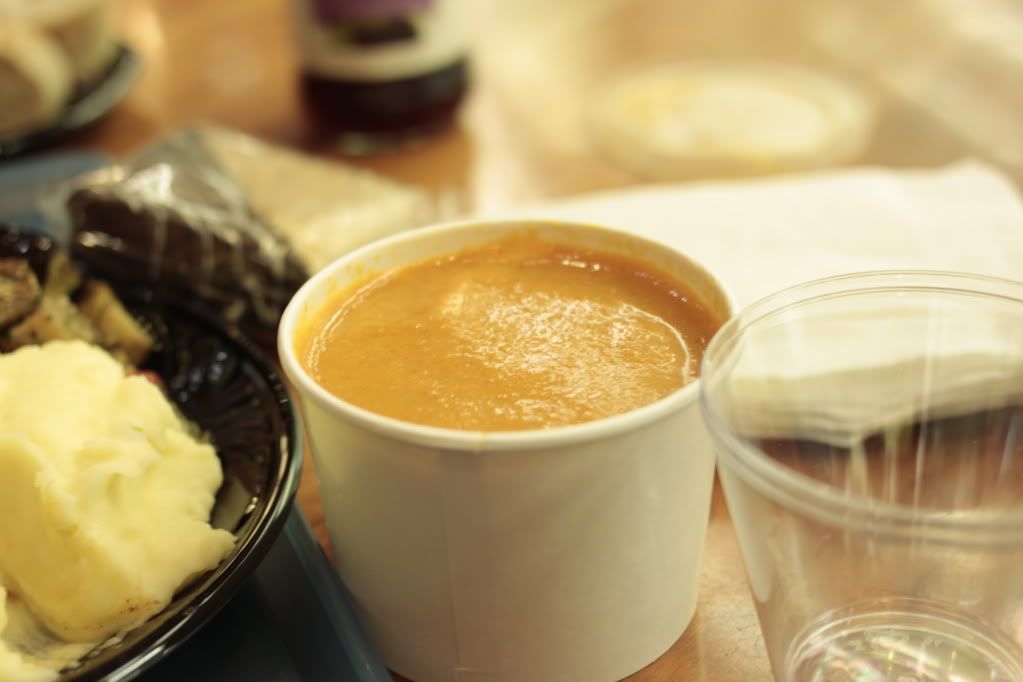 There were several people walking around in costume - I saw a scary clown, an adorable boy that looked like Ichabod Crane complete with a stuffed raven perched on his shoulder, musketeers, superheros, and lots more. If people weren't in costume, they were wearing festive orange or quirky accessories like devil horns. I think next time I might go in costume - I was wearing something black with amber beading, but I could do better.
But see, this is what happens when you arrive with enough leisure time. You're able to people-watch and stroll along the halls in contemplation.
I got Mr. Insom to take a couple of stealth pics before the ushers informed us of the no pictures rule. Why can't you take pictures with no flash before the concert? So lame. Anyways, we were greeted with the movie poster projected on a large screen and lots of demonic red lighting.
And were seated next to the organist where I could watch him make movie magic. It was really cool. I'm not that familiar with organ music - the only piece I really know is
Bach's Toccata and Fugue
and I was amazed by all the different nuances and subtleties that the organ can make. At the first notes during the opening credits of the movie, the crowd burst into spontaneous applause.
The organist, Clark Wilson, informed the audience during his opening remarks that silent picture organists and composers could make as much as $60,000 a year in the 1920s. Whoa. I was glad that we were seated with a clear view of the action and took several glimpses at Wilson making his movie magic. :)
Nosferatu
is a classic film that is on most of those Top 100 Films Of All Time That You Must See Before You Die lists. The plot follows Bram Stoker's
Dracula
novel very closely - so closely that Stoker's estate sued the makers of the film and all prints of the film were ordered to be destroyed. But fortunately for us, copies had already been diseminated around the world and now the movie is in public domain on the internets and everywhere else. Whee!
The other unusual thing about
Nosferatu
, is that unlike subsequent vampires, Count Orlock was rodent-like, associated with rats and plagues, and didn't have the typical suave seductress vibe going on.
Observe my photographic evidence.
Hot.
Sartorial hot.
Angsty emo lukewarm.
Smoking hot.
And then we have the Nosferatu vamp, played by
Max Schreck
. Hmm.

*warning: spoilers ahead! But like you didn't know how this ended anyway... *
But anyways, in the movie, young Thomas Hutter pays a visit to Count Orlock to talk to him about some property. All the local villagers warn him against it, but he doesn't care. Sure enough, he shows up at the castle, and Count Orlock brings major creep-vibe. Just look what happens when Hutter accidently cuts his finger...
Then Orlock looks at a cameo of Hutter's wife Ellen and is all, "what a lovely throat." Uh - uh! Oh no you
didn't
!
Things go from bad to worse when Orlock decides to purchase a house next door to Hutter. He spends most of his night spying on Ellen and doing mind control stuff and creeping everyone out.
Ellen has a plan to destroy Orlock and lures him to her bedchamber. He travels to her room in his iconic pose.
For a pure (viriginal) maiden, Ellen sure takes to Orlock. Even though Orlock isn't your traditional seductress, he does appear to have a way with women. When his hand reaches her breast, she looks a little, um, passionate.
Orlock kneels by her beside and begins feeding on her. This was one of my favorite images from the film. Really creepy.
Consumed with blood lust, he loses track of time and is greeted with (and killed by) the rising sun.
All joking aside, I enjoyed the movie and thought the organist was marvelous. The audience gave him two curtain calls and a standing ovation.
Sure there were times when the audience tittered a bit (like when Orlock walks from the shipyard to his new house while carrying his own coffin), but was also some beautiful and inventive shots, great acting, and genuinely creepy moments. Moreover, the drama created by the organ added a whole new dimension.
Nosferatu
also contributed to the mythology of vampires by being the first source to posit that vampires are unable to stand sunlight. And unlike the novel
Dracula
, when Orlock bit someone, they didn't turn into vampires, they just stayed dead.
All in all, a great way to spend Halloween. :)
And if you're interested in watching the entire movie, it's available on youtube in its entirety...