Since we had tickets to see Hair at 8pm, we made 5:30pm reservations at
Aureole
, Charlie Palmer's Michelin one-starred restaurant that borders Time square. Their theater prix-fixe menu is a bargain at $55/person.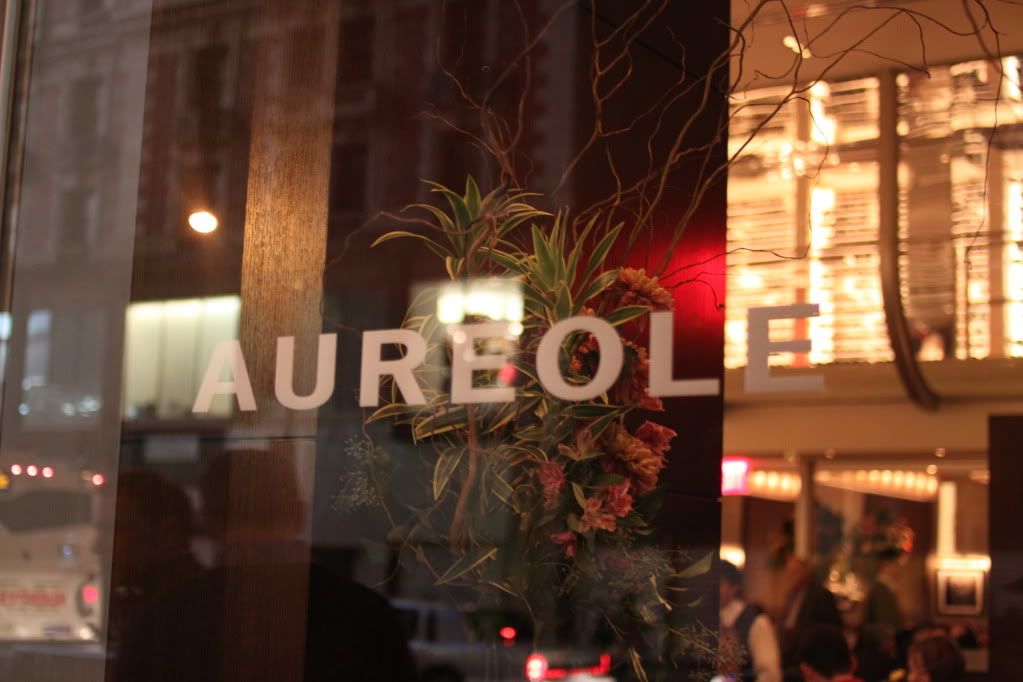 I really need to get one of those white balance cards - no matter what I tried, all my pictures had this red cast to them. (sigh)
Our meal started off with a selection of warm bread. I opted for the apple bread and it surprisingly delicious. It's hard to tell from the picture, but on the top was a slice of baked apple sprinkled with cinnamon. It was fantastic - I didn't even want to eat bread, and I ate like three of these things.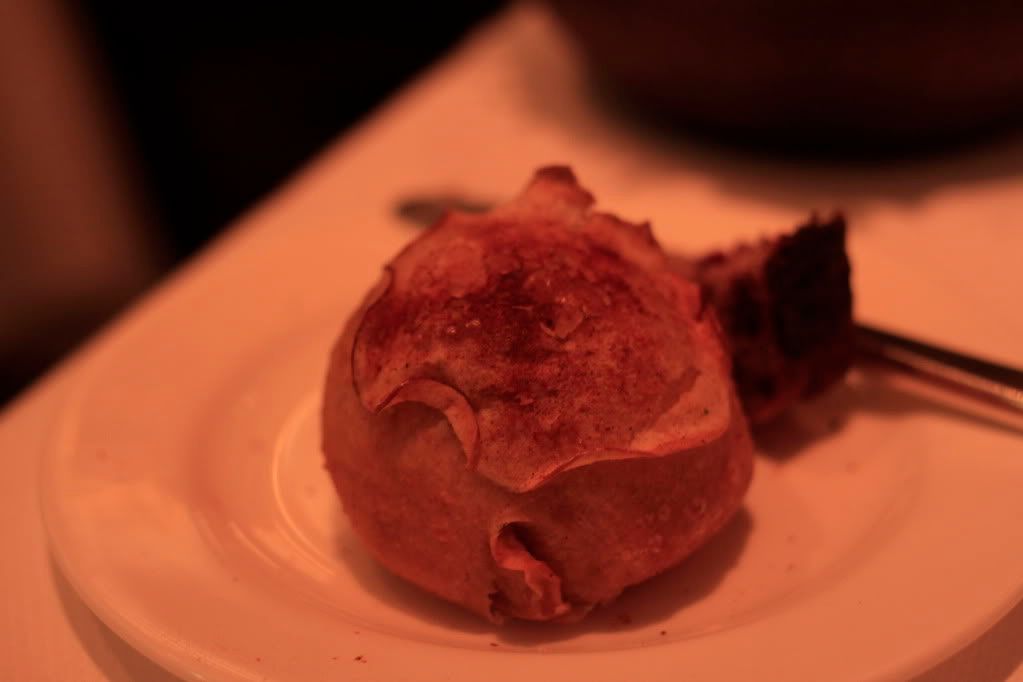 An amuse bouche - oyster with caviar.
Shiitake mushroom soup with pork and shrimp dumplings, pickled enoki mushrooms, and citrus juices. This was again really tasty. I'm of the school that any dumpling is a good dumpling and the citrus provided a nice acidity to the mushroom soup. My spirits definitely started to perk up.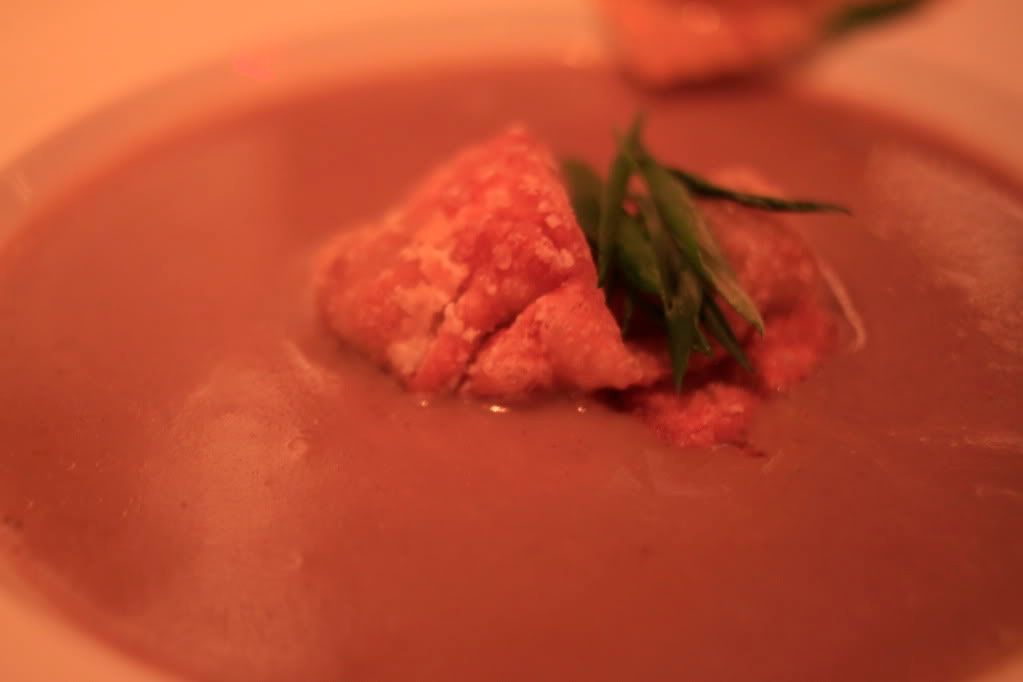 Instead of the soup, Mr. Insom got the piced pumpkin ravioli with guanciale, huckleberries, pumpkin seeds, and arugula walnut pesto.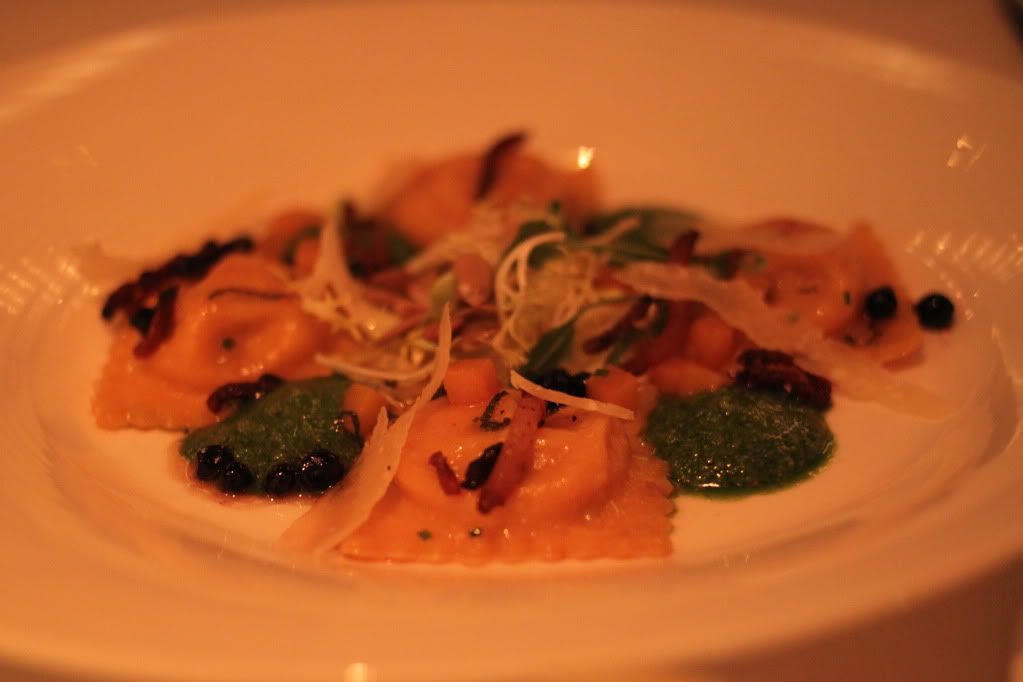 My main course was a Scottish salmon with kim chee, edamame, shiitake mushrooms, and sweet and sour sauce. It was beautifully presented with vibrant colors all around. It was also cooked perfectly... this was one of the best salmon dishes I've eaten in a long time. The sour elements in the sauce paired well the with citrus in the mushroom soup from before. I wasn't even interested in doing "half-half" with Mr. Insom. (That's where we trade dishes halfway through the meal.) He's not a fan of half-half, but that doesn't stop me from invoking it when the need arises. Tonight I wanted to keep my meal for myself.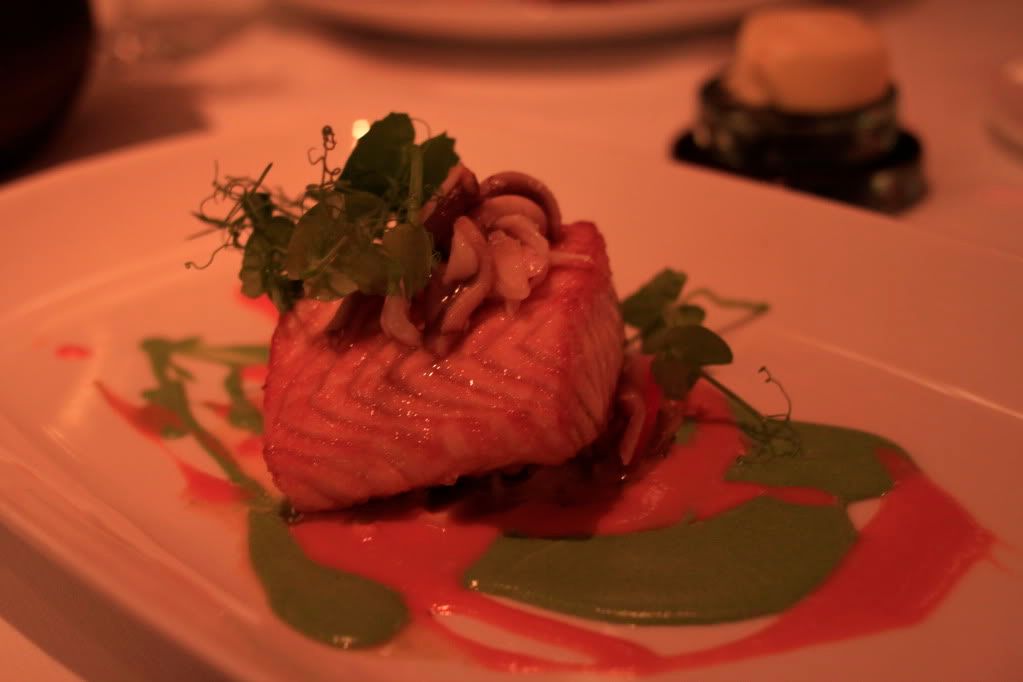 He got the pecan crusted L. I. Pekin duck breast with sweet potato puree, black trumped mushrooms, and blackberry duck jus. It was also really good, but I was totally digging my salmon.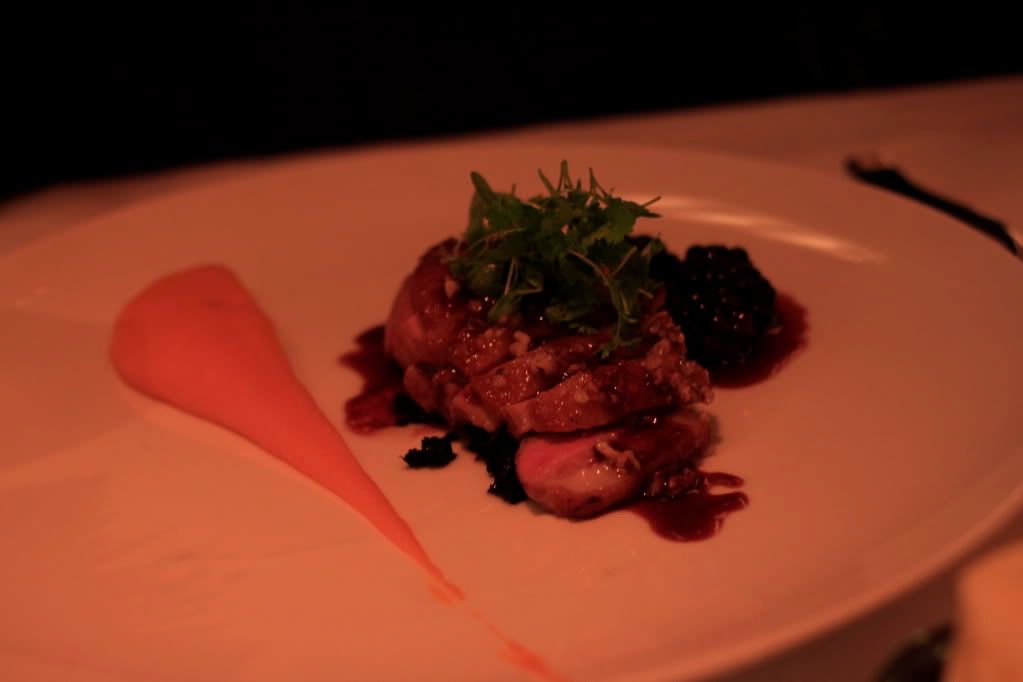 Prelude to our dessert -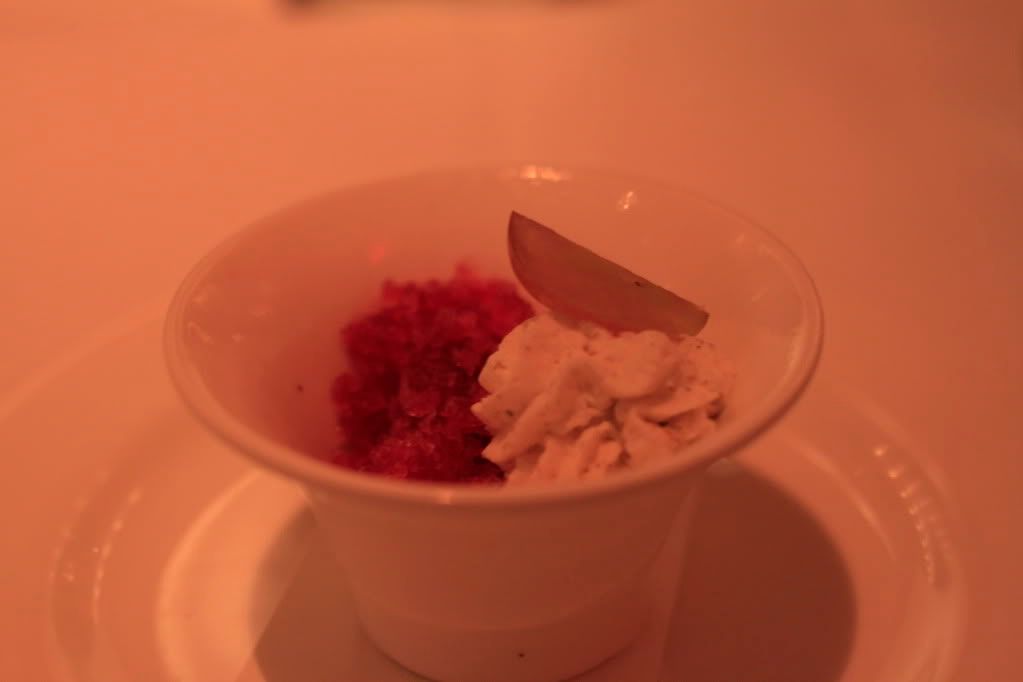 For our dessert, he got a dark chocolate torte with ricotta sorbet and scotch butterscotch sauce.
It was good, but I liked mine better.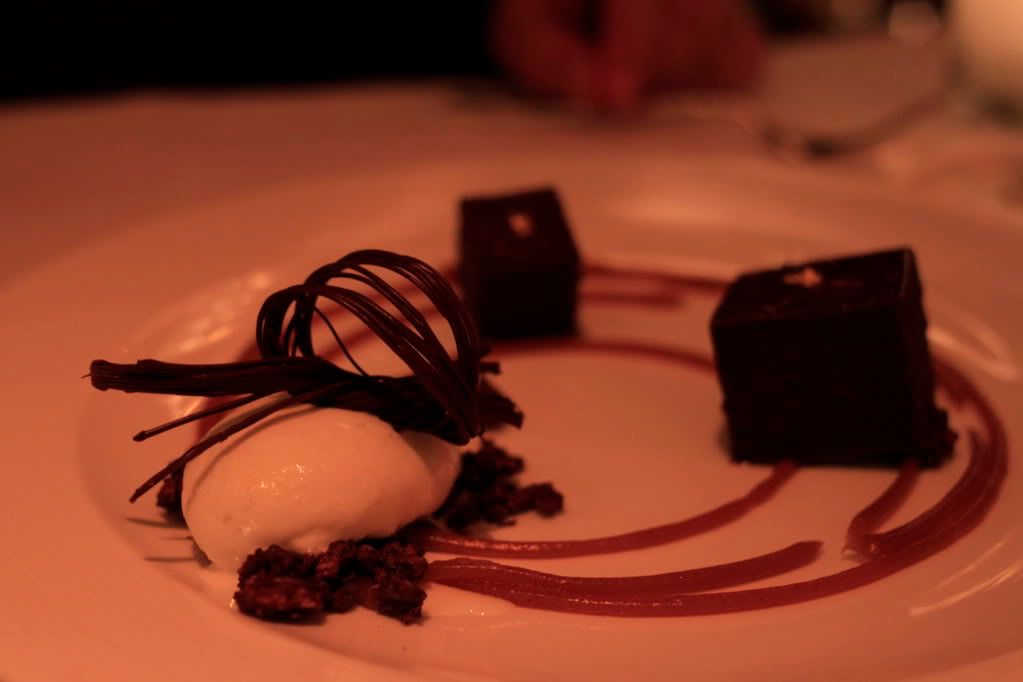 If I didn't want to do half-half during the main course, I definitely didn't want to do it during dessert. I might have stabbed someone for taking my plate away from me with the butter knife. I had a chilled concord grape soup with orange sherbet and graham streusel. I ordered this as a lark - since he got the chocolate torte, I'd figure I'd get the other selection. I was flabbergasted at how good this was, though! The concord soup was a rich velvety purple color with some sort of spicy kick. I thought it was ginger but the waiter informed me that the dish had crispy scallions and pickled mushrooms. Whoa. Floating throughout the soup were little crunchy bits of the streusel that had a texture similar to Grape Nuts. Hee - grape nuts in grape soup!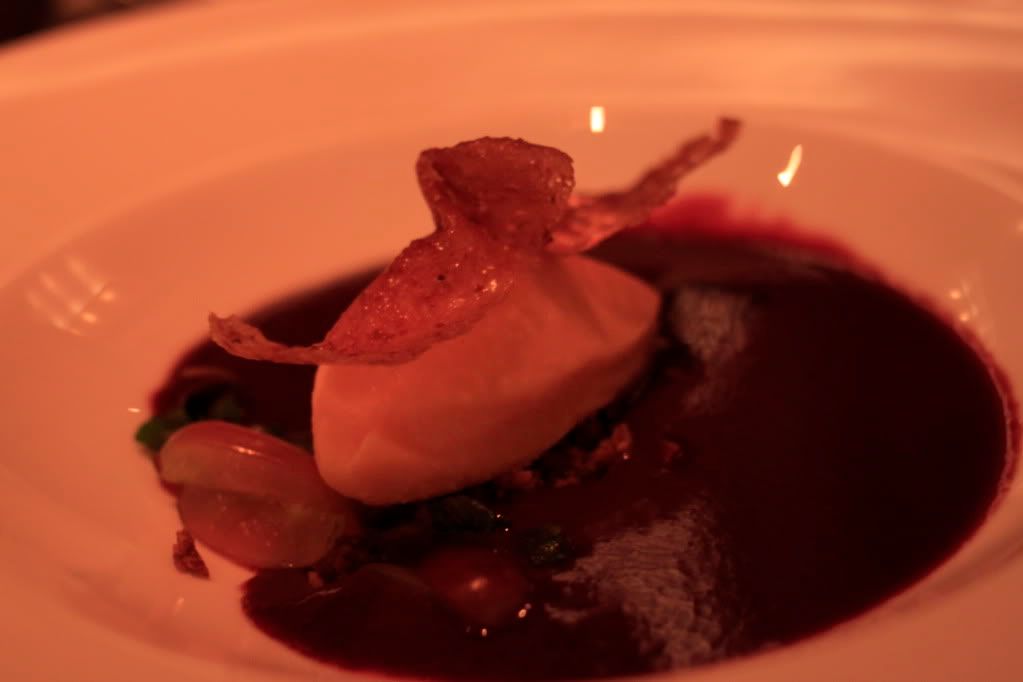 Warm donuts were served in an adorable paper cone.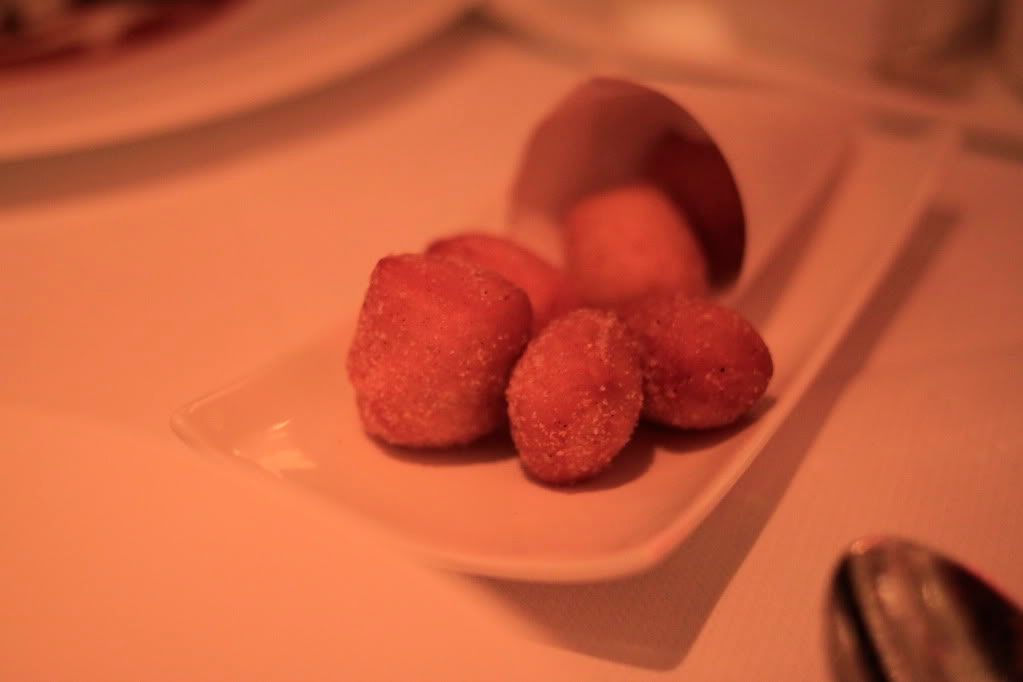 And a madeline was given to us for later. I lost mine... :(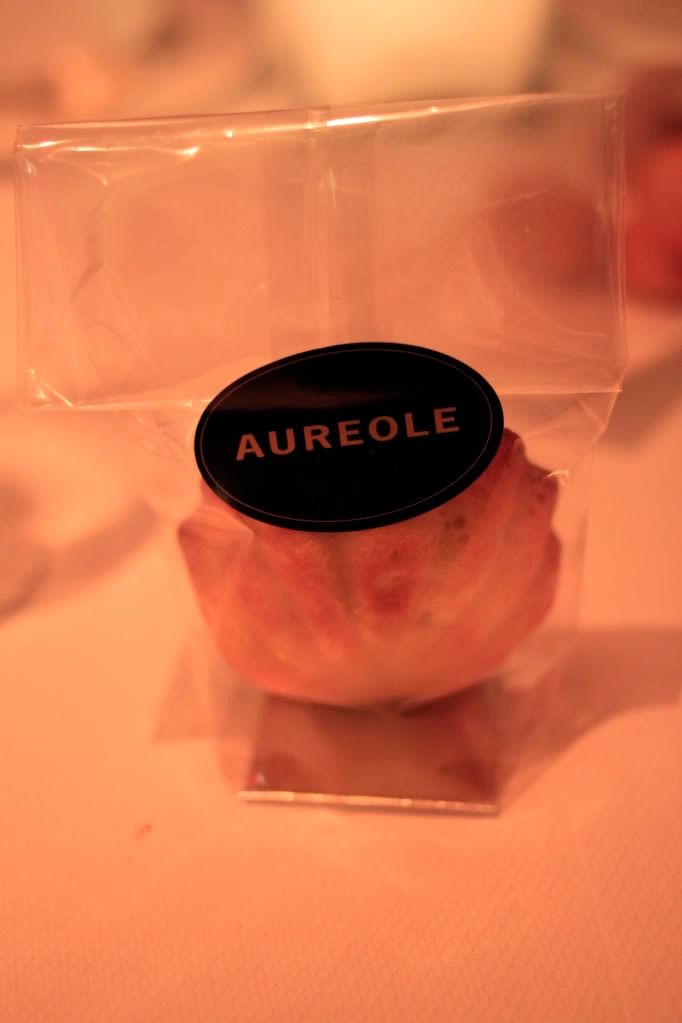 Such a wonderful meal!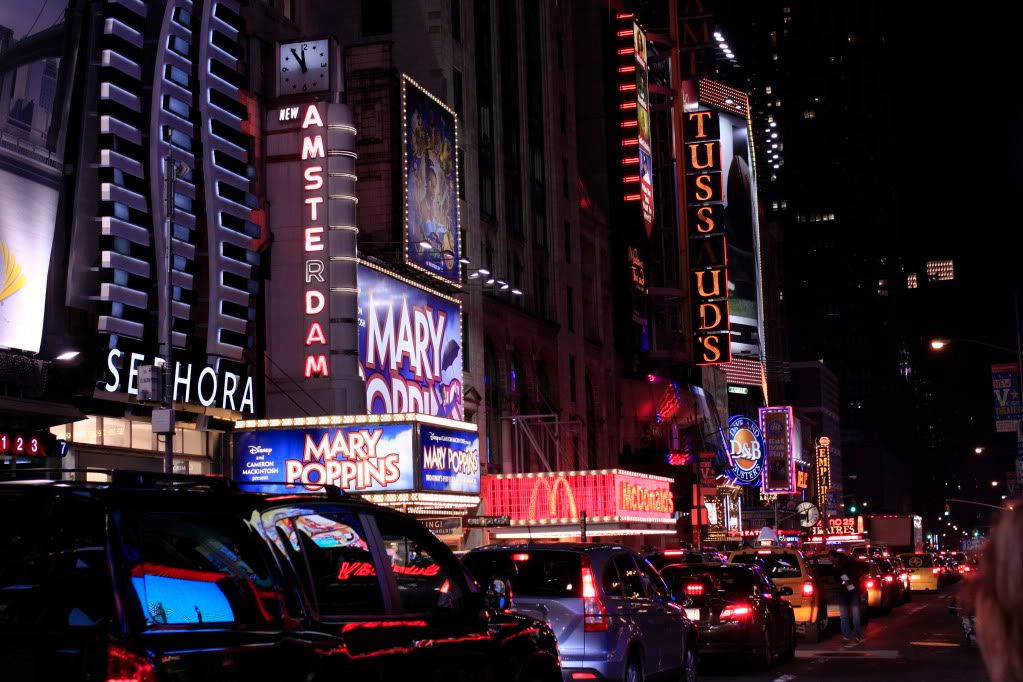 Now time for Hair!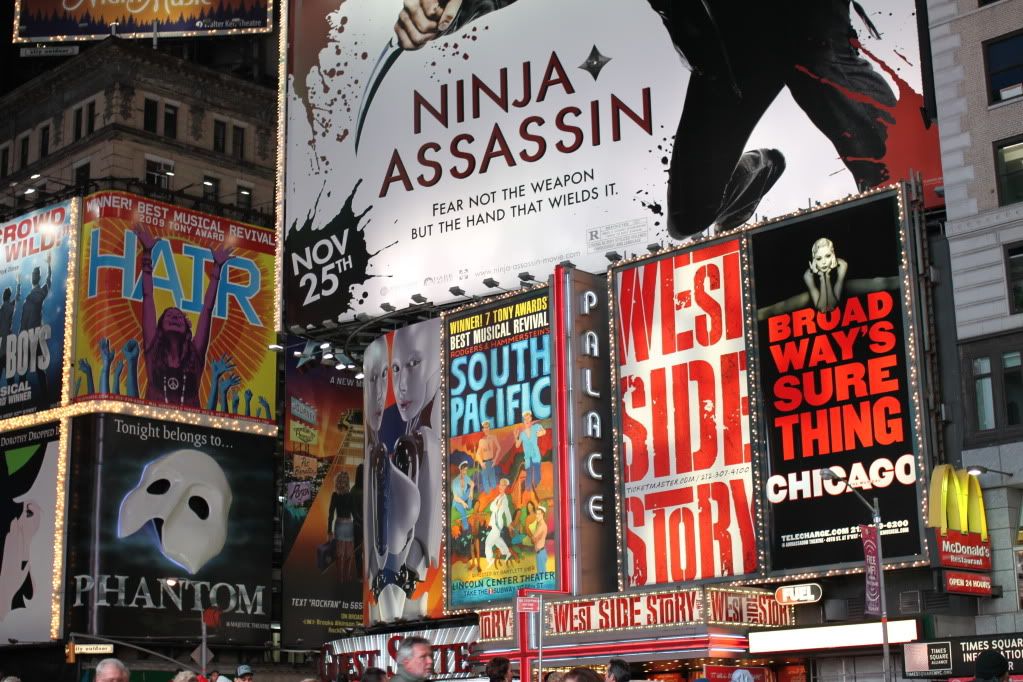 Getting to Hair was quite the adventure. For some reason, google maps had the wrong address for the theater. Consequently, we found ourselves sitting in crazy LA rush hour traffic six blocks away at 8pm. We literally sprinted in the streets to get to the theater, which probably was the most strenuous workout that I've had in months. At one point I seriously thought I was going to hurl due the large meal I had just eaten along with several glasses of wine.
But we made it - climbing into our seats the moment the curtain rose. Hallelujah!
It was an awesome show. :) Even though I have been listening to the soundtrack since I was in the 7th grade, I had never seen a live performance of it. You can totally see why this musical was so groundbreaking, both in terms of the content and music as well as the staging and direction. I loved the choreography - it was so organic.
It was totally worth flying across the country to see! :)