On Saturday morning Mr. Insomniac was busy with the conference that paid for his airfare, hotel at the Benjamin, and a stipend, so I decided to explore the history of New York.
I woke up at 7:30 and caught one of the first
ferries
out to the
Statue of Liberty
and
Ellis Island
. For you to understand what a feat this was, let me remind you that Thursday night I was in Palm Springs and had about three hours of sleep before I had to catch an airplane. I didn't sleep on the plane ride because, well, who the hell can sleep on a plane ride? Dinner at wd-50 on Friday night ended well past midnight. And of course I was still on West Coast time which meant that 7:30am was actually 4:30am. Ay Dios Mio!
But I woke up with little fuss, hopped on the 5 subway to Battery Park and was on my way. I love the NY subway. Such an efficient mode of transportation. I missed the first ferry at 8:30am, but caught the next one at 9:00am. Getting there early helped me avoid the long lines and although the ferry was packed going to the Statue of Liberty, most people got off at the Statue, leaving a much smaller group that were headed to Ellis Island. Excellent.
The early morning made for some cool shots.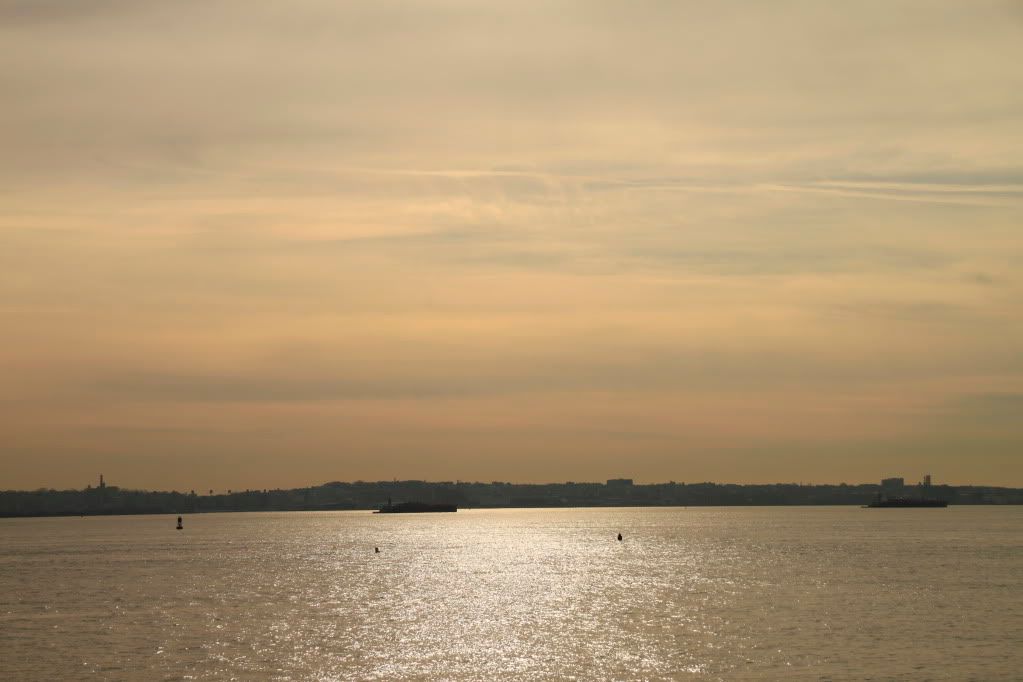 What a glorious beacon. Even my little shriveled jaded heart swelled at the sight. I thought of Emily Lazarus's "
The New Colossus
". Such a noble sentiment that makes me proud to be an American.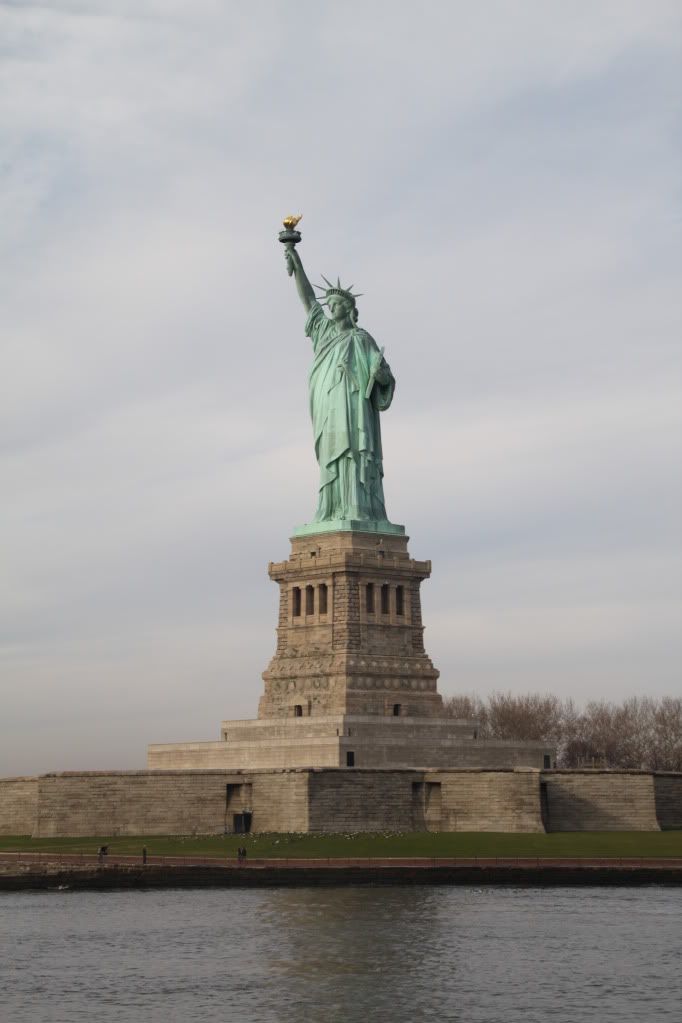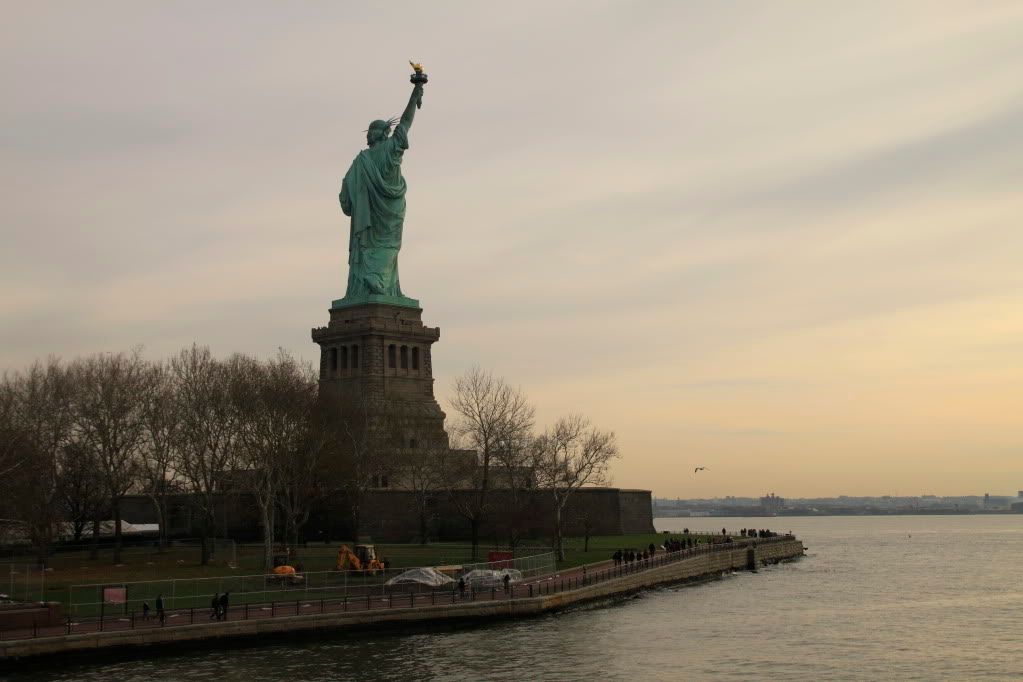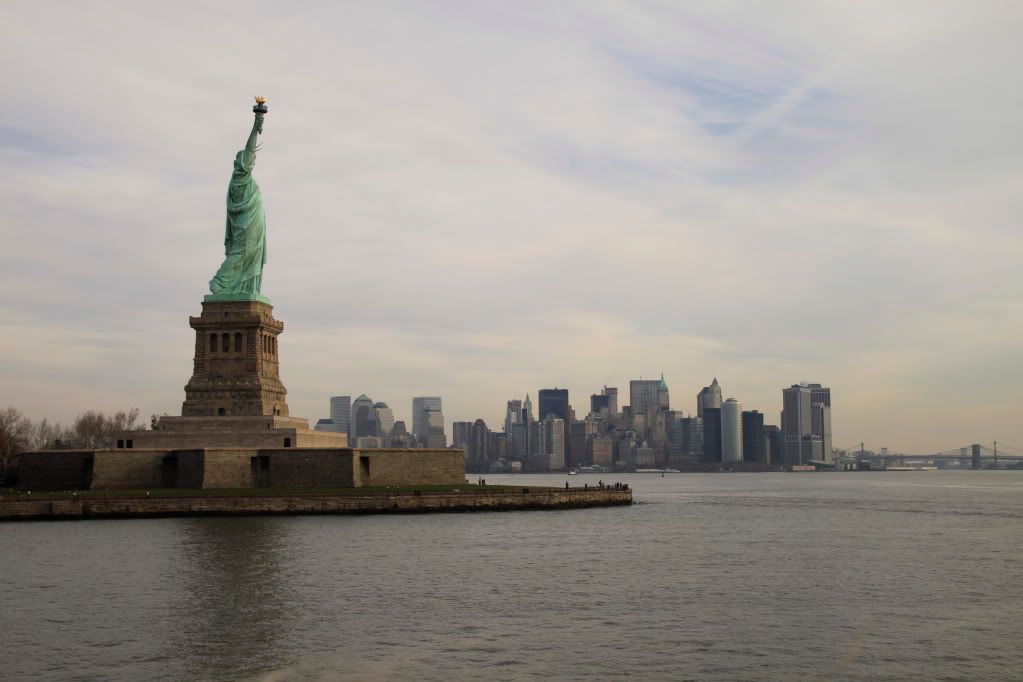 After reading weezermonkey's
blog post
about Ellis Island, I really wanted to pay a visit myself.
In operation until 1954, Ellis Island processed over 12 million immigrant steamship passengers. The main building was restored after 30 years of abandonment and opened as a museum on September 10, 1990.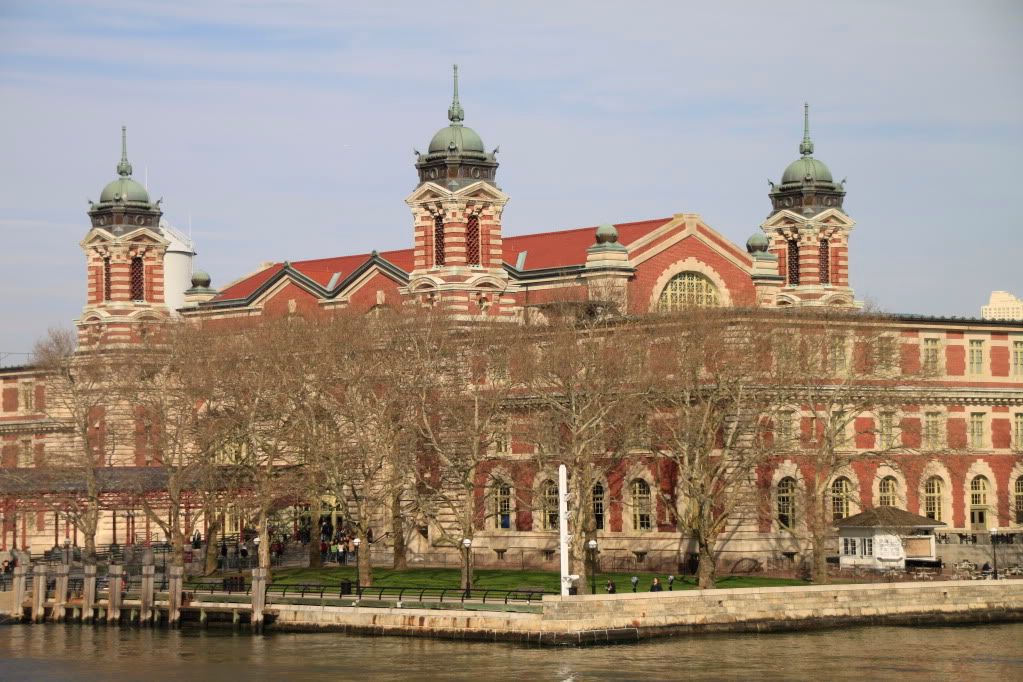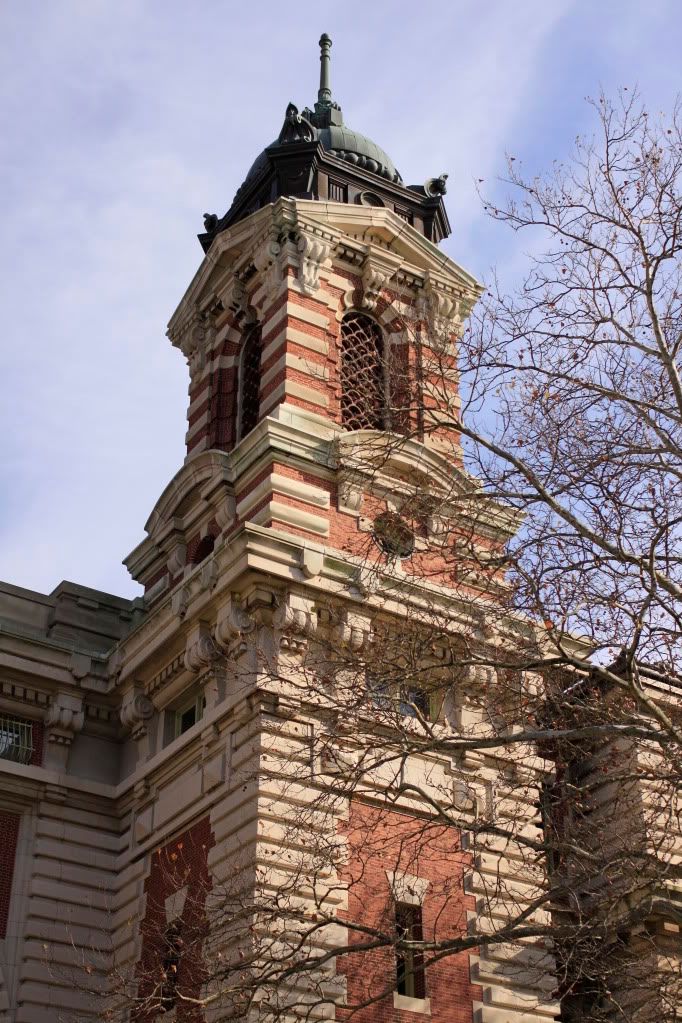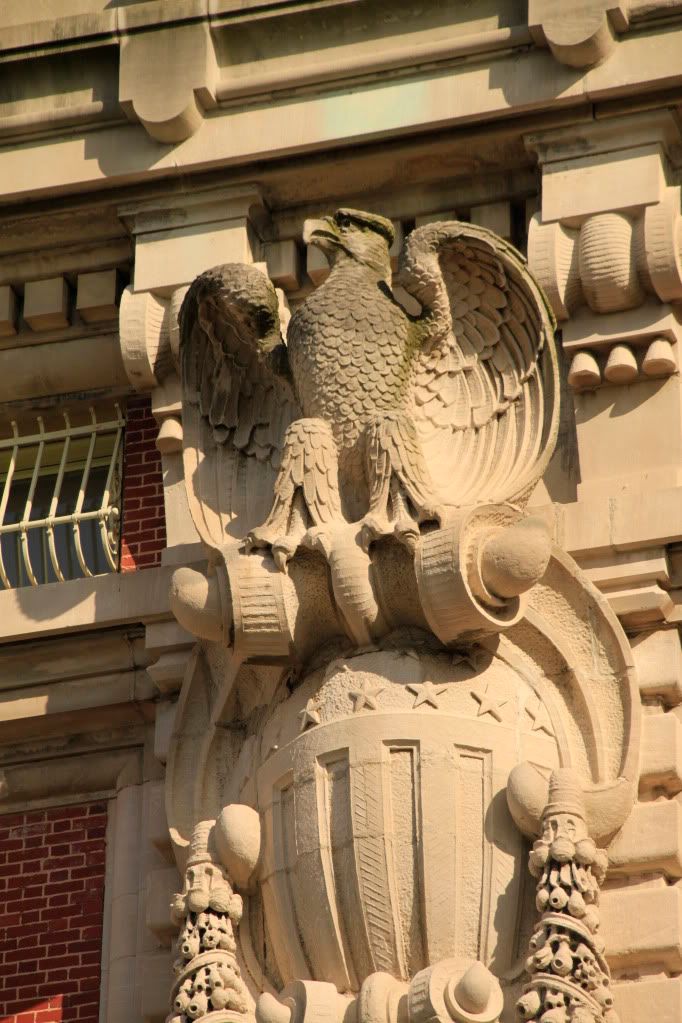 Even though the main building has been fully restored, museum officials left parts of the actual wall untouched where people had drawn pictures or written messages.
Like this drawing of a boat with what appears to be a Greek flag...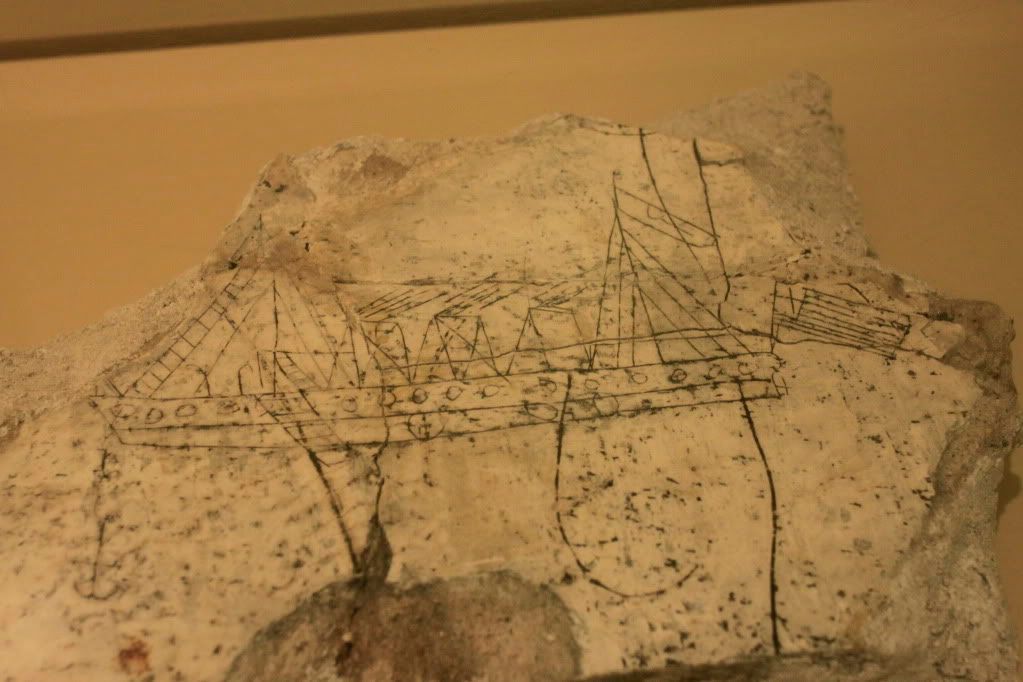 Or this portrait...
Here was the process immigrants went through...
1. 99.9% of first and second class passengers? Proceed to #4 unless you have two heads or something. Folks below deck - go to #2.
2. Time for six-second medical inspection! Having trouble carrying your suitcase? Bizarre rash? Missing limb? Puking in the trashcan? Then here's a white chalk mark on your coat! Time to get medically inspected...
3. Legal inspection! You a commie? Or a Bolshevik? Then time for your hearing before the Board of Special Inquiry!
4. Welcome to America! *insert rousing Sousa march*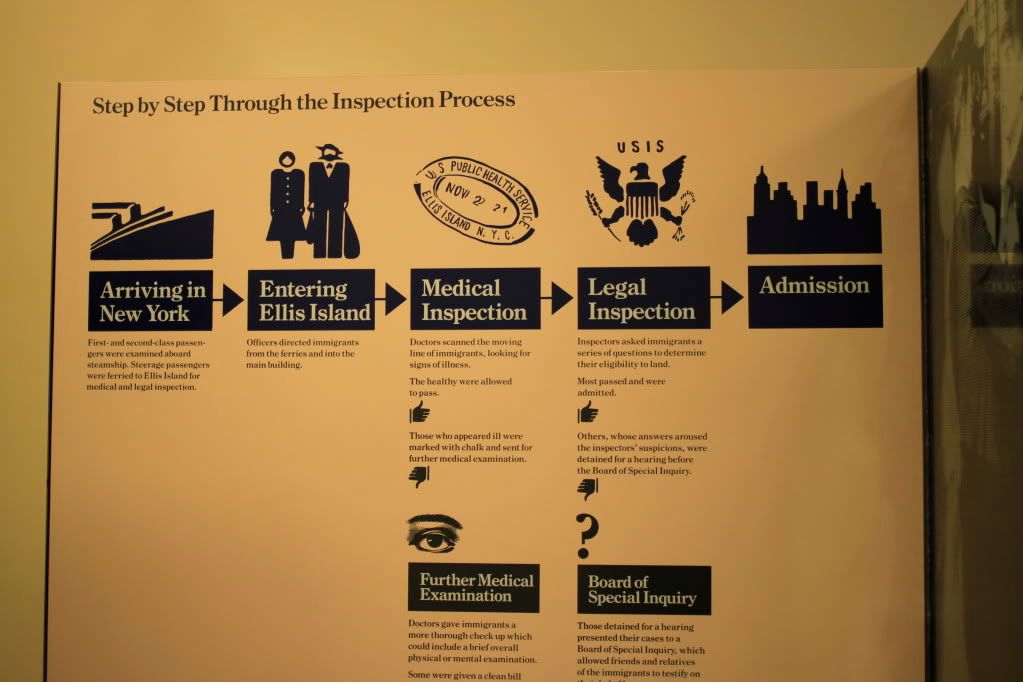 For most of the immigrants, it was the model of efficiency and people were on American shores in under four hours. Only 2% of people were turned away back to their homeland, typically for having a contagious disease or if they were thought to have the potential to be a "public charge".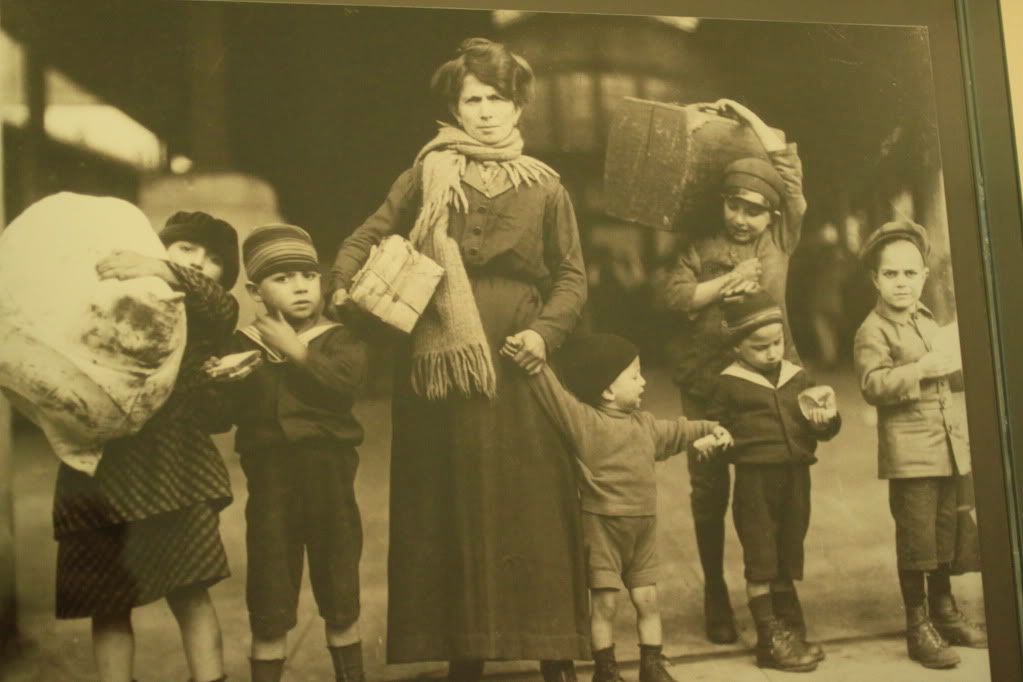 By 1916, it was said that a doctor could identify numerous medical conditions by just glancing at folk. No fancy lab tests or examinations needed - it was like they were a team of Gregory House MDs!
Can you imagine if you had to get examined with one of these babies? "Welcome to America! Now this will be a little cold and you'll feel a slight pressure..."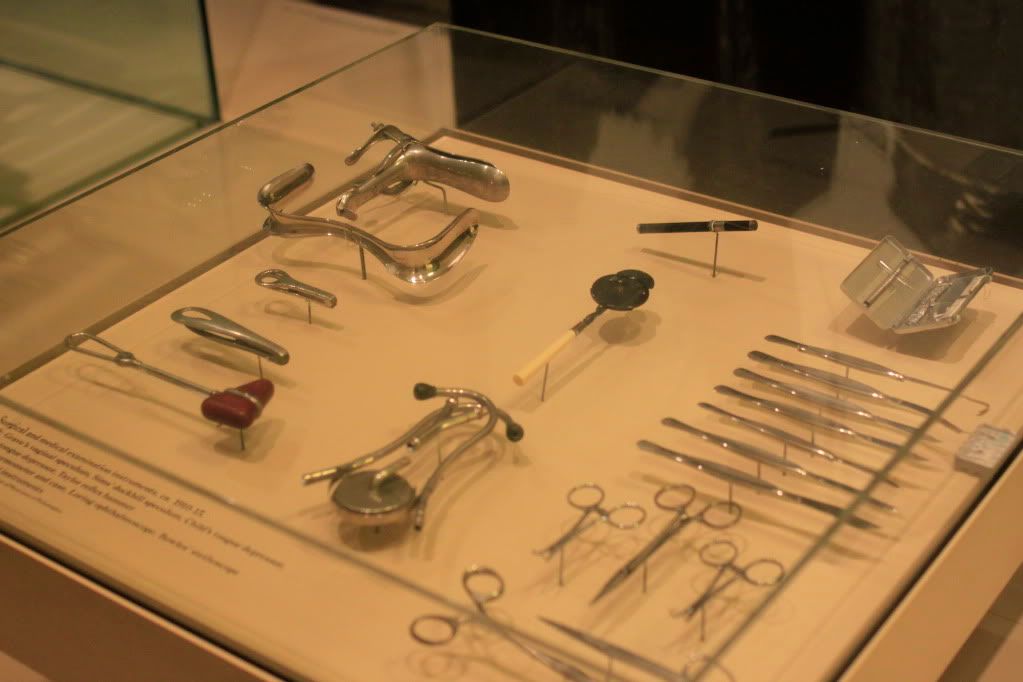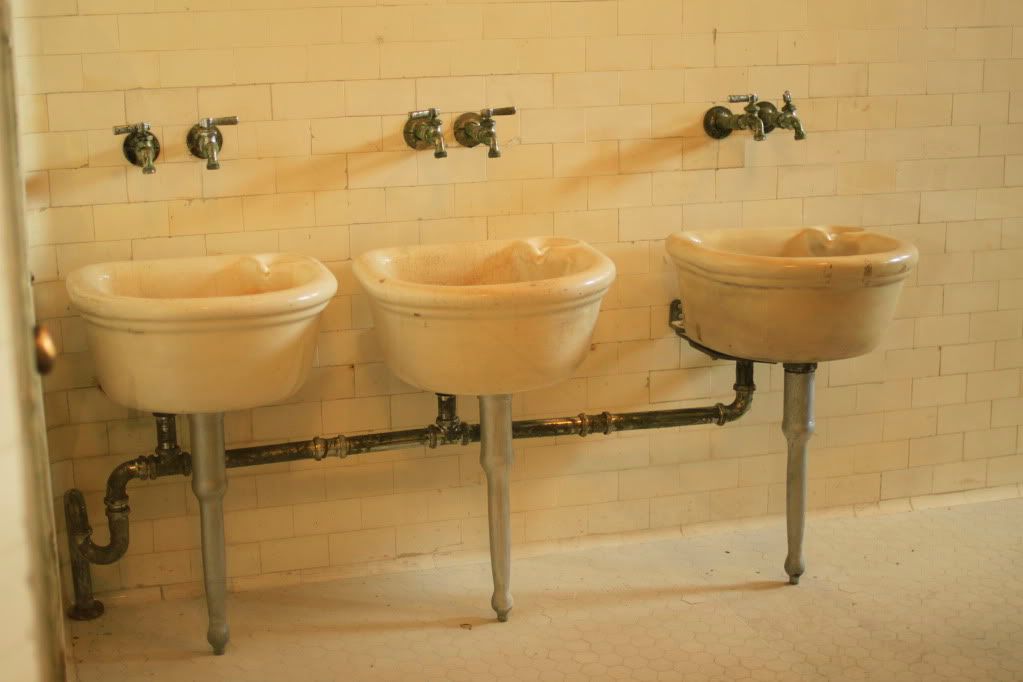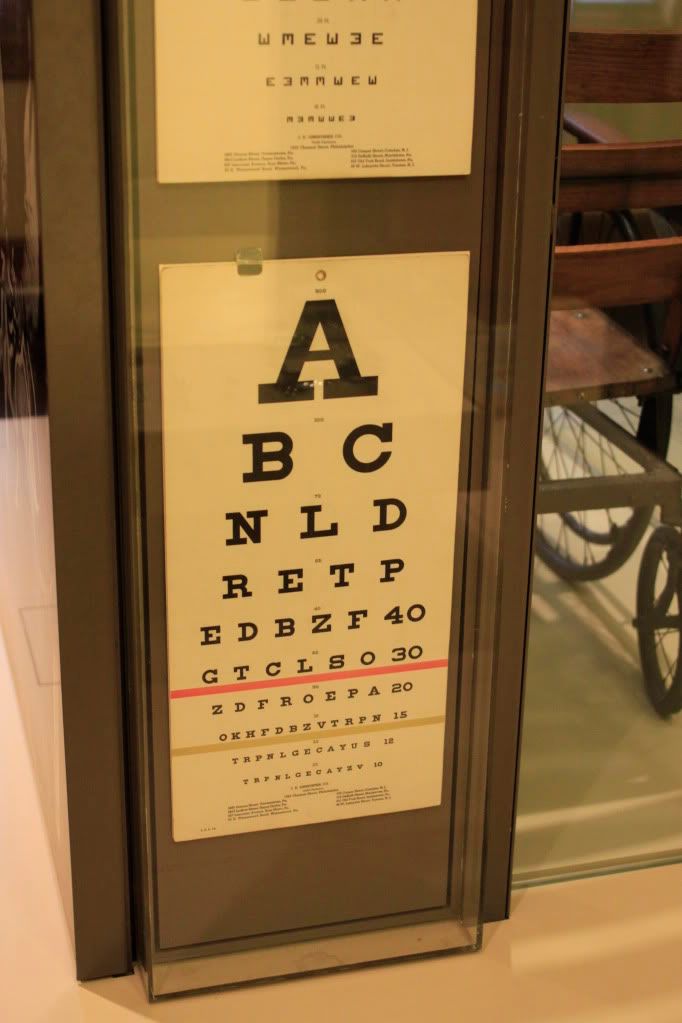 I got a kick out the intelligence tests to rule out the "mentally deficient."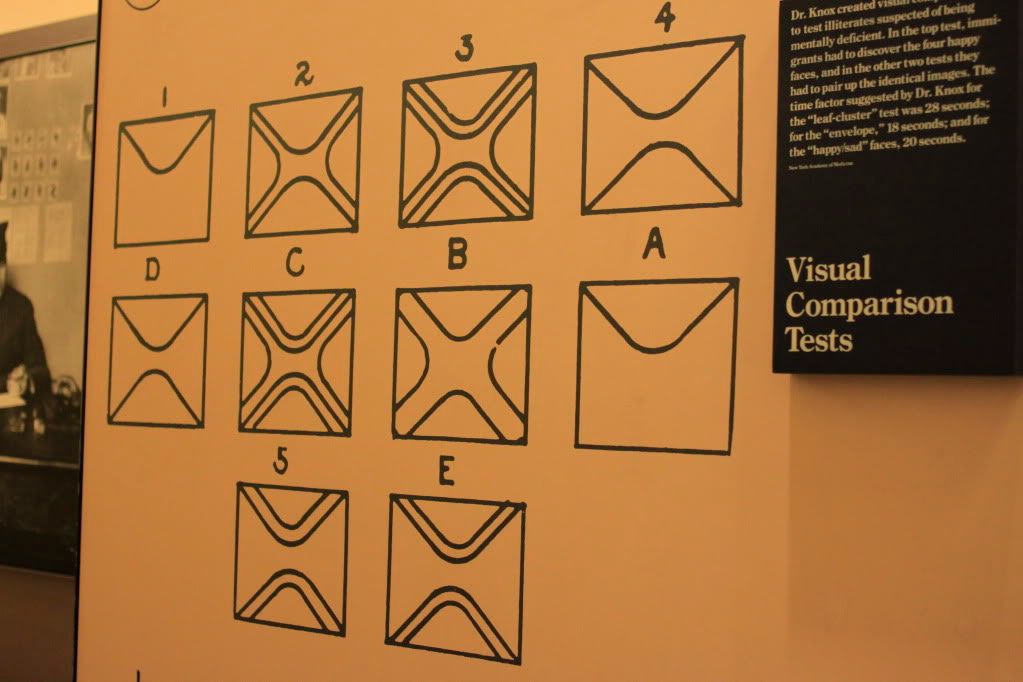 They had to devise tests that could be understood and performed by people even if they were illiterate, never had any formal schooling, or had never held a pencil.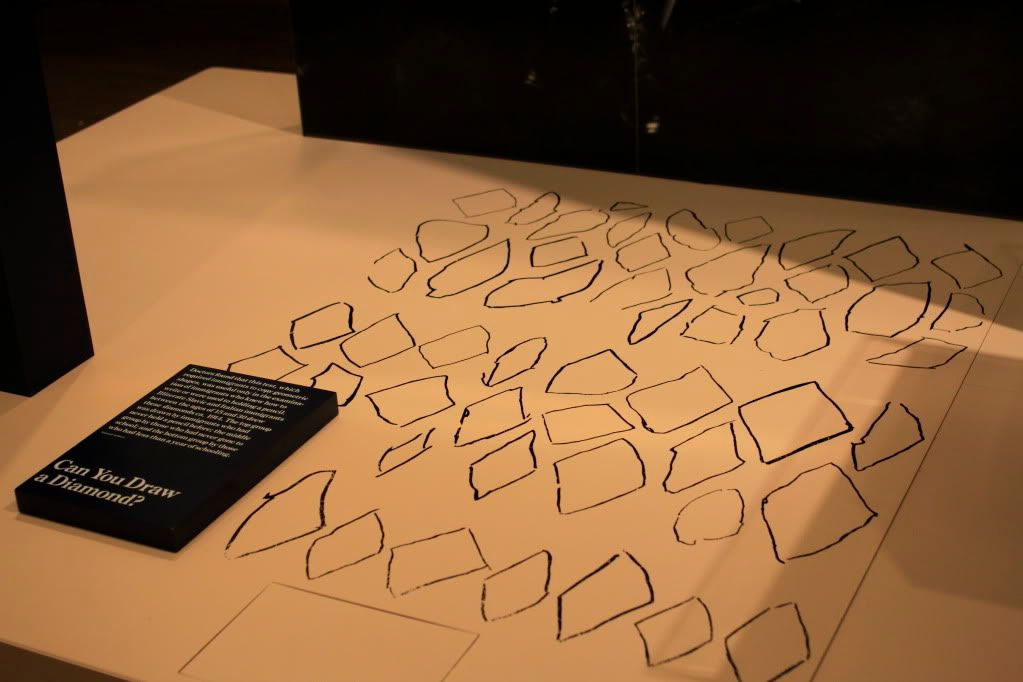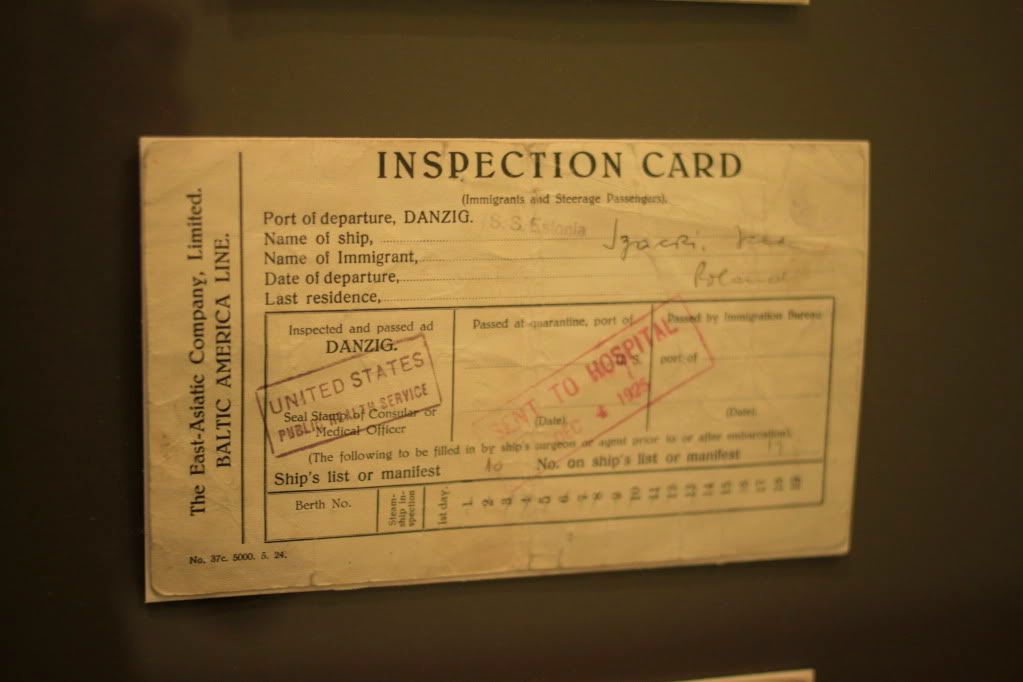 Ellis Island was like a full-fledged campus - there were hospital staff, dormitories, facilities for changing money and purchasing travel tickets, baggage sorting, meals, etc.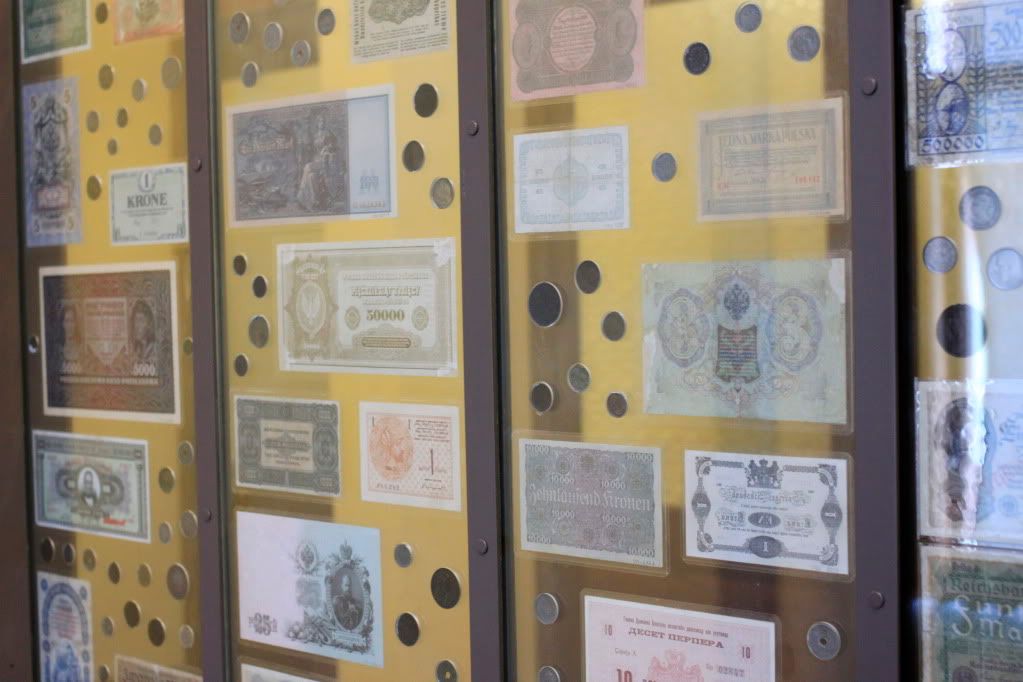 Of course, not everyone had such a
fun time
getting to America. And then quotas were instituted because
too many
immigrants were coming in. Or the
wrong kinds
.
I just try and remember the founding ideals of this country. They've never led me astray.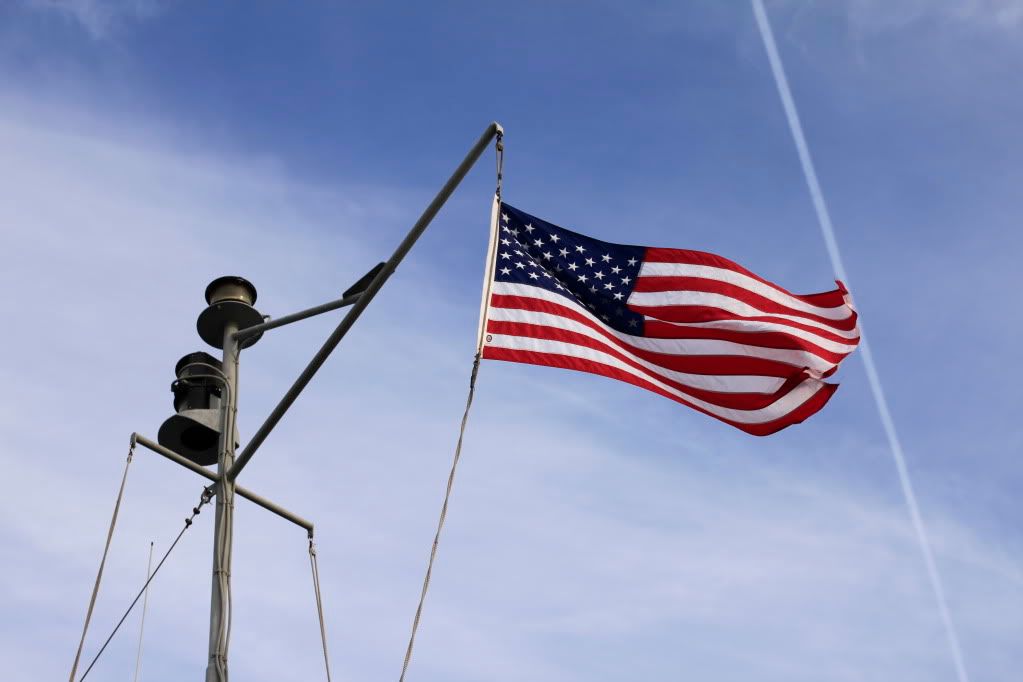 I could have easily stayed at Ellis for another hour, but I had to hurry if I was going to make my next destination.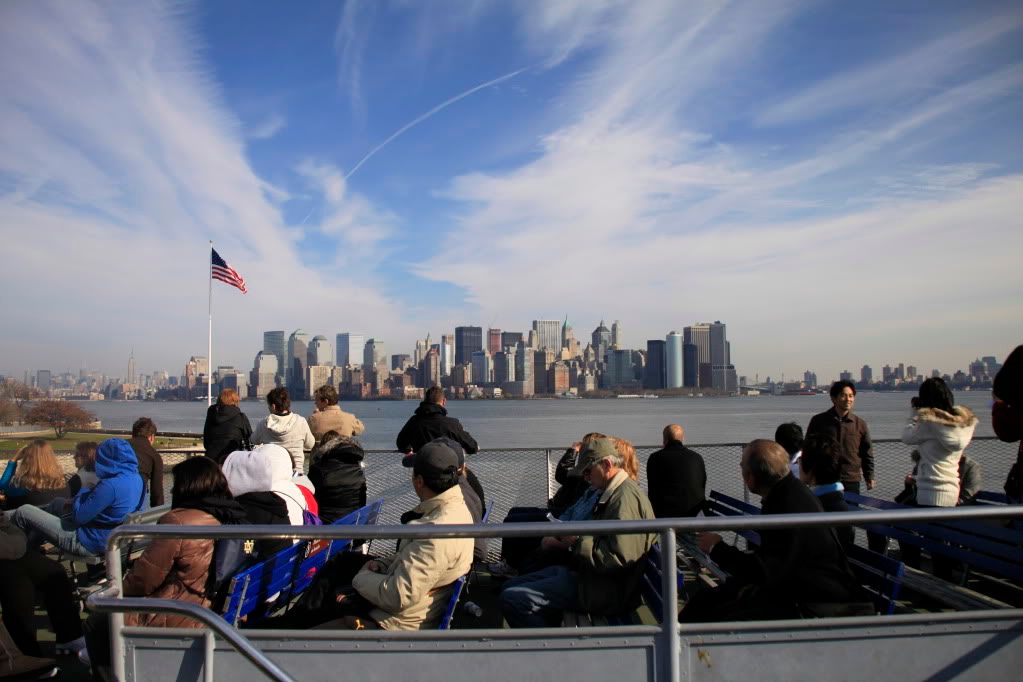 Upon embarking from the ferry I took a moment to reflect at this sculpture and accompanying flame.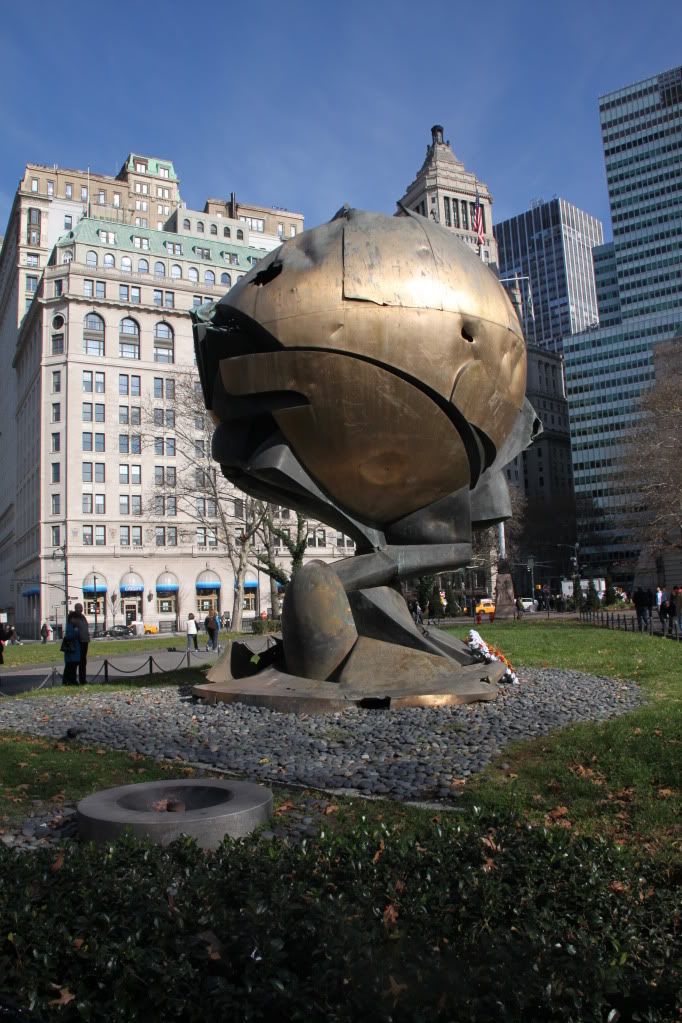 For three decades this sculpture stood in the plaza of the World Trade Center. "The Sphere" was conceived as a symbol of world peace and although damaged during September 11, it now represents indestructible spirit. It was placed in Battery Park on March 11, 2002 as a temporary memorial and an eternal flame was ignited on September 11, 2002 in honor of all who were lost.
Next up was a guided tour through the
Lower East Side Tenement Museum
, a museum that tells the stories of residents that lived in a tenement at 97 Orchard Street on the lower East Side. Similar to Ellis Island, the apartments of 97 Orchard Street had been shuttered for nearly 50 years (only the building's store front was in use as the building's owners didn't feel like putting in the expense to bring the apartments to code). Purchased for $8000, it consisted of 20 3-room apartments.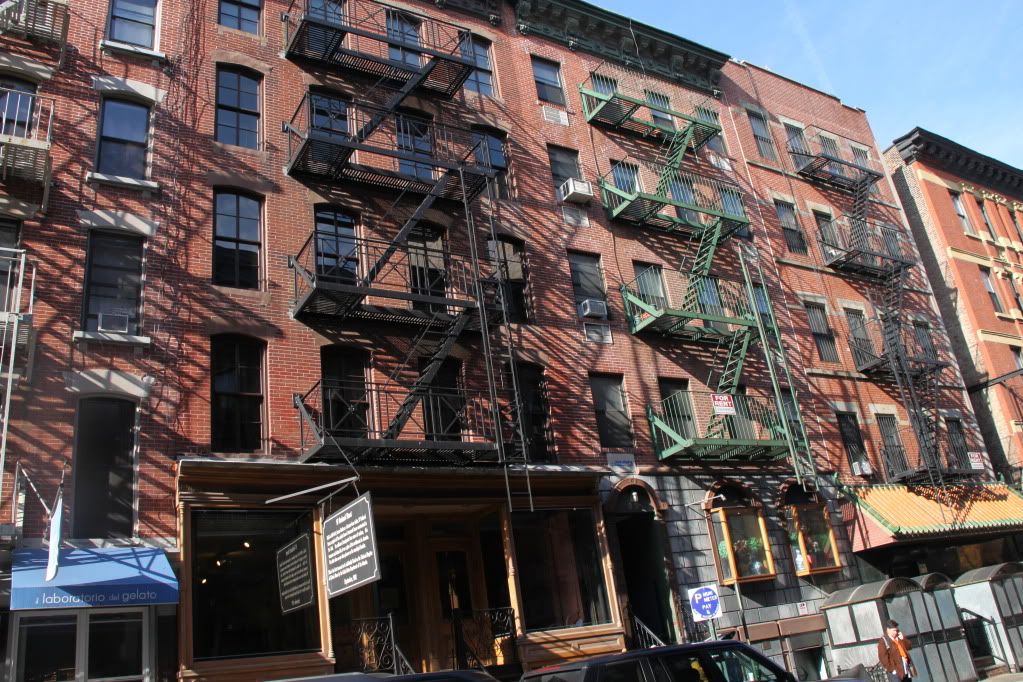 Through diligent research, museum staff have uncovered the histories of several residents such as the Moore family, Irish-Catholic immigrants coping with the death of a child in 1869 and 14-year-old Victoria Confino, a member of a Sephardic Jewish family who lived in the tenement in 1916.
I took the
Getting By: Immigrants Weathering Hard Times
tour which focused on how immigrants survived economic depressions at 97 Orchard Street between 1863 and 1935. The German-Jewish Gumpertz family experienced hard times when the patriarch disappeared during the Panic of 1873. Natalie Gumpertz managed to keep her daughters afloat by mending and repairing dresses, as most working class women only had three dresses to their name. The Italian-Catholic Baldizzi family lived through the Great Depression. Their story is particularly interesting as they have first-hand accounts and recordings of the daughter describing her memories of living at 97 Orchard Street.
Here's our tour guide doing his thing: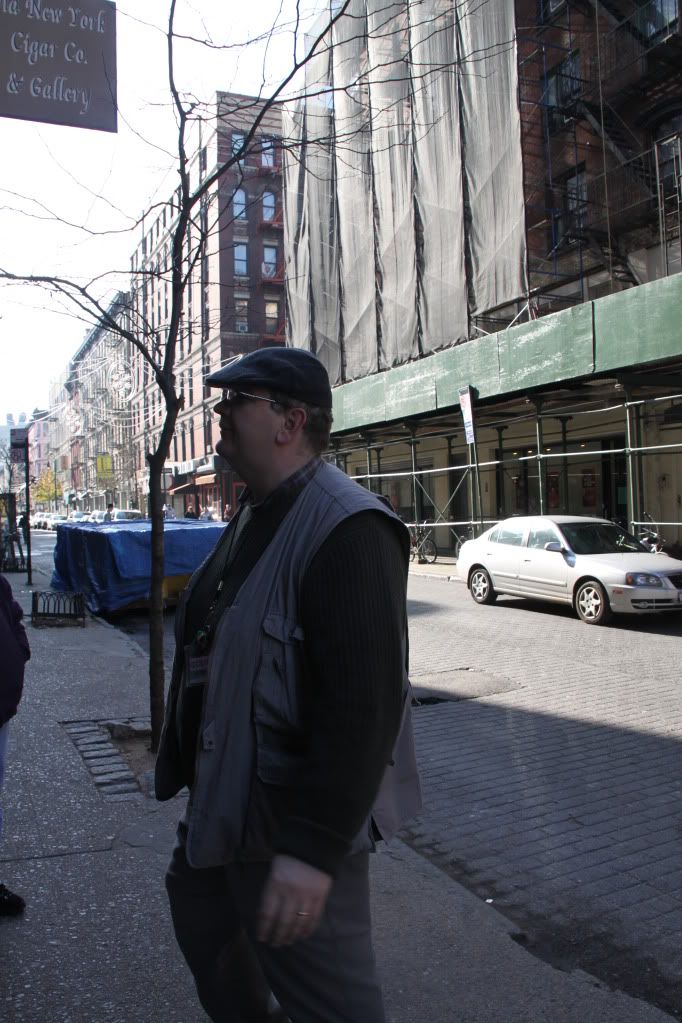 No pictures were allowed inside the tenement apartments, which is too bad. You can definitely get a feel of what life must have been like living in these buildings. They were cramped and dark. At first, only the parlor rooms had exterior windows and all lighting was kerosene and oil lamps. The walls of the hallway are stained with soot and it will probably come as no surprise as there were several fires in the building.
When 97 Orchard first opened in 1863, all the toilets were outside. It wasn't until 1905 and the passage of the Tenement House Act which mandated that landlords install 1 toilet for every 2 apartments, that hallway indoor toilets were installed. The building was shuttered before a law passed that required one toilet per apartment.
A little bit down the street is an abandoned bath house or something. I wonder what the story is behind this... I believe our guide said that it was an old bath house used by tenement residents.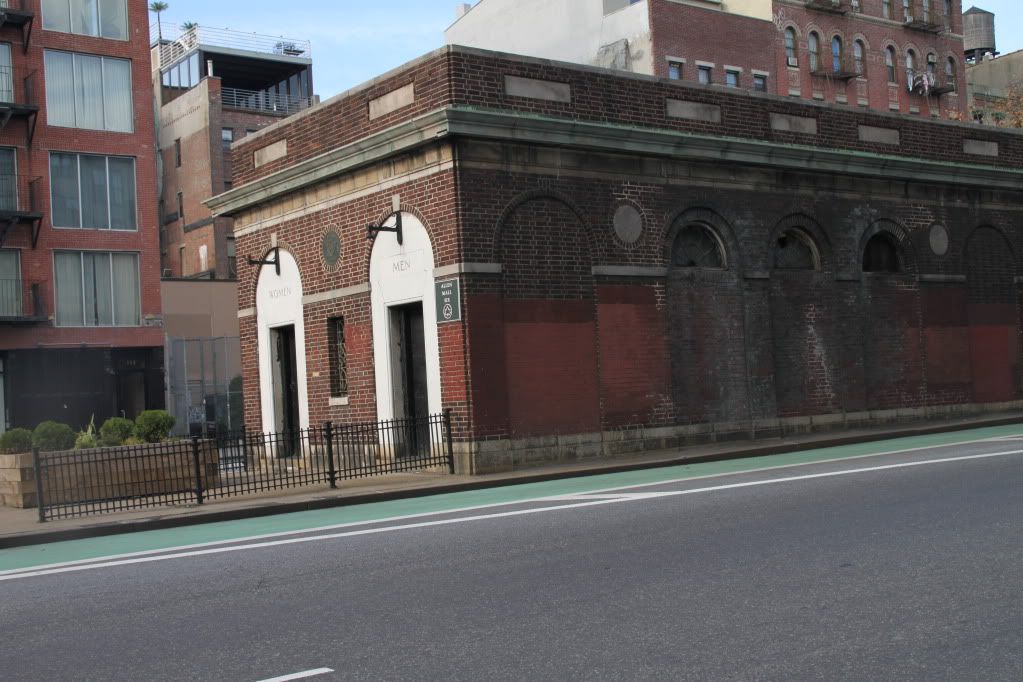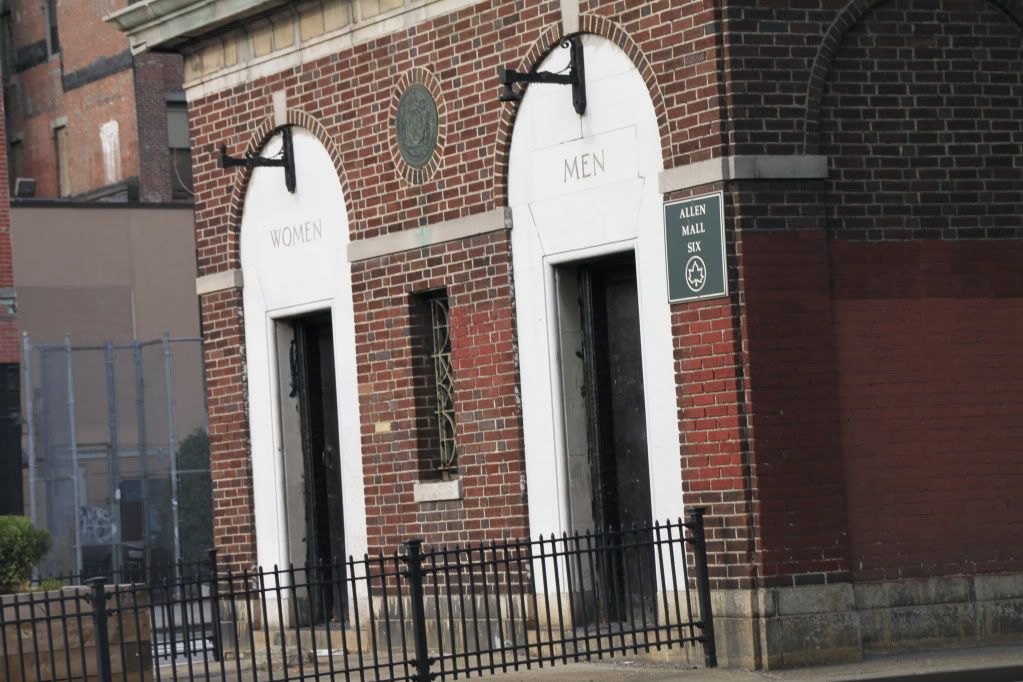 Currently the Lower East Side is getting gentrified like all parts of Manhattan, but is also home to a new group of Chinese and African immigrants. It's sort of amazing to think that generations of immigrants have chosen to make America their home and are doing their best to realize their version of the American dream.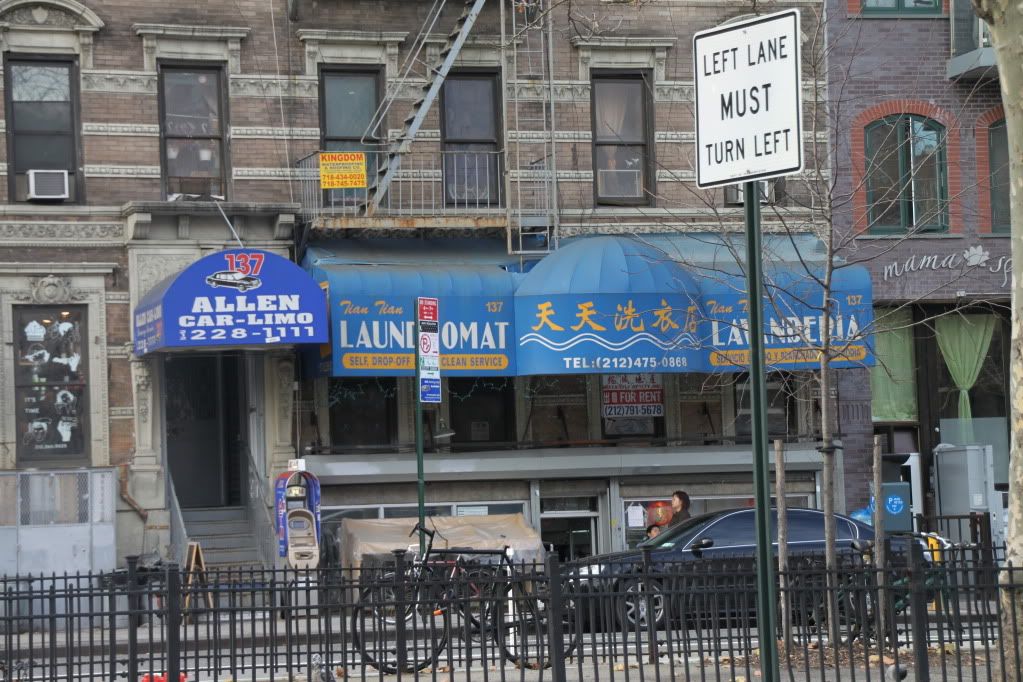 After all of this, I truly had a new appreciation for New York City and the urban landscape in general as the heart of this country.
I planned the perfect end to my "immigrant day" with a stop at
Katz's deli
for a pastrami sandwich.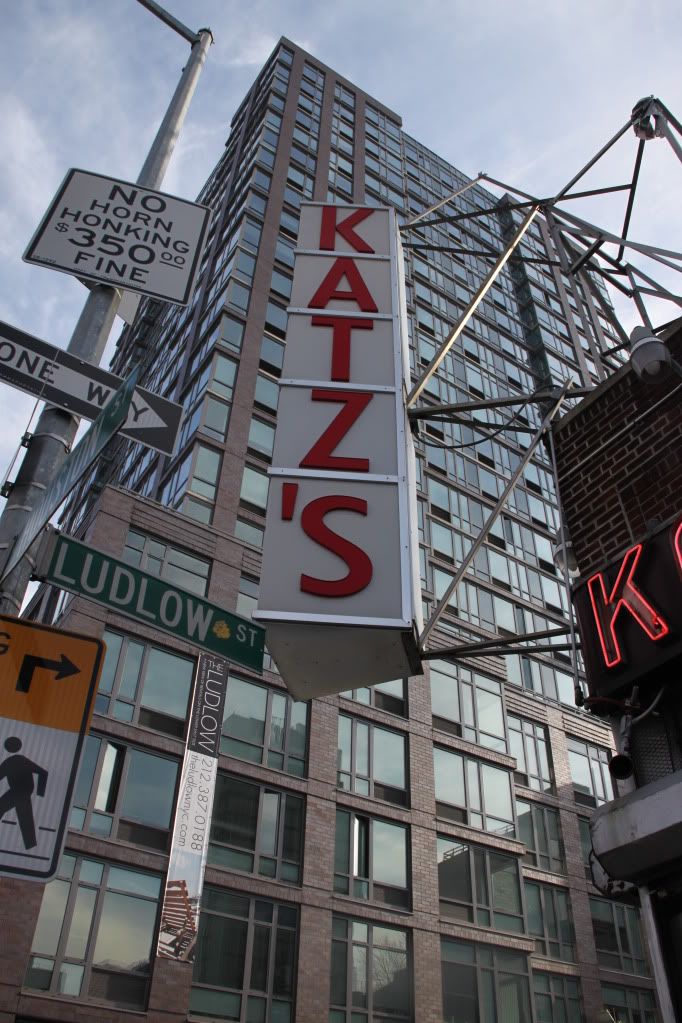 (I love that No Horn Honking sign.)
But when I got there it was a complete madhouse - with 4 dozen people jammed at the counter waiting to place an order with the two people behind the counter. I couldn't deal.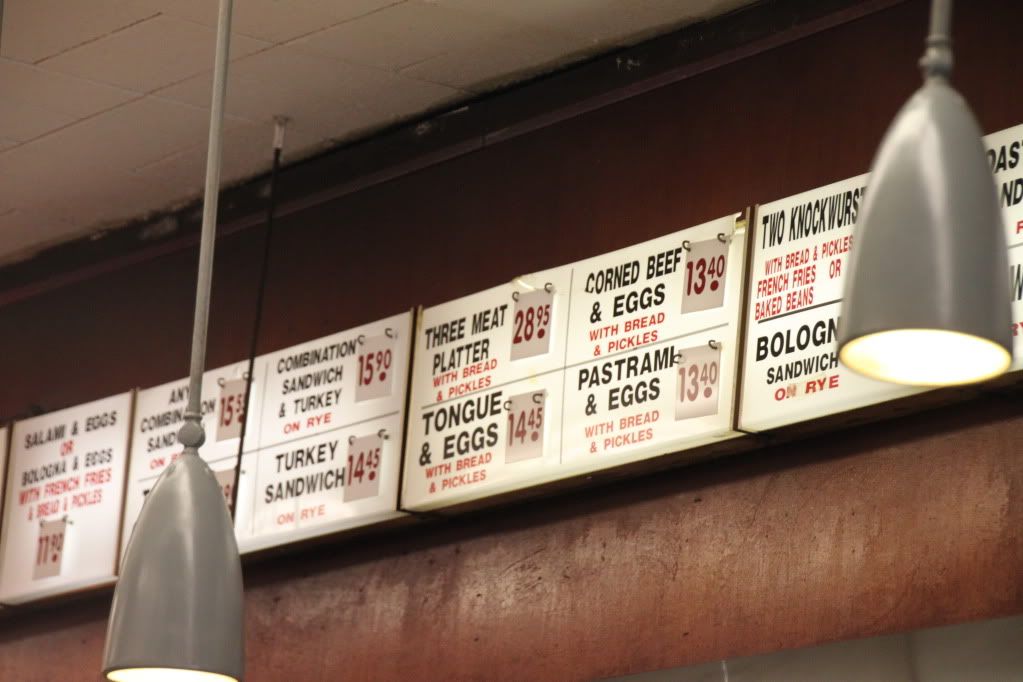 Since I had to meet Mr. Insom who was by now done with his course, I headed back to midtown - but not before grabbing a slice of cheese pizza. Hey, Italians went through Ellis Island just like Russian Jews! I would have preferred the pastrami though. :(