Does anyone that reads this blog really need an introduction to the
Dining Room
at the Langham Hotel in Pasadena?
Crib sheet:
1. Michael Voltaggio is the head chef of this restaurant.
2. Michael Voltaggio is about to win Top Chef and he was the past chef of the incredibly awesome Bazaar
3. I've eaten several tasting menus this year, and this was possibly the best one. No shit, folks.
4. Contrary to what the judges' comments might lead you to believe, Voltaggio isn't some culinary clown with a liquid nitrogen tank. The man knows flavors. He knows how they work together. Everything I ate was delicious first, dazzling technique second.

Here's something you may not know... I've been hearing that the Dining Room was scheduled to shut down at the end of the year for much needed renovations. It turns out that those renovations have been postponed until March - with the Rose Bowl and the National Championships scheduled in Pasadena, I guess The Powers That Be thought it would be prudent to keep the restaurant open for the influx of tourists and guests headed to the area. Whatever it takes to keep Chef Mike Voltaggio happy, is a-okay in my book.


Is the decor really that bad?

Crib sheet:
1. There are clipper ships all around the restaurant.
2. The place is stuffy.
3. You can't really tell where the kitchen is.
4. There are clipper ships all around the restaurant.

According to our server Ryan, the renovation promises to take down the dreaded ships and create a window to the kitchen. The terrace will be extended, so the restaurant will have less of a horseshoe shape. It will still be in the same style as the rest of the hotel, just less stuffy.

This will be a good thing. It's hard to see someone like this guy wanting to come into work in this place every day.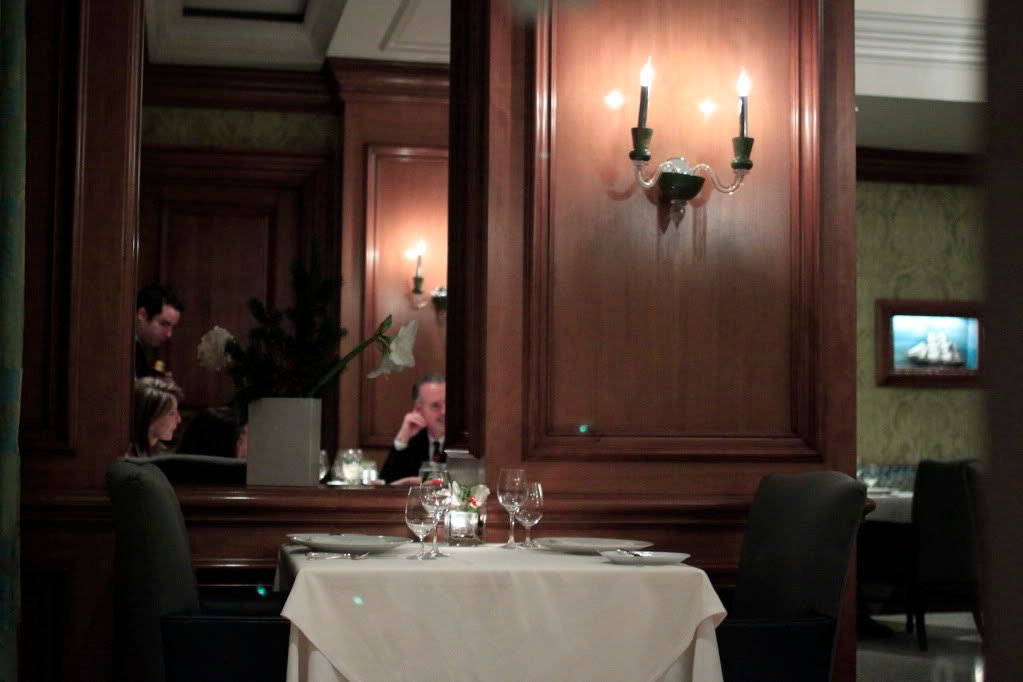 I became incredibly annoyed when the woman sitting at the table nearest to us began snapping pictures of her dishes with a flash. Picture taking is fine, but a flash is a no-no. One, flash makes your food pictures look crappy. Two, flash disturbs other people. Three, if you're taking flash pictures and disturbing people, restaurant staff might prevent me from taking my unobtrusive non-flash pictures.
When I first saw my yellow-red cast pictures inside the restaurant, I got depressed, thinking that all my pictures would turn out like
Aureole's
.
At Aureole, I longed for a white card to create a custom white balance.
Mr. Insominac: You should just use the tablecloth as your white balance.
Me: *scoffs* That's lame.
WeezerMonkey
: You should just use the tablecloth as your white balance.
Me: ohemgee - Genius!!!!
But alas, the tablecloth was a weird off white. Would this affect my pics?? I pulled an agenda from a Thursday meeting out of my bag, frantically hoping for a side that was blank. Found a blank side. Snapped a photo. Played with the menu settings for a couple of minutes to figure out how to create a custom white balance.
I shot this picture of the white piece of paper.
Using this custom white balance, this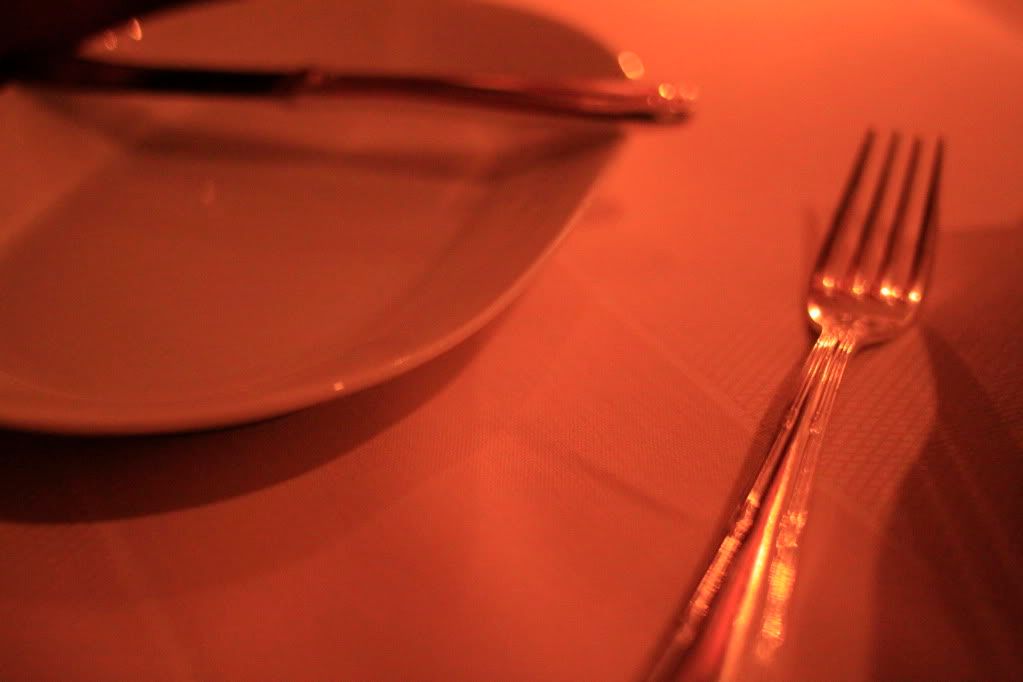 turned to this.
Victory. I literally could have frenched my camera, I loved it so much. Time to rock...
Amuse bouche - sour cream and onion potato chips. Tasted like... sour cream and onion potato chips! Point, Voltaggio.

We were offered a selection of breads. We both chose the bacon roll (shout out to Bacon Diva!) and the honey whole grain bread. Accompanying the breads were two butter choices - both were delicious.
Japanese Shima Aji with pickled baby peach, sea sponge, bonito. Inspiring layered flavors. Wonderful.


Truffle brioche roll. This is what they eat in heaven, I believe.
By this time we had amassed quite the collection of butters.
Langoustine with young fennel, porcini mushroom lasagna, broth. Delicious. I pretty much just grunted my way through this one.
Foie Gras with blood red orange, salsify, aerated brioche. I was a little leery of this dish - I had a passion fruit fois gras at wd-50 and I thought the fruit dominated the foie gras. This was perfect, although I probably could have done with a touch more orange. The brioche was sublime.

At first the presentation looked a little bland.

Boo-yah! Now we got some color.


Halibut Cheeks with scrambled cauliflower, lemongrass-scallion froth. I've never had fish cheeks. They were much heartier than the body of the fish. This was a perfect transition to the more meatier courses.



Pastrami Pigeon, Swiss cheese, sauerkraut, rye. Salty goodness. Katz deli, eat your heart out!
Wagyu Short Rib, Flavors of Pot Roast. Carrots, potatoes, apples, beef so tender it will make you cry... Simple food at its finest. Kevin wishes he could prepare comfort food like this. lol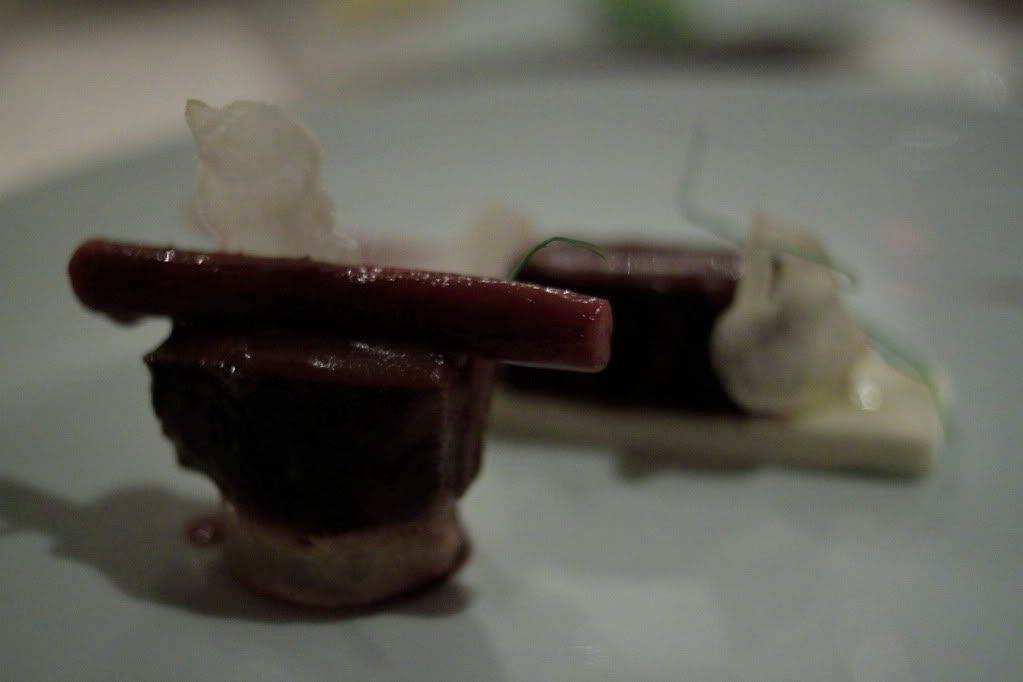 Raspberries and cream (dipping dots - hee!)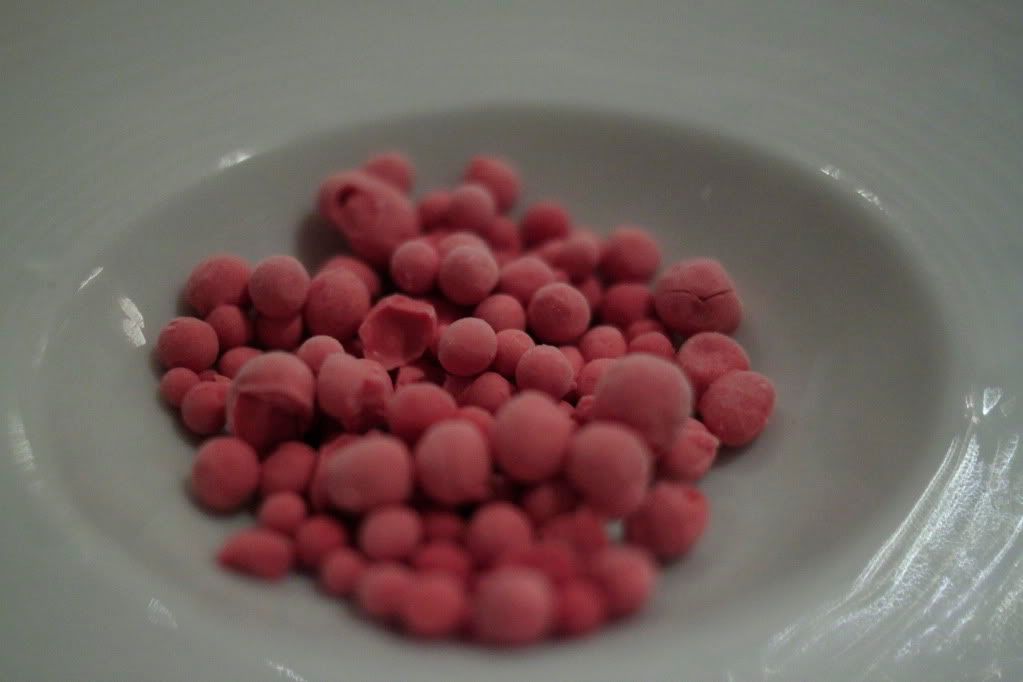 Did you know that Chef Voltaggio is also the pastry chef?
This dish had all sorts of flavor components - coconut, banana, kiwi, . Put it altogether and I nearly melted down the chair. And I don't even like dessert. Mr. Insom got this dish, and we went half-half. This was one of our favorite dishes of the night.
I got the "Fools Gold" 0 Chocolate, Salty Hazelnut Praline, and Milk Sorbet. This sort of reminded me of the dessert we had at
Redd
in Napa. It was a nice rich finish to end the meal.
Petit fours - passion fruit gummy with edible wrapper, fennel macaroon, dark chocolate lollipops with explosives.
Things I would change:
1. I want more food. Another meat course and dessert course would have been nice. Although I could barely walk out of the restaurant after eating all of this, so I'm not sure how that would really work. I suppose I'll just have to go back.
2. Cocktail menu?? Other reviews that I read mentioned a cocktail menu. When Mr. Insom asked for it, they said that they didn't have a cocktail menu, but had a full bar. Come on, Mikey. Whip up some cocktails - I know you can do it.
3. More prompt initial service. I hate waiting forever for a menu when I know I'm just going to order the tasting menu. I'm going to be sitting for the next couple of hours - let's get this party started quickly. The service during the meal was great and our meals came out at a pretty even pace.
All in all, a beautiful, wonderful, delicious meal. I'm so thankful to have Michael Voltaggio within a 30 minute (sans traffic) drive.
"Quick, Mr. Insom! Take a picture of the Hotel Langham sign on our way out!"
Awesome!