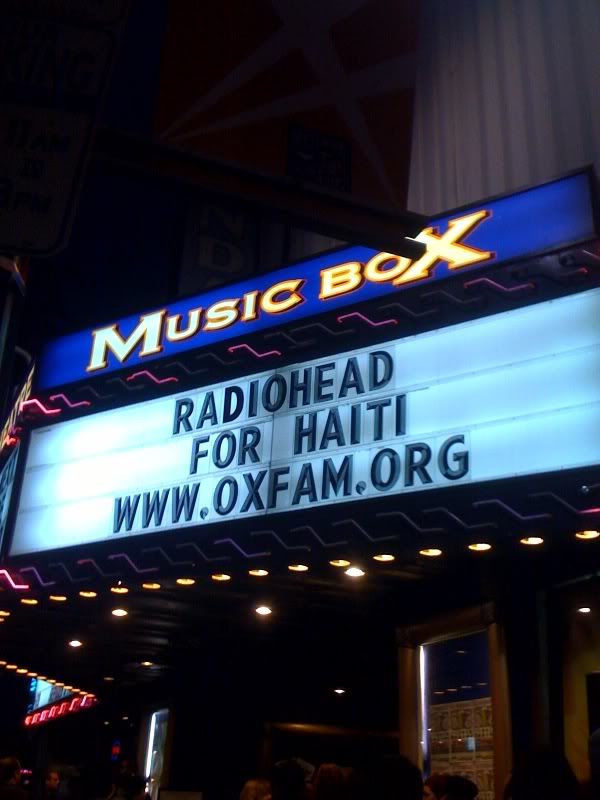 I love Los Angeles because every so often, you have an experience that you couldn't get anywhere else that will last you a lifetime.
There I was Friday night, minding my own business, browsing through my google reader. When suddenly this headline on
LAist
caught my eye: "
Radiohead to Play Los Angeles to Raise Money for Haiti
"
Um, come again?
Apparently, Radiohead is in town recording their next album and decided to stage an impromptu benefit concert to raise money for Haiti. From their
website
:



Radiohead for Haiti

We're doing a show this Sunday (24th January) to raise funds for the relief effort in Haiti. The venue is The Music Box Theatre at The Fonda in Los Angeles, doors at 7pm. All proceeds are going to the Oxfam Haiti relief fund. We're trying to raise as much money as possible, so tickets will be sold by auction at this site from 8pm tonight until 11am Saturday (PST):

http://www.ticketmaster.com/event/09004434FC1C86AC

We're in the middle of recording at the moment, so you'll be catching us on the fly.... but if you're up for it, then we are too.

See you then

x

Philip
This is when my heart starts beating really fast. The Music Box is one of those small old Hollywood theaters - seating a max of 1,500 people. The last time I saw them at the Hollywood Bowl, I was one of 18,000. If I were to get the tickets, this could literally be a once in a lifetime performance. The fact that all the proceeds were going to aid the people of Haiti was the perfect excuse for me to spend the money. I hadn't made a donation to Haiti and was planning on making one, just not quite as large as what was required here. lol I checked with Mr. Insom - "Can we get these?" "Sure." Awesome. After a nail-biting Saturday morning spent frantically clicking refresh on the Ticketmaster website to make sure the prices hadn't spiraled further upward, I had them. Two tickets to possibly the best rock concert of my life.
Doors opened at 4pm (I misread the email and thought it was 5pm - doh!) - I got there at 2:50pm and was one of the first 100 people in line. I had come prepared. In my possession were the following items: a hand cranked flashlight, two sweatshirts, binoculars, a huge bottle of water, dim sum leftovers, headphones, not one but two books, and a fully charged iphone. The pièce de résistance was a large cushy pillow (actually one of doggy insomniac's beds lol) that allowed me to sit on the concrete for hours without my ass getting numb. I set up camp and took a deep breath... the sun was shining and pleasantly warm, folks around me were in good spirits, I had plenty of stuff to occupy myself - I was content.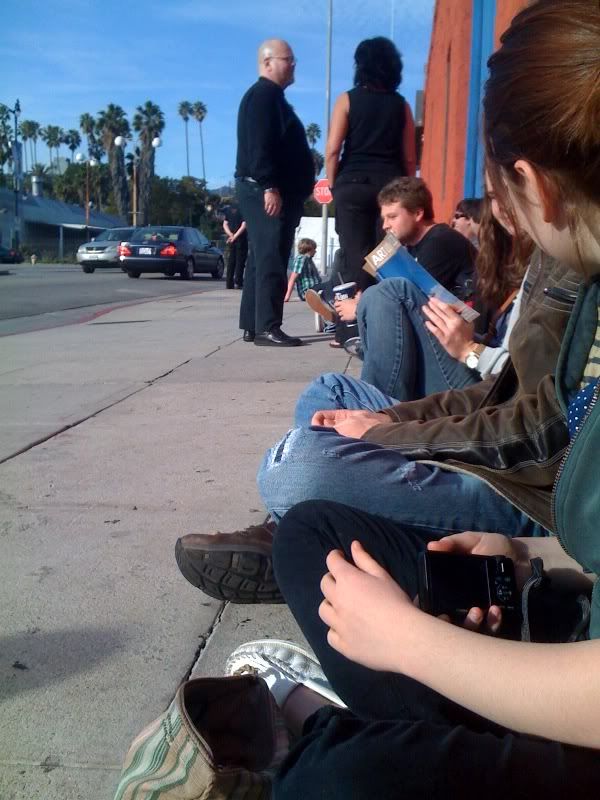 At 4pm, everyone in the line inched forward to pick up their tickets from the box office. I was under the impression that the concert seating was straight general admission and knew that there were two sections: the main floor pit which was standing only and the balcony which had seats. I had gotten to the line early so that I could run to the balcony. I'm short and the prospect of staring at some giant muscle man's back for 2 hours wasn't very appealing. I wanted to be up high so I could see everything and get clear sound.
I got my ticket stub and was blinged out in a colorful assortment of wristbands.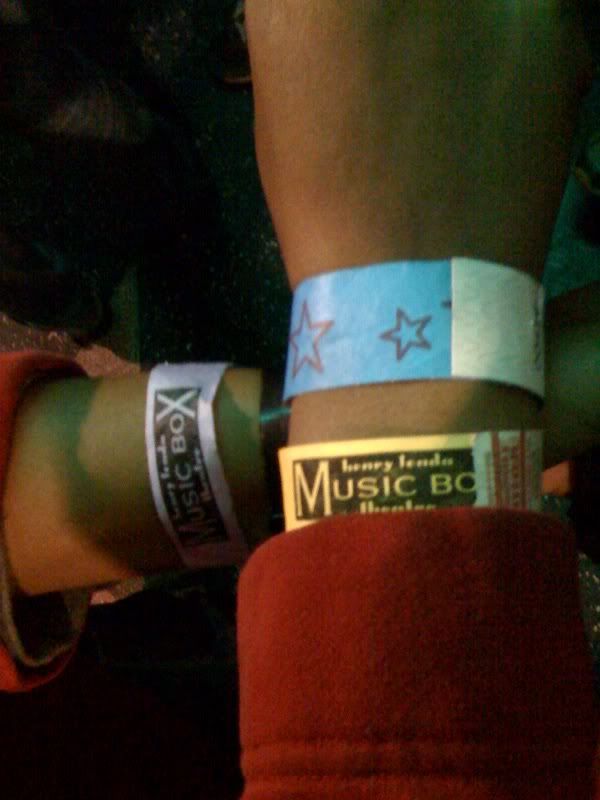 It actually turned out that when you bought your tickets, you were automatically assigned to one of the two sections. Fortunately, my yellow wristband meant I was designated for the balcony and I was happy, but some people were looking to switch.
And still others were just looking for any ticket at all.
This approach is a tad more dignified than
this guy
offering to give a ticket holder a little action from one of his porn starlets.
After we picked up the tickets and got bedazzled with wristbands, back in line we went. Once the sun went down, it started to get really cold. I wish I had Mr. Insom around for warmth, but he was in a bar next door watching the football game.
He spent the last 10 minutes of the game in line with me constantly hitting refresh on his ESPN app and complaining bitterly it being a tied game. Whatever dude. lol
When the doors finally opened at 7pm I went straight up the balcony and got a great seat... Second row, right side, one away from the center aisle. Perfection.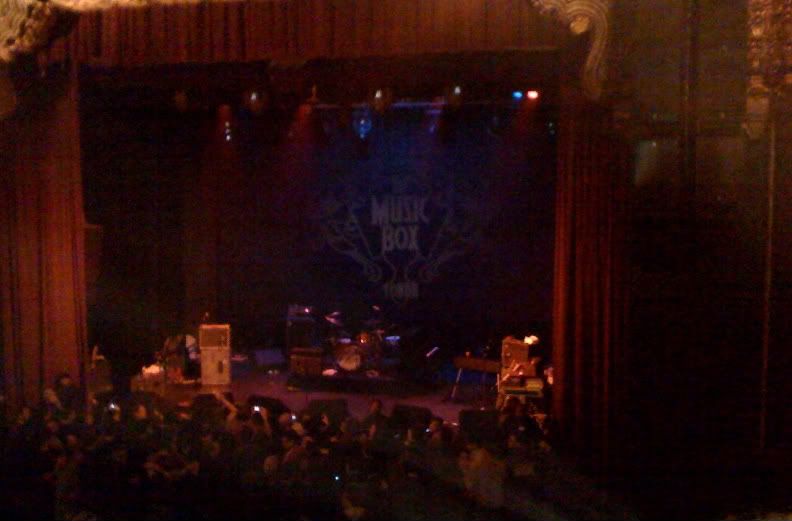 I could have been in this mass of people, but instead I had plenty of room and a great sight line.
Photo by Chris Victorio, OC Weekly
At around 8:30pm, Thom Yorke and Jonny Greenwood walk on the stage with acoustic guitars and without any sort of preamble, begin plucking the first strands of "Faust Arp" off the recent
In Rainbows
.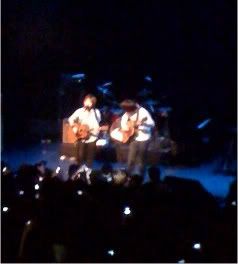 For the second song, "Fake Plastic Trees", Thom takes the stage front and center and strums the familiar riff. His vocals are so earnest, so I don't know if it's the 4 hours of sleep I had the night before, the fact that I've been at the Music Box for six hours waiting for this moment, the copious amounts of pot smoke swirling around, the alcohol I've drunk, or the awesomeness of the song, but tears are just running down my face. I can't believe I'm here, I can't believe I'm watching this, I can't believe how good it sounds. I literally get chills when the electric guitars and distortion blaze in halfway through.

With the exception of the band instruments the stage was bare, as was in keeping with the nature of event. No splashy backdrop, and the band used the standard light rig. The stripped down set allowed the music to take center stage and the small venue was an intimate setting. At times, an electric hush would fall over the crowd as we all stood transfixed by the music.

The band was loose and comfortable - Thom invited the audience to sing along in case he forgot the words and when they had a false start on a song, he quipped that "it's for charity". Later on, a woman yelled, "I love you!" to which he responded in a decidedly British fashion, "I love you too, dear."

Check out a
slide show
from someone who's allowed to take a DSLR camera inside at
OC Weekly
Here's another
slide show
of 43 images that has some great shots.
There was little mention of Haiti, actually.
Oxfam International
had a booth in the lobby of the theater, but no mention was made by Radiohead themselves. The representatives at the booth mentioned that all of the money would go to "Water and sanitation. That's what's needed most."
I could see some other musicians doing a long spiel about the devastation, how important it is to get involved, why they decided to do a performance, etc., but Thom only offered a heartfelt Thank You after a few songs at the beginning of the show. When O'Brien handed Thom a paper with the totals from the night which were $572,754, with a guy named Peter spending the most money for his pair of tickets - $2,000 each, he dropped an F-bomb. (i.e., he said an astonished "Fuck me!",
10 years
- lol)
One of my fellow line buddies mentioned that he was stunned that the ticket prices reached the amount that they did. Uh really, Thom? Do you have any idea what your ticket prices go for on the scalp market? lol
All in all, my concert experience was amazing. Although you'll hear a lot of people singing along in the youtube videos, thankfully, I hardly heard anything from the front of the balcony. And during some of the quiet songs, like "Exit Music for Film", the crowd would ssssh! the woooooo! people. Gotta love a concert that employs collective shushing.
This is what my crappy iphone pictures looked like at the
Hollywood Bowl
: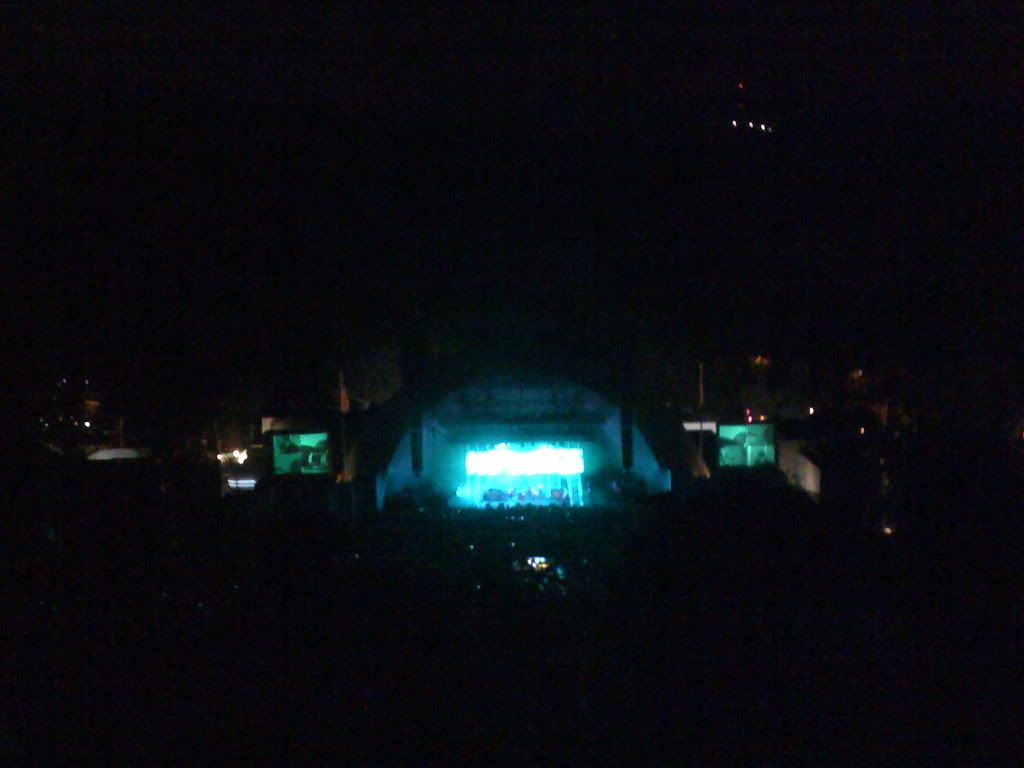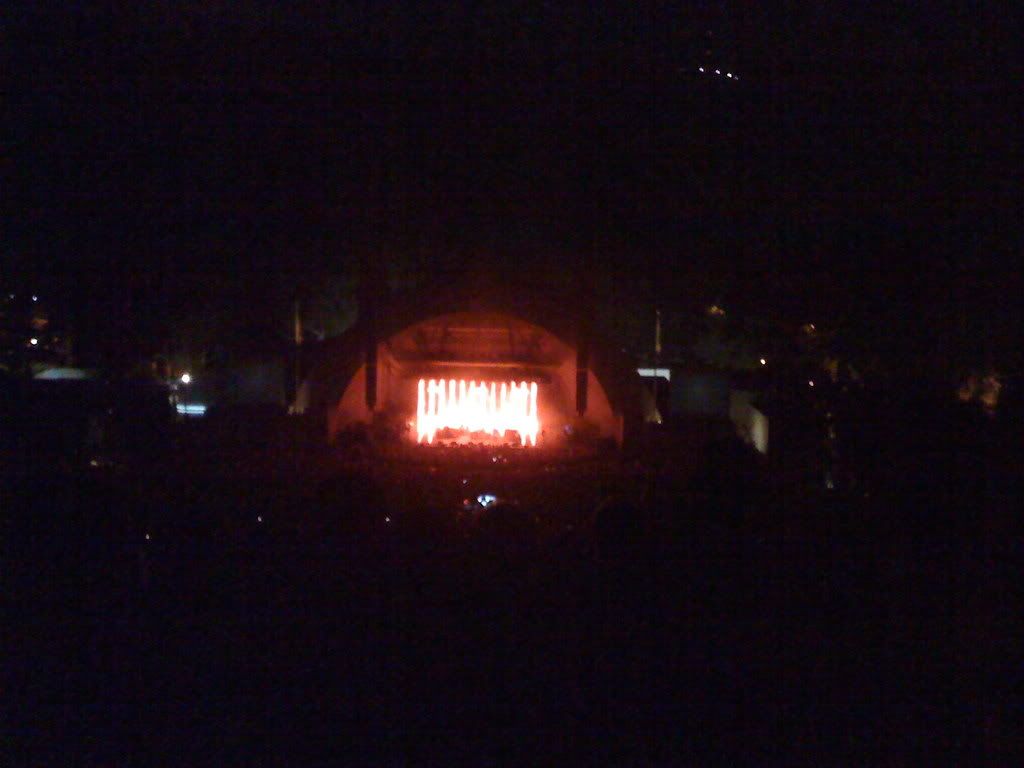 This is what my crappy iphone pictures looked like last night. Still crappy, but at least you can make out actual human figures.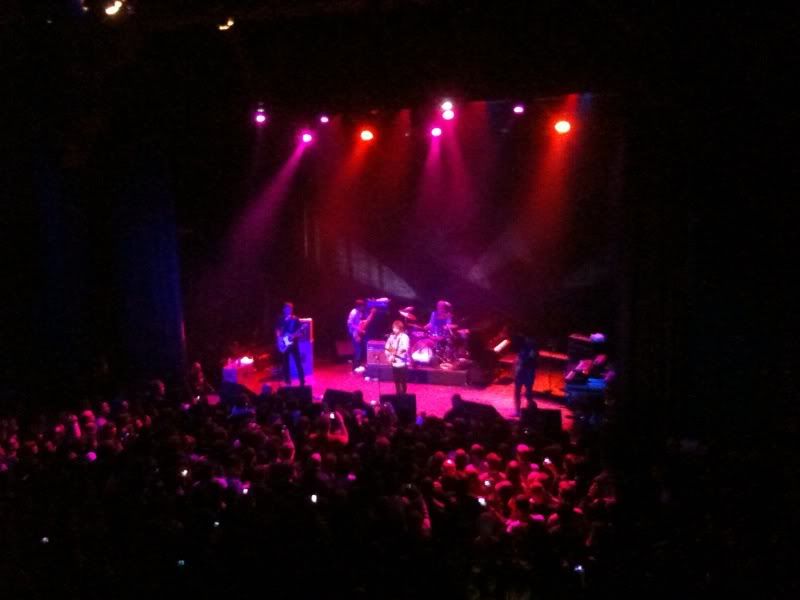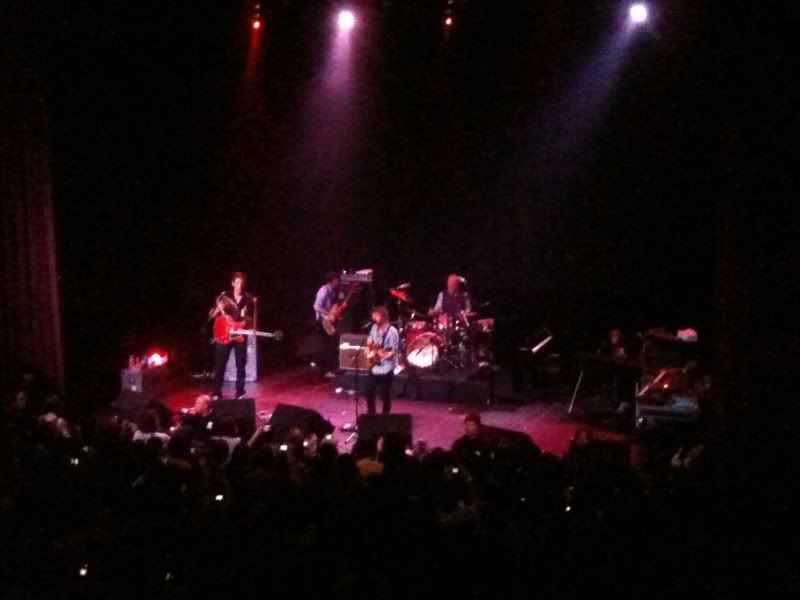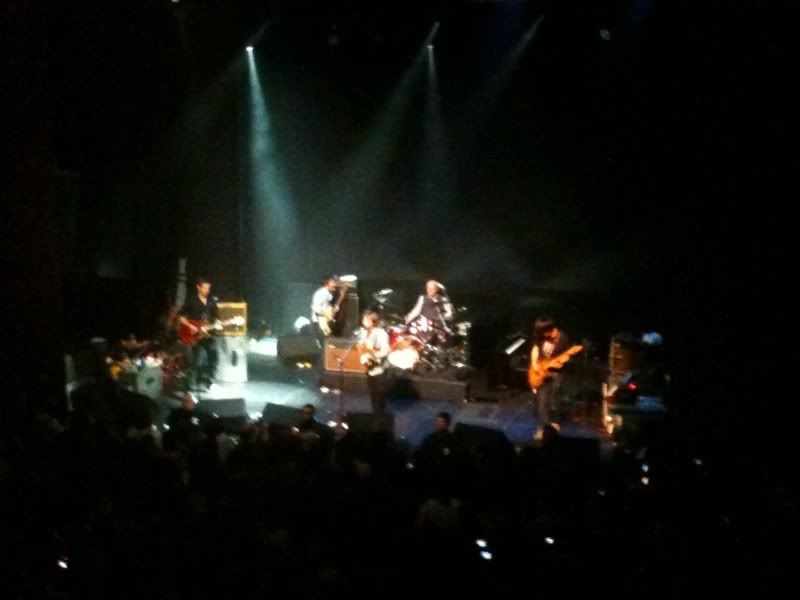 I am so glad I wasn't among the throng of people on the floor. I just knew that I would have been smashed against the back of some behemoth. Look at them packed in down there. Yikes.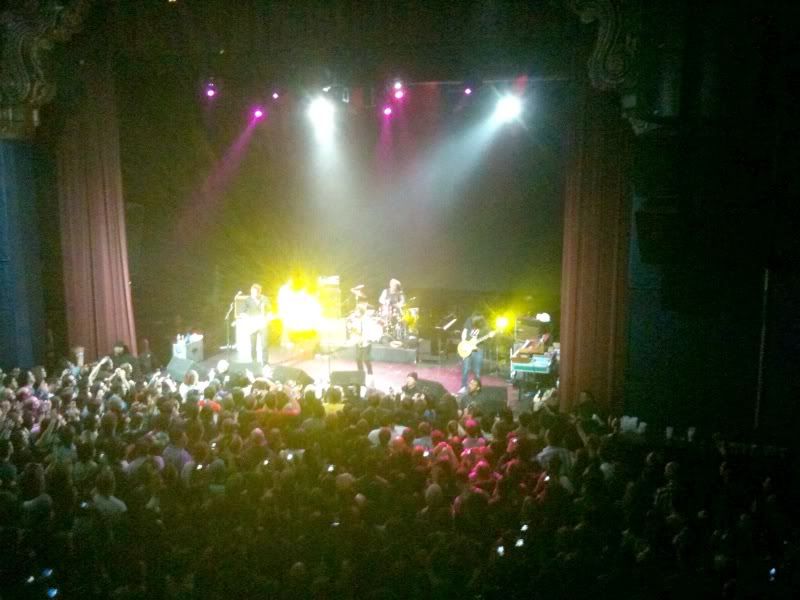 Apparently there were plenty of celebs in attendance (Justin Timberlake and Jessica Biel, Flea, Sookie and the Vampire, Drew Barrymore, Daniel Craig, Aziz Ansari) but I didn't see anyone. They might have been in a VIP box in the back of the balcony, but it looks like ol' Charlize is with the people - I see her everywhere!



There were at least three rows in the center balcony set aside for special people that apparently didn't have to wait 5 hours in line like us plebeians.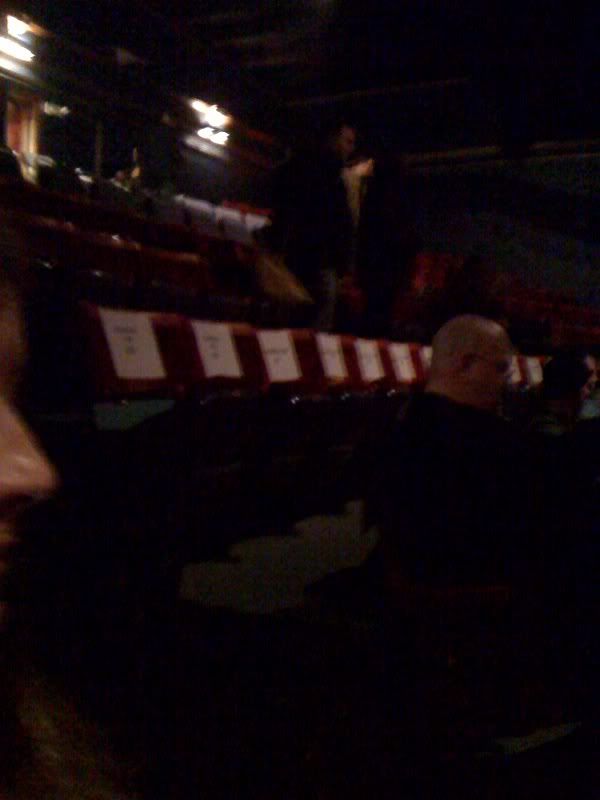 For a group that was in middle of studio recording, they exercised a flawless, high energy concert that went far back in their catalog. At one point sitting in front of the piano, Yorke remarked that playing these songs was a like "memory exercise". lol Jonny was furiously thrashing his guitar and Colin was leaping in the air.


The rhythm section was so finely tuned. Drummer Phil Selway and Colin Greenwood (bass) stayed in constant communication throughout the show and provided the perfect backbone for the richly layered sound on "Weird Fishes".

Try to ignore the non-Thom singing.

Loved Thom's performance on "Nude". His movements really captured the ethereal nature of the song.

Again, try to ignore the singing from the videographer. I know it's hard. Ugh.

Thom sat down at an upright piano for the first set of encores, and began with a solo of Everything in its Right Place. Hauntingly beautiful

When he was finished, a fan yelled "Thank you!" to which Thom replied, "Thank you for spending ludicrous amounts of money."

Youtube video of the only new song that they performed: "Lotus Flower"

Much to the dismay of Mr. Insom ("What? No 'Creep'?") the concert ended with "Street Spirit (Fade Out)" off
The Bends
. I admit that I thought it was an odd choice to close out a concert, but I liked how the last line song ("Immerse your soul in love") sums up the entire purpose of the evening.
I'm still glowing. Not even walking into my office at work this morning to find it overrun with ants has put a damper on my smile. I had the best 2 hours of my life yesterday. :)
Set list:

01 Faust Arp
02 Fake Plastic Trees
03 Weird Fishes/Arpeggi
04 The National Anthem
05 Nude
06 Karma Police
07 Kid A
08 Morning Bell
09 How To Disappear Completely
10 A Wolf at the Door
11 The Bends
12 Reckoner
13 Lucky
14 Bodysnatchers
15 Dollars & Cents
16 Airbag - Yorke asked the crowd Just or Airbag? They went with Airbag
17 Exit Music

Encore #1

18 Everything In Its Right Place (Thom)
19 You And Whose Army?
20 Pyramid Song
21 All I Need

Encore #2:

22 Lotus Flower (Thom)
23 Paranoid Android
24 Street Spirit (fade out)