This is Pete Bunniberg.  
He's our office mascot.  I suppose his purpose is to travel the world, see the sights, and give us office drones some companionship.

Here he is in France.  
And here he is in Iran, nice and snug in the pocket of an adorable little girl.
With the recent increased airline security precautions, he obtained a passport crafted by a truly dedicated member of our staff - let's call her Mai.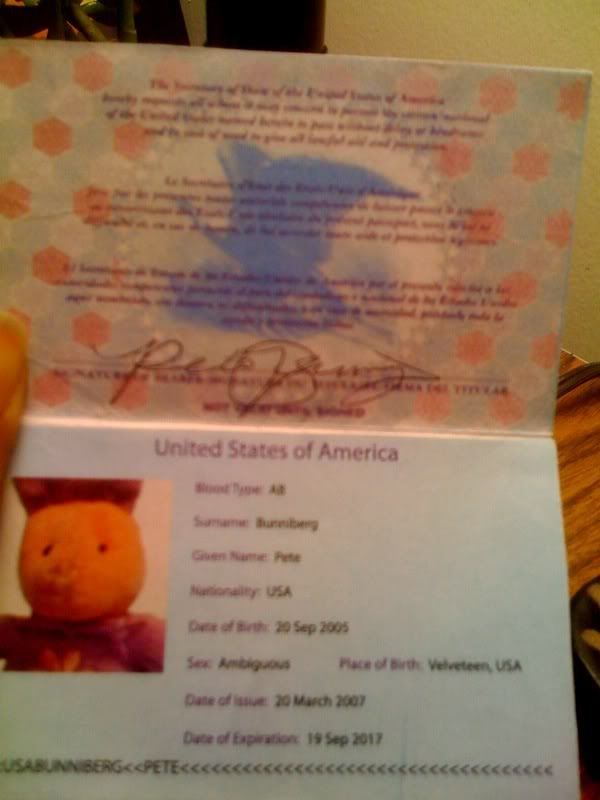 And so tomorrow is his birthday.  I jokingly told Mai that I'd make a cake and her little eyes lit up.  Spurred by her excitement, I added, not just any cake, but a CARROT cake.  Get it?  Bunny, carrot?  She declared that it was in fact an awesome idea and I steeled myself for the daunting task ahead, as I knew that I would have to make the cake from scratch.  Yowza.
First step:  Find a tried and true recipe.
This one
from
allrecipes.com
looked decent.  And it even had instructions for making icing!  Perfect.
Third step: Grocery store.  Apparently the only thing I had for carrot cake-making was cinnamon, flour, and salt.  (And I didn't even have enough salt, so after scrounging around for restaurant salt packs, I had to make Mr. Insomniac grind up some sea salt crystals to complete the recipe).  Total cost for carrot cake ingredients: $34.08.  Note to self: carrot cake Christmas presents to everyone.
Fourth step: Making cake.  I looked everywhere for my supreme cheese grater, but couldn't find it.  So I had to make do with crappy grater.   My shoulders hurt, I narrowly missed drawing blood, and it took forever.  I couldn't really figure out how to grate the carrots, but settled on laying it horizontally on the grater and doing it that way.  Whatever gets the job done, I guess.  
When the carrots got too dangerous for me to crate, I ate them or threw the remaining bits to Doggy Insomniac.  He loves carrots.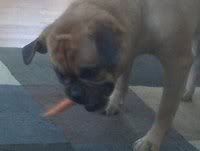 I was nervous, but the batter tasted good, so I figured I was safe.
Fifth step:  Create design for icing.  Mr. Insomniac used our handy kitchen dry-erase board to sketch out ideas for the cake design.    
Et voila!  The finished product!
At work...