Last night Mr. Insomniac and I saw Bugs on Broadway at the Hollywood Bowl - a concert where the famous Merrie Melodies cartoons that are projected on large screens and accompanied by the live scores played by the Los Angeles Philharmonic. I'm a fan of opera and classical music and like many, my first introduction came from watching Saturday morning Bugs Bunny cartoons. This is the last time they'll do this particular version of the concert, and a new and improved version will debut in 2010. The other interesting thing is the special relationship that a lot of the studios had with the Hollywood Bowl. Warner Brothers set a few of the cartoons in the venue with Bugs as did Hanna Barbara with
Tom and Jerry
.
The best thing about the Hollywood Bowl is that they let you bring in food and drink. Even alcohol.
Nothing beats watching cartoons while sipping on some Sauvignon Blanc on a beautiful summer evening and eating an assortment of cheeses, dried fruits, and crackers.
The big crowd pleaser was "What's Opera Doc?", a.k.a. "Kill da Wabbit", critically acclaimed as the best of Chuck Jones's work and the best animated short of all time.
It's said to condense all of 17 hours of Richard Wagner's ring cycle into 7 minutes - and contains themes from the Ride of the Valkeries, Taanhauser, and The Flying Dutchman.
Starting off in a manical desire to "Kill da Wabbit", Elmer is swayed by a beautiful bugs dressed as in drag as Brunnhilde.
Love ensues. As does a charming pas de deux.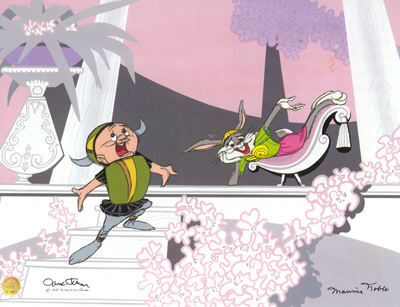 But like all good operas, ends in tragedy.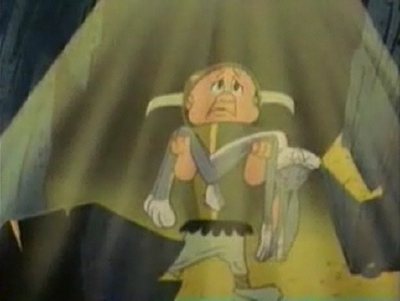 My favorite cartoon, though, has to be the "
Rabbit of Seville
".
Nearly the entire score is based on the overture to Rossini's Barber of Seville and it has strains of Mendlesohn's Wedding March when Bugs defuses an escalating arms race by wooing Elmer with chocolate and flowers, making him his blushing bride.
Also on the program was: