So after going to the
Hollywood Farmer's Market
for the past couple of weeks, the Culver City market seemed rather quaint.  Whereas the Hollywood market as four rows of stalls, the CC has only one - but it's still a good time.  Mr. Insomniac stood me up because he was doing "surgery" so I had to go by myself and didn't have the use of his cell phone camera.  Boo!
Here's my haul for $18:
1 bunch of organic spinach (following the dirty dozens)

3 watermelon pluots

2 apricot pluots

3 indian eggplants

1 red pepper
1 stalk of organic celery (ditto dirty dozens)

1 carton of homemade roasted red pepper hummus

2 avocados

1 large head of cabbage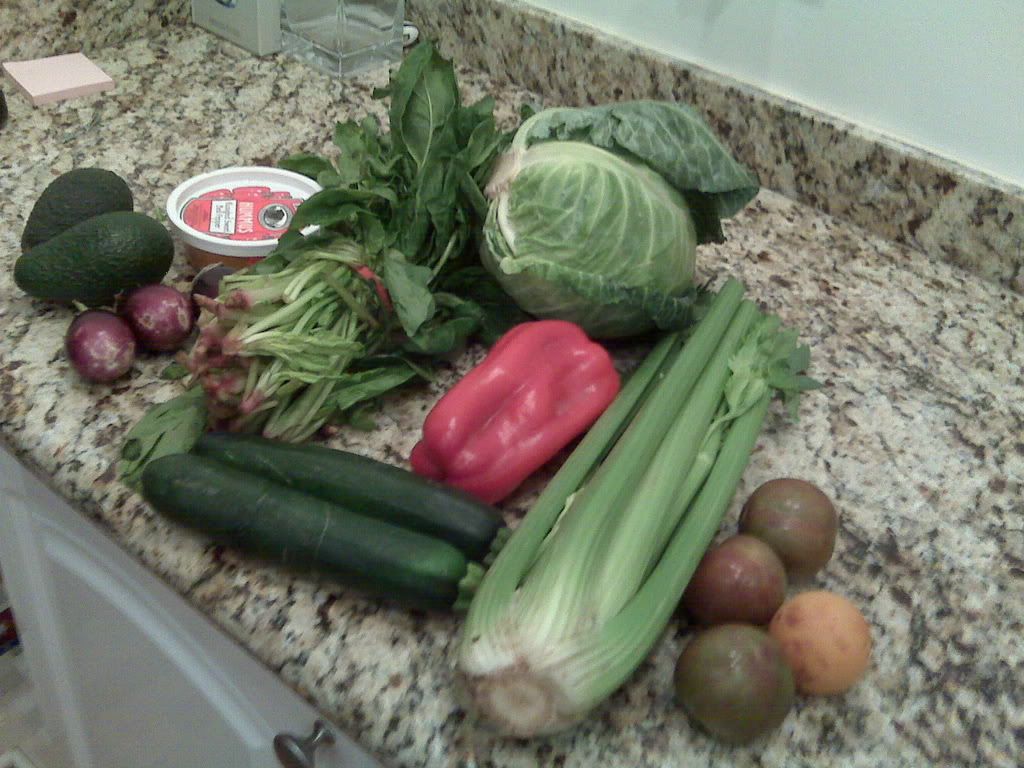 I was pissed that the chocolate man wasn't there.  I've been craving some really good dark chocolate - I blame my friend Bridges for introducing me to
transcendent chocolate
during her time in Belgium.  But alas, he wasn't to be found.  
A few of the things I picked up are staples (celery, spinach, pepper) but some I have never cooked before.  Like the indian eggplants or even cabbage - lol.  I've eaten cabbage, but just have never thought to cook it for myself.  Weird I know.  I even had to call my grandmother to figure out some basics ("how do I wash it anyway?").  I'm not ashamed - this is supposed to be a learning experience for me.  
I'm planning on marinating and grilling the eggplant, zucchini, and red pepper tonight for my Wednesday night dinner, and using the red pepper hummus and avocado in sandwiches for lunch for the rest of the week.  I cooked the cabbage for dinner on Tuesday, with some leeks, butter, salt, and pepper and it was tasty.  The spinach I'll eat raw as a salad one day and the pluots will make a nice dessert.