I'm going to go on a diet.  I feel the fattest that I've felt in my life.  I can fit into three pairs of pants comfortably. It's time.  It's beyond time.  :(  But first - one last hurrah to gluttony!... this time in honor of the fabulous Mr. Insomniac!  
Enter
Hatfield's restaurant
.  What I wanted was a quiet, understated restaurant - not too fancy, not too stuffy - but that had amazing food.  And I fricking knocked it out of the park.  lol  Go me!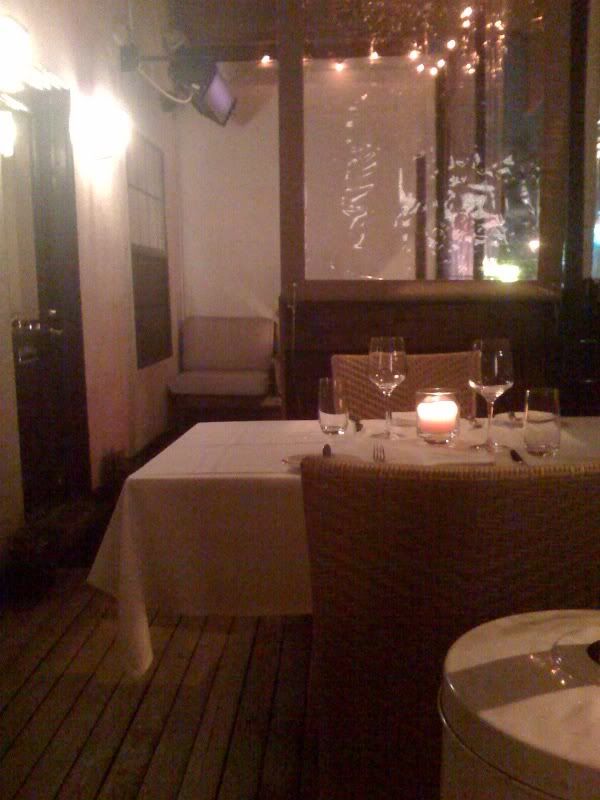 The edifice of the restaurant is really nothing to look at... the main dining room has about 10 tables and the outdoor patio has about 10 more and the maxium occupancy is 50.  We were greeted by Karen Hatfield (pastry chef and co-owner with her chef husband Quinn) and were seated in a secluded table on the wrap around patio deck.  We walked past a couple who had just gotten married a few hours ago and were gazing at each other with starry eyes.  The only light around was candlelight and the soft glow of the heat lamps.  Romance was in the air!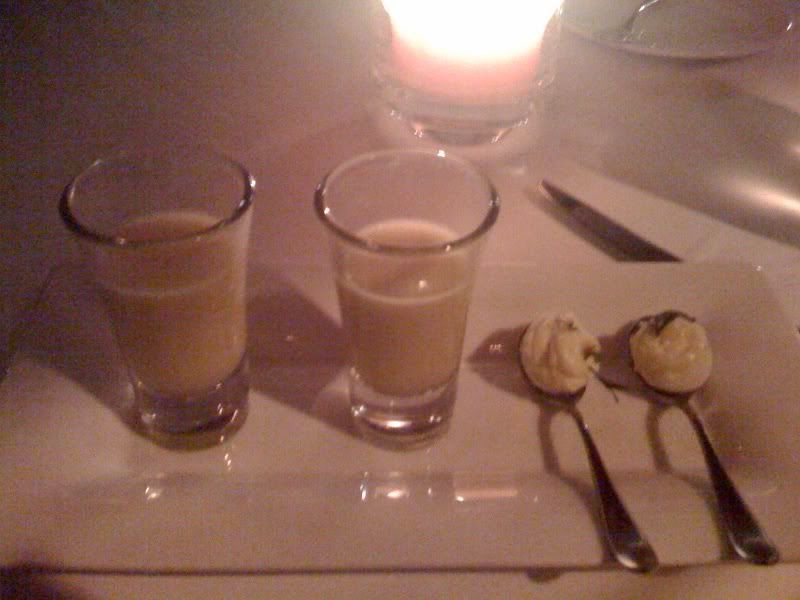 We started our meal with a little amuse bouche consisted of a deviled quail egg infused with smoked trout and a shotglass of butternut squash soup.  The quail egg was delicious and the perfect catalyst to get my taste buds a tingling.  We opted for the seven course chef's tasting menu and we were informed that it would be a duo tasting menu - that for each course, two different dishes would be prepared.  Awesome?  You betcha.  Many of the tasting items are on the current menu (noted with an *), and I will definitely be returning to eat some of my favorites.

So now it's time for the head to head battle! (ding ding!) 


"Croque Madame": grilled brioche, hamachi, prosciutto, quail egg*

vs.

Monkfish salad with celery root
I thought the croque madame would be a slam dunk, and indeed it was pretty tasty.  The brioche was delightfully light and buttery with a hint of sweetness.  But the monkfish salad was surprisingly savoury and had deliciously complex flavors.  I'm going to call this one a draw.
A fancy term for ravioli that I've never heard of stuffed with ricotta with a cinnamon butter sauce

vs.

Warm octopus salad with shoots of asparagus and assorted other tasties
I'd give to the octopus salad - Mr. Insominac gave it to the ravioli.  There really were no losers in this round.  But I think if I had to have a full plate of one of them, I'd go for the salad.  I think.  
Slow baked Tasmanian ocean trout, salsify carbonara, sautéed cabbage, hon shimeji mushrooms*

vs.

Sesame encrusted tuna with mushrooms and pureed brussell sprouts
I'd go with the trout, but the tuna put up a good fight.
Duck breast with crispy duck tongue over a smeared whiskey reduction with a serving of fois gras*

vs.

Duck and fois gras over a carrot ginger smear 

This was the sad part of the meal.  We lamented over the poor duck that had his tongue cut out.  But agreed that it was tasty.  These were great, but I can't really remember anything about them at the moment.  Except for the crispy duck tongue which was yummy.  Hmm.
Pork belly

vs.
Pan roasted hanger steak and slow cooked horseradish dusted short ribs, spring onion confit, smoked potato puree*
Cow > pig.  This was a no brainer for me... the short ribs were perfectly cooked and the steak was ridicously tender.  Great dish.  And it's on the regular menu too!


Lime cream "pie", gingersnap crust , huckleberry compote, cream cheese ice cream*
vs.

Buttermilk panna cota with a crispy wafer alongside a cranberry orange sorbet
Hands down this round went to the lime cream pie.  Mr. Insomniac loved the cream cheese ice cream and I was so taken with the gingersnap crust on the lime cream pie that I wanted to pound my fist on the table in celebration.  It's on the menu, so you can try it for yourself!  Flaky, buttery, crispy, sweet perfection is what it was.  The buttermilk panna cota and cranberry orange sorbet was a nice palate cleanser, but I didn't want to pound anything.  It was good though - honest!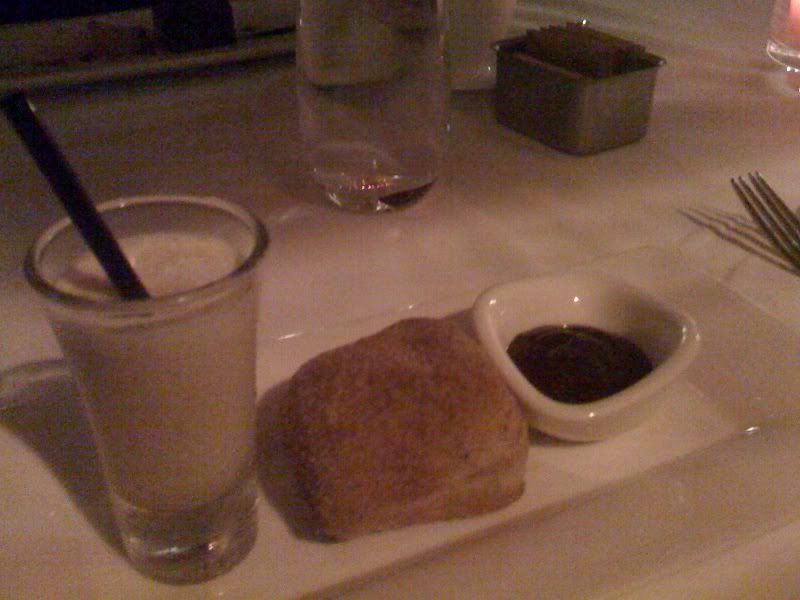 Sugar and spice dusted beignets, Venezuelan chocolate fondu, vanilla malted milkshake shot*
vs.
Chocolate and peanut butter truffle cake, salted caramel ice cream, roasted peanut toffee*
I was all about the beignets which are on the regular menu.  I went even so far as to ask our waiter to bring us an order of them.  He regretfully responded (because he didn't want to ruin the surprise) that they will be the last course.  So I was beyond pleased when it arrived.  It didn't taste like the beignets at Cafe du Monde, but it was still tasty.  The chocolate fondu for dipping was richly nuanced and bittersweet and the milkshake shot was delicious and refreshing.
HOWEVER, I'm going to have to give it to the chocolate and peanut butter truffle cake.  When Mr. Insomniac and I switched plates and I spooned a portion in my mouth, I took a deep inhale and leaned back in my chair, blinking repeatedly.  It was surprisingly good.  I mean, I knew that Hatfield's had great desserts, but I was unprepared at how amazing this little bite of food would be.  It tasted like warm chocolate peanut butter cake... soft... like cookie dough.  I thought about when I was younger and my mom would call my brother and I to the kitchen for cookies.  I would bite into them and the chocolate would be all melty and the peanut butter would be warm and soft and... Then I spooned the salted caramel ice cream and again - another transcendent experience...  It was like I was Marcel Proust dunking madelines into cafe au lait.  The caramel ice cream had these little salt chips in it that provided just the right hint of complexity to cut into the sweet ice cream.  Cake and ice cream...  there's a reason why they've been paired together for generations.  
Perfect way to end the evening.  Kathy Hatfield is a dessert-making marvel.  
(And then I got a parking ticket when I got back to my car, but we won't talk about that.  WTF is with me and
tickets
?)
The portions were on the small side for a tasting menu, which actually worked out pretty well.  The last time I did a tasting menu I was full by the fourth course and didn't really enjoy the remaining dishes.  With the smaller portions, I could eat everything and didn't feel uncomfortably stuffed when it was all said and done.  
The staff was very attentive and competent.  They brought out the dishes at a rapid pace - if memory recalls correctly, we were there for less than two hours.  Again, the last time I did a tasting menu, I was there for nearly twice that amount.  You start to get uncomfortable sitting in the chairs and are just waiting for the darn thing to be over.  Not this time!

So many places around here place the setting and decor over the food. Hatfield's has it straight. Two thumbs up.