Pictures from the West Hollywood Protest on Wednesday, Nov 5 at 7pm.  
Protesters lined the street of Santa Monica Blvd with homemade signs. Honking cars responded.
The rally was attended by hundreds of people.  We listened to people talk - campaign leaders, religious leaders, members of from pro-LGBT people of color alliances.  We chanted and waved flags.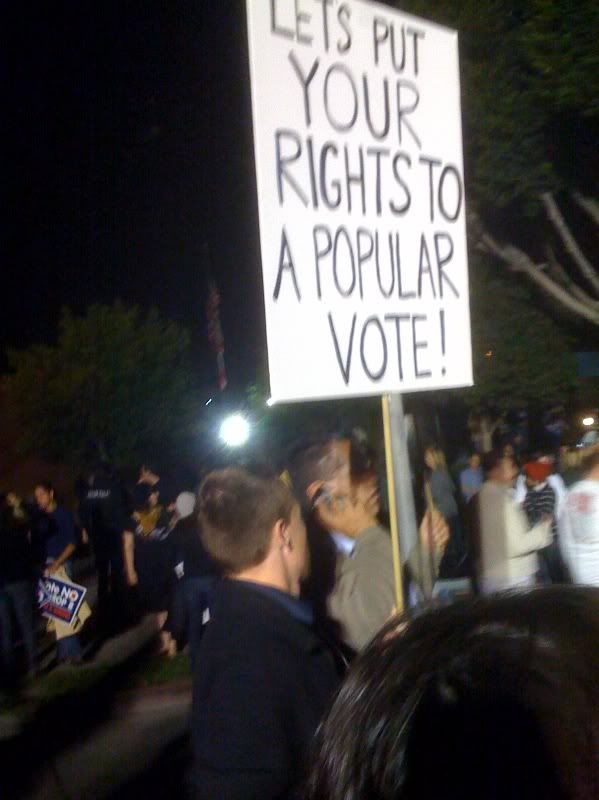 But I had mixed feelings.  For starters, where where these people weeks ago?  Days ago?  D, one of the leaders at the We Ho office was in charge of visibility efforts.  For weeks he organized folks to stand on the street corner of Santa Monica and Robertson.  I went one Monday and there were about 10 of us.  A, a volunteer who took weeks off work to devote all her time to the campaign was so angry that she turned away and roamed the streets of West Hollywood for two hours.  The people that I had worked alongside with in the evenings appeared shellshocked at the hundreds of people around them.  So many more phone calls could have been made, murmured A before took off.  
And then one of the speakers started blaming African Americans who came out in support of Obama for voting Yes.  And mentioning Latino men who stood across the street from LGBT folk with Yes on 8 signs and hurled faggot at them.  Or an African American woman that told a lesbian volunteering at the polls that she didn't deserve rights.  And I was angry at what had happened to these people, but I was also angry at the divisiveness that these comments inspired.  I don't know what the campaign strategy was, but if we didn't reach out to certain communities, then that's on us.  We need to take a page from the Obama playbook and truly build a coalition of supporters.  Straight people, people of all faiths, all racial/ethnic backgrounds.  The LGBT community can not do this by themselves...
I think we're on to a great start.  I've been hearing lots of outrage from a lot of people.  This is good.  Prop 8 will be our rallying cry.  It's sad to think that we needed a practice run (defeating Prop 8 would have been such a monumental victory), but next time we will be ready.
And for non-sucky pictures, you can check out this
photo gallery
in the LA Times.